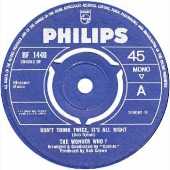 One of the most popular shows running in the West End since 2005 is the jukebox musical The Jersey Boys, which tells the story, via the music, of the Four Seasons. A thoroughly recommended show if you haven't seen it. It brought the music of the group to a whole new audience especially as they hadn't had a UK hit since 1977. It was so successful that it was made into a film in 2014 and directed by Clint Eastwood. The name Four Seasons, and their falsettoed lead singer, Frankie Valli, have been well-known during the sixties and seventies, but the group also had brief success in America under an alias.
Before the Four Seasons began proper in 1962 with Sherry, Frankie Valli had already been trying to make his name for almost 10 years. His first release was My Mother's Eyes which was credited as Frankie Valley in 1953. The following year he formed his first band, The Variatones with guitarist Tommy DeVito. They stayed together for a couple of years but during that times changed their name and eventually settled with the Four Lovers. Their only American hit under that name was You're The Apple of my Eye which stalled at number 62. They released seven singles under that moniker but success eluded them. In 1959 they began working with a producer and songwriter called Bob Crewe and whilst on tour in 1958 they were on the same stage as The Royal Teens who are best remembered for their American-only hit Short Shorts. That song was written by Bob Gaudio who Valli met and invited him to join the band. Bob Crewe had his own production company and in 1961 he signed them and changed their name to the Four Seasons.
In the summer of 1965 they'd recorded an album called The 4 Seasons Sing Big Hits by Burt Bacharach…Hal David…Bob Dylan, it contained 12 tracks – six on side one by Bacharach and David and six on side two all by Dylan. Now the same year Frankie Valli began a concurrent solo career which kicked off with a track from that album and was a version of The Sun Ain't Gonna Shine Anymore. It failed to make the Hot 100 but a version by the Walker Brothers was released at the same time and they made it to number 16  over there and number one in the UK. They decided to release a version of Dylan's Don't Think Twice, It's All Right which was credited to The Wonder Who and peaked at number 12 at the same time The Four Seasons' Let's Hang On peaked at number three. "It did create a lot of confusion," Frankie Valli said. So how come it was credited to a different act?  Frankie Valli explained, "It all began when I started to clown around in the studio with the song doing an impression of a very famous black singer, Rose Murphy who did I Can't Give You Anything but Love. We played it for a disc jockey in Atlantic City, New Jersey and he said, 'Please give it to me. I just want to play it. I won't tell anybody who it is. I'll run a contest.' He actually broke it. When the record company found out, they were really pissed. They said, 'Now we have to put it out, but we already have a Four Seasons song out, and this will kill it, so we'll say it's the Wonder Who?" The song peaked at number 12, Frankie said of it, "Well, the way we did it was very campy. To take a song that seriously and do it that way puts it in a kind of camp place. I enjoyed doing it. I'm probably one of the biggest Bob Dylan fans that ever lived. It was an interesting take on the song. I talked to Dylan about our version and he absolutely loved it."
Bob Dylan wrote that song after his girlfriend Suze Rotolo went off to Italy to study at the University of Perugia and left him in New York and Dylan saw it as a separation. He said, "A lot of people make it sort of a love song – slow and easy going. But it isn't a love song. It's a statement that maybe you can say something to make yourself feel better. It's as if you were talking to yourself." Suze, who was an artist and civil rights activist, is the woman seen on the cover of Bob's second album The Freewheelin' Bob Dylan.
During the first verse you hear the lyrics, 'When your rooster crows at the break a dawn, look out your window and I'll be gone' Suze explained the meaning of this in her memoir A Freewheelin' Time: A Memoir of Greenwich Village in the Sixties, "We used to live near a poultry supplier in our Greenwich Village apartment. We would sometimes stay up all night and hear the roosters crowing at the break of dawn."
The song has been covered by many artists including Willie Nelson and Merle Haggard, Joan Baez, Brook Benton, Ralph McTell, Bryan Ferry and even by Ke$ha on the 2011 charity album, Chimes of Freedom: Songs of Bob Dylan which was recorded to mark 50 Years of Amnesty International. Ke$ha said of the emotional recording session, "I was weeping, you can hear it. We just used that recording. We didn't record it into a professional microphone, nothing. I tried to sing it a few times but that magic was really in this first, genuine, distraught, emotional take that you guys are going to hear on the record."
Over the next 18 months, The Wonder Who released three more singles; On the Good Ship Lollipop, The Lonesome Road and the final one, Peanuts which all failed to make any impact so they decided to give up with The Wonder Who and stick the Four Seasons.
The Jersey Boys, so named because they all came from New Jersey, will provide you with the reason why the Four Seasons were so popular. Valli explained his opinion in Rock Cellar magazine when he first saw the show, "When I saw it for real, acted out, it was rough on the edges and it was strange to see somebody play me. Usually they play people after they die so the person can't have anything to say about it. Having an interest in acting I understood that the actor would have to play it from his point of view to some degree. He would have to apply some of himself to the role or it wouldn't be real. The thing I was most concerned about was the singing. I had to see it about three times before I felt comfortable with it and when it went to Broadway and they were auditioning people, I went to all those auditions because I wanted to be sure that the integrity was there."