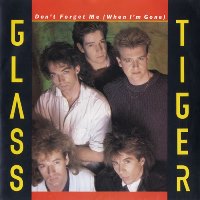 This week's suggestion came from Andrew Austin who emailed saying, "How about the band Glass Tiger song Don't Forget Me When I'm Gone. It's a great track with big production." It certainly is Andrew and there are clearly some English influences within this Canadian rock band.
Glass Tiger were formed in Newmarket, Ontario in 1983 and comprised Scottish-born singer/guitarist Alan Frew, guitarist Al Connelly, bass player Wayne Parker, keyboardist Sam Reid and Michael Hanson on drums. Apart from Hanson who was replaced by Chris McNeill in 2003, all the other members are still together almost 40 years later. A great achievement in itself.
They took their name from a phrase used in the sports journalist George Plimpton's 1966 Paper Lion and were trying to find a record deal. Island records refused to sign them of the basis they thought they sounded too much like U2 and EMI's Capitol records division were interested in signing Frew as a solo act but not the group, but as Alan Frew recalled, "I think we were the only band at the time that ever played the famous Maple Leaf Gardens unsigned and we opened up for Boy George and Culture Club in front of 20,000 people each night. That was on a Friday and Saturday and on the Monday,  I got the call from Capitol who said, 'OK if I want the cherries, I'll have to take the whole fucking pie. Get down here!' We went down and signed with Capitol."
Once there they were teamed with producer Jim Vallance who was already working with another Canadian, Bryan Adams. Jim remembered, "I was initially hired by Capitol Records to help with musical arrangements on Glass Tiger's first album, working with the material they'd already written — but I ended up producing the album and writing a few songs with the band as well. In the spring of 1985 I travelled there and spent a day rehearsing with the band, working on arrangements and suggesting improvements. It was an audition – in other words, the band were auditioning me, trying to determine if we could work together. Explaining how he felt leading up to it, Jim said, "I really wanted the job. I knew I could contribute to the project in a positive way, plus I loved everything about the band: they were good musicians, they had a great image, and they'd already written some very strong songs.  More important, they were young and hungry. They'd worked hard the past few years, writing and rehearsing in various basements and garages, and they were ready and eager to make a record. In mid-1985 three members of the group flew to Vancouver to get working on a hit as instructed by the label's A&R man Deane Cameron. After Deane passed away in 2019, Vallance said of him, "Deane was a lovely guy, totally dedicated to music, a quintessential 'record' man."
Upon their arrival in Vancouver, Vallance picked them up from the airport, "We hadn't planned on starting until the next day, but I invited them to my house so we could have a cup of tea, get acquainted, listen to some music and talk about the direction we might take with our song-writing in the week ahead," he remembered. One of the songs they listened to was the Tears For Fears hit Everybody Wants To Rule The World. "During a quick tour of my studio Sam casually noodled a few notes on one of my keyboards, and the next thing you know we were writing a song! In less than an hour we came up with the beginnings of a very strong idea.  Not bad for the first day … right off the plane. I printed a cassette tape so they could listen to it overnight, and I dropped them off at their hotel. The boys arrived back at my studio the next morning ready to work. That day we managed to substantially complete the idea from the night before, now titled Don't Forget Me When I'm Gone.
The song combined the shuffle feel of Everybody Wants To Rule The World with a title that was inspired by the recent Simple Minds track Don't You Forget About Me. "The song sounded every bit a 'Glass Tiger' track by the time we completed the demo recording." Vallance said.
To give the song some extra kudos, Vallance asked Bryan Adams, who was riding high in the charts with his Reckless album, to provide backing vocals which he agreed to but remained uncredited.
As the band were based in Ontario, it was agreed with Deans that the album should be recorded there so Vallance booked his flight. "Don't Forget Me When I'm Gone is the first track we recorded for the Thin Red Line album," Vallance explained.  "The recording was begun at Sounds Interchange in Toronto, with Mike Jones engineering. The horns and backing vocals were recorded by Hayward Parrott at McClear Place Studios, Toronto. Further recording, including Alan's vocal, was done at Le Studio in Morin Heights, Quebec and at my home studio in Vancouver.
Once everything was recorded the band and the producer were very happy with the results and decided to have a listening session with a few members from the record label plus one representative from the label's US branch. Vallance said, "Everyone was very pleased with what they heard and they expressed confidence that we had the makings of a hit record. 'Now', someone said, 'We just need you to remix the single for the American market'. Huh? I was baffled. The mix sounded great to me. We'd spent countless hours getting it right. What would you like us to do differently?, I asked. 'It needs to be harder sounding, more edge', was the reply. In fact, that was the final instruction as everyone headed out the door. Once everyone had left we all sat there, speechless, not sure what to do. The truth is, we loved the mix just the way it was. So, the next morning we sent the record company exactly the same mix they'd heard at the listening session! No change whatsoever, except we wrote 'American Mix' on the box. They loved it!
The song went to number 29 in the UK, but did much better in Australia where it got to number nine, even better in the US making number two on Billboard (no doubt the label will claim it's because of the 'American Mix') and number one in Canada. Their next single, Someday, which was recorded at the same session scraped into the lower end of the UK chart, but with their next hit, My Town in 1991, they were back in the top 40 enlisting the help of Rod Stewart who, unlike Bryan Adams, actually got a featuring credit on the label.
In 2012, the band toured Canada with Roxette but they continue to tour and record and their most recent album was 2020's Songs for a Winter's Night.