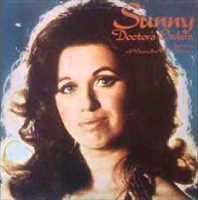 In the 1960s and 70s, there were an elite bunch of session musicians on both sides of the Atlantic, the Wrecking Crew, as they were known, are probably the most famous in the US but in the UK, there were more groups of individual session people, Clem Cattini and Bobby Graham were the most sought after drummers, Big Jim Sullivan, Vic Flick and a pre-Led Zeppelin Jimmy Page were much in demand guitarists and Madeline Bell,  Merry Clayton, Lesley Duncan, Darlene Love, Joe Brown's wife Vicky, a pre-famous Luther Vandross and the sisters Sue and Sunny all had their services requested for backing singers. This week's suggestion concentrates on one half of the latter duo's only solo UK hit, Sunny.
Sue and Sonny were real sisters who were born Yvonne and Heather Wheatman respectively in Madras in India and began singing professionally in 1963 under the name The Myrtelles. "I cut my first record when I was 12," Sunny recalled in an interview with Michael Benton. "It was called Just Let Me Cry and was released by Oriole Records. Then when I was 15, I teamed up with my sister, and turned professional. Our work in those days consisted of cabaret dates, but after three years of doing them, we both realised they were too old for us – the audiences." They briefly changed their names to Sue and Sunshine before setting with Sue and Sunny. They came to London in the early 60s and began working with Kenny Lynch who suggested they change their name to The Stockingtops, but they didn't like that and moved on.
Before they settled permanently in the UK, they played in Europe as Sunny explained, "We went to Germany to play the air force bases, only this time we put on a more girlish act. But once again we felt the work wasn't right. We had to sing all the old standards and they didn't really suit a couple of teenagers. We felt trapped. We decided to come back to London."
Once back in London, three or four years went by with nothing much happening the girls were beginning to lose interest when their lucky break happened, "One day we got a call from Lesley Duncan who asked us if we'd help her do a session. She was absolutely desperate so we agreed. Anyway, the session went really well and things materialised from there." That, in turn, led to a session with Love Affair and can be prominently heard singing the line 'So lead me where the rainbow ends' in the 1968 hit Rainbow Valley which peaked at number five. Next stop – a number one hit. "We were asked if we'd like to back Joe Cocker. It really flipped me because I had always admired him, not only for his singing but for the tremendous amount of effort he puts into everything he does," and just six months later they sang on his cover of the Beatles' With A Little Help from My Friends. That song also launched Joe Cocker's career in the States and he undertook the Mad Dogs and Englishmen tour which was manic but Sue and Sunny reluctantly turned down the invitation, "I really wanted to do that tour, but it was such a long one that Sue and myself knew we'd have a hard time keeping up the pace." confessed Sunny.
They joined the first incarnation of Brotherhood of Man in 1970 and sang alongside their male counterpart Tony Burrows and can be heard on United We Stand and then again with Burrows on Love Grows (Where My Rosemary Goes) by Edison Lighthouse. Over the next few years they became backing singers for Elton, John, Dusty Springfield, Giorgio Moroder, Donna Summer, Frank Zappa, T-Rex, Mott The Hoople, David Bowie and Tom Jones and probably made more appearances on Top of the Pops than Tony Burrows.
Then came Sunny's only UK hit single under her own name and on her own. She explained why Sue was not involved, "After Brotherhood of Man folded, Sue decided she wanted to spend some time having babies, so I was just left to get on with things by myself. The song writer Roger Cook knew that I was going solo and rang me up to say that he had a song for me. Anyway, I went round to see him, heard the song and thought it might do something. I wasn't sure because I'd chosen songs in the past and they'd flopped. I recorded it in November 1973 with Roger Greenaway producing and Chris Gunning provided the arrangement. I also wrote the flip side It's Only When You're Lonely. You know, I'm crazy about lyrics and lady singers, especially people like Billie Holliday, Nancy Wilson, Barbra Streisand and Diana Ross."
She also recorded an album also called Doctor's Orders which included some songs from the Cook & Greenaway stable as well as a cover version of the Drifters' 1973 hit Like Sister and Brother. A follow up single, A Warm and Tender Romance was released but failed to chart thus leaving Sunny as a one-hit-wonder, but, then again, how can she be given the number of hits she's been on?
The song has been covered by numerous people including Carol Douglas who took the song to number 11 in the States as well as charting in Belgium, France, Italy, New Zealand, Germany and its best placing of number two in Spain. There have also been versions recorded in different languages and genres, in French by a lady called Sheila,  a reggae version by Pluto, one by the soul musician Van McCoy, another by Giti Pashae with Persian lyrics and one in Finnish by Lea Laven retitled as Viittiks Tulla Takas. It's certainly been around the world that song.