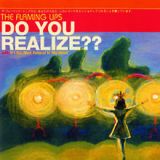 Candle in the Wind and Abraham Martin & John are two examples of songs written about the death of famous people, Tears in Heaven and Fix You are examples of songs about the death of family members and The Killing of Georgie and Do You Realize, the brief top 40 hit for the Flaming Lips in 2002 are songs about the death of friends.
The roots of the Flaming Lips began in 1983 with lead singer and primary songwriter Wayne Coyne and bassist Michael Ivins being the two mainstays throughout. There had been 11 members in total that have come or gone since including Wayne's brother Mark who stuck around for the first 18 months.
Do You Realize, although not their highest charting, is probably their best known thanks to its ubiquitous use on TV commercials for VH1 as well as products like Mitsubishi and Hewlett-Packard computers, but its inspiration came from the sudden death of a Japanese friend of Waynes.
Coyne explained in an interview with Uncut magazine in 2008: "Writing Do You Realize? is like meeting Michelle (his (wife), or one of those things that just happens to you where you say: 'How lucky am I?' I can say that I created that song, but I wouldn't have thought it had this other worldliness. I run into people every time we play who've used it at funerals, weddings or when their kids are born. It's about expression, it's about emotion. Those are bullshit things to say, but it drives you. If you are just an obsessed freak like I am, it's wonderful. It just goes back to us wanting to make more records. So, for the longest time, anything that we had to do — it didn't matter what it was — if it got us to make another record we would do it, Beverly Hills 90210, a Hyundai ad, whatever. It showed us just the stupid limits people would put on themselves: That's cool. That's not cool."
He discussed the song's success with NME, and said, "I don't think it was a hit 'because we're clever or because we're such good songwriters,' there are almost a million songs that play that exact same thing. That chord change is used so often because it works. Whatever kind of mind it is, usually it's a young white person's mind, and if you like The Beatles you like these chord changes. It plays on you in a way that is optimistic and it appears to be telling a story that you already know is a good story. Then I start singing these words and then right at the time when you're at your most comforted in the song, I tell you this horrible line, that 'Everyone you know, someday, will die,' and it's almost as if you go: 'It's okay,' and you take it in because that's what the music and everything has done." He concluded, "It's just a dumb luck combination," that allowed the song to gather momentum and became our best known tune. At the time I didn't see that, I remember asking Steven, 'What do you think of this?' and when I went to that line he said, 'Dude, that's a Wayne classic right there, man. You got it!' But even then you don't have any idea that people are gonna play it at funerals or that it's gonna take on this other meaning."
The song was lifted from the album Yoshimi Battles the Pink Robots which reached number 13 and spent almost four months on the album chart. It also contained part one of the title track and Fight Test which became the follow-up singles and peaked at numbers 18 and 28 respectively.
In the early 2000s certain States in America got their own 'official state Rock song', Ohio was the first with The McCoys' Hang on Sloopy and Washington being the second with Richard Berry and the Pharaohs' original version of Louie Louie. In March 2009 it was Oklahoma's turn and 458 songs were submitted to an Oklahoma Rock Song Advisory Panel who narrowed the list down to 10 which was then put out to an online vote and Do you Realize won to become Oklahoma's official State song.
The Flaming Lips are still recording and although haven't released a single since 2006 their album output is as strong as ever with At War with the Mystics (2006), Once Beyond Hopelessness (2008), Embryonic (2009), The Flaming Lips and Heady Fwends (2012), The Terror (2013) and With a Little Help from My Fwends (2014) all receiving positive reviews.
Over the last 10 years Coyne has found a higher and more fragile register for his falsetto. Much of 2013 was turbulent for Coyne because he faced abuse from disgruntled Heady Fwends collaborator Erykah Badu and a separation from Michelle, after 25 years.
Maybe following that situation, Do You Realize has more meaning to him. "I sing it every night on tour and talk about it with our fans a lot," he said, "I want to talk to people about it. I don't think I really am this utterly resilient, optimistic warrior. When I talk to people, their stories are devastating to me. They sometimes say: 'Wayne, you understand' and I go: 'No, I don't understand. The music understands.'"