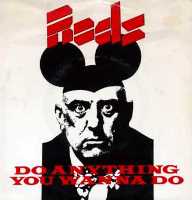 It's quite amazing how bands, more than solo artists, launch onto the music scene with a certain style but find success hard to come by, then with a change of style, usually caused by an amended line up, bang! they suddenly find new fans, one good example of this was Genesis who, when Peter Gabriel was lead singer, had great album sales but only three hit singles out of 13 releases, yet when Phil Collins stepped up to the mic, 22 hit singles followed. The same is true of this week's act; not a change of personnel, but a change of style.
Arguably, Canvey Islands' most successful chart act was Dr. Feelgood, but Eddie & The Hot Rods weren't far behind. They were formed in 1975 by lead singer Barrie Masters, bass player Rob Steele, drummer Steve Nicol and guitarist Dave Higgs, the latter having previously played in a band with Dr. Feelgood singer Lee Brilleaux. They emerged from the pub rock scene and played their first London gigs at the Kensington and the Nashville Rooms the same year. The NME described their brand of music as punk rock, bearing in mind they had formed a few weeks after the Sex Pistols. Masters remains the only constant member for over 40 years.
There was no real member called Eddie, so if you're wondering why the name, well it belonged to a dummy they used in their very early gigs as a joke. But when they got bored of the joke, the dummy went, but the name stayed. Very similar to Iron Maiden whose mascot is called Eddie but he still remains a 'member'.
There was certainly a rivalry between the Rods and The Pistols because at a gig at the Marquee Club in February 1976 with The Pistols as support, Johnny Rotten had tried to front up to Barrie Masters, but unbeknown to Rotten, Masters was a former school boxing champ, "I just went to give him a slap and he ran away, that was it. He was just a little boy," Masters recalled in an interview with Gavin Martin.
Their first single release was Writing on The Wall followed by a cover of Sam the Sham & The Pharoahs' Wooly Bully both of which failed to chart. But their next single was the first to chart and was the Live At The Marquee EP which comprised a cover of ? & The Mysterians' 96 Tears as the lead track and featured Bob Seger's Get Out of Denver and the third track was a medley; Them's Gloria and the Rolling Stones' (I Can't Get No) Satisfaction. The energetic EP just missed the UK top 40. A few months later Teenage Depression just made it into the top 40 but probably would have been higher, it had limited airplay due to its drug references. The next single, I Might Be lying despite making number 44 went almost unnoticed, but in the summer of 1977, their manager Ed Hollis, who was also their songwriter, came up with a blinder.
In 1977, guitarist Graeme Douglas, who had previously had chart success as a member of The Kursaal Flyers was brought in to replace Higgs and that's what seemed to give the band their 'new' sound and style. It also inspired Hollis to enhance his song writing.
This was proved with Do Anything You Wanna Do which was more radio-friendly for a start and had Douglas writing the music and Hollis the lyrics. Given the band had ditched Eddie, Island records decided to release the track as just The Rods. The inspiration was taken from a book by the notorious mystic Aleister Crowley. He was also infamous for being an occultist and a drug villain and called himself 'the most evil man in Britain'. He obviously impressed the Beatles along the way as he was featured on the cover of Sgt. Pepper's Lonely Hearts Club Band album (top row second one in from the left).
The song's words are based on Crowley's philosophy 'Do what thou wilt shall be the whole of the law' a direct quote from Crowley's Bible which he called The Book of the Law. Crowley had attended Cambridge University and whilst there he established an interest in mysticism, which would rule his life. He seemed to be a man who would doing anything he wanted to do and was very proud by being known as The Beast – a name his mother called him and The Wickedest Man in The World.
After Crowley's father died when he was 11 years old, he'd left him enough money to be comfortable, but over the years he squandered the money and when he died on 1st December 1947 in a Hastings boarding house, he was a heroin addict and destitute. Crowley had a 'to Hell with the rest of the world attitude' and that's what make the basis of the song.
After Hollis took the song to Masters he commented, "I didn't even know who Aleister Crowley was, I'd heard about it, but I was an in-your-face rock 'n' roller, not into the magical mystical side of things. We came from a small town and there wasn't much to do. We were bored young kids. The song means as much today as it did then: kids trying to break out of their town to find something to do, rather than being told what to do. Ed put into words what we were feeling. He'd listen to things we said and write lyrics about them. The Hot Rods had always been a real raw live band," Masters continued, "Graeme was great for us as he added the tunefulness of The Byrds and things like that. We had the ballsy energy and he had the melodic side. On Do Anything You Wanna Do there are a lot of guitar overdubs, but the rhythm section and the majority of the backing track were recorded in one take. It's the way we've always liked to work – get the feeling right and then just go for it. The thing we nicked from Springsteen was the idea of recording two guitars and slightly sharpening one. The result sounds like a 12 string. A great, easy idea, so we used that." The other things that give that song its edge is the fact that Masters had a toothache when he recorded it. "I shouldn't have been singing, really. There were two versions, one was technically right, the other had a few mistakes but felt right and that was the one that was released. I think the toothache gave me a bit more anger."
In the 1980s, they changed label to EMI and had a couple of reformations, but Masters always recorded under the name Eddie & the Hot Rods or The Rods. In the 21st Century Masters formed a completely new band using the same name and recorded the albums Better Late Than Never (2005) and Been There, Done That (2006). Their 2011 album 35 Years of Teenage Depression was a remake of their debut original with three new songs. In April 2019, band members past and present, plus assorted musician friends, gathered for a one-off Done Everything We Wanna Do show at the O2 Academy in Islington, north London.
Barrie Masters died suddenly on 2nd October 2019 at him home is Essex. The inquest rules that it was by 'intoxication by multiple agents' He was aged just 63.
If you're thinking, Ozzy Osbourne recorded a song in 1980 called Mr. Crowley, is there any connection, well, yes that song is Aleister Crowley too. Ozzy was also intrigued by Crowley's strange behaviours which are said to include things like drinking the blood of a sacrificed cat as well as engaging in some very perverted sexual acts.