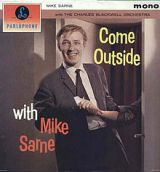 The charts have always reflected what's popular and obviously that in itself has changed a number of times a number of times over the decades. During the last 15 years or so, the majority of the music that makes up the chart is dance based, but years ago there was disco, rock, glam, punk, prog-rock and, especially in the seventies, novelty. Many novelty songs have made the chart, but few have topped it. Obvious ones in the seventies would be Ernie, The Streak, D.I.V.O.R.C.E and, in the eighties you had Shaddup you Face, The Chicken Song and Star Trekkin', then in the nineties there was Itsy Bitsy Teeny Weeny Yellow Polka Dot Bikini, The Stonk and Mr Blobby and in the sixties you had My Old Man's A Dustman, Lily The Pink and, this week's choice, Come Outside.
The song was written by Charles Blackwell, an English record producer and songwriter who taught himself to play the piano and write his own arrangements. He started working as an arranger with record producer Joe Meek at the age of 18 and is credited with having worked on the songs Johnny Remember Me, What's New Pussycat, Release Me, Hold Me and Kathy Kirby's Secret Love among many others. He was much in-demand and got to build a list of musicians he regularly recorded with including Billy Fury, Paul Anka, Lulu, Shirley Bassey, Dionne Warwick and Gene Pitney.
The song was recorded by Mike Sarne, was a bit part actor who appeared in The Guns Of Navarone could sing as well and it was he who suggested to Blackwell about writing a wry song about teenage romance. Blackwell liked the idea and came up with Come Outside. Sarne's part was sung but it also contained some backchat dialogue from a youthful Wendy Richard. "She was a model in those days," said Mike Sarne, "absolutely beautiful with a great figure, and a really typical cockney." But how come she was chosen to partner Sarne on the track? At the time, Richard was a secretary for the music producer and record label owner Robert Stigwood and, "From her desk, Wendy started lobbing sardonic comments in her native Cockney," Stigwood said, "and I had the notion of including them on the record, making it a duet." Blackwell was against this but Stigwood overruled him.
Richard's part suited the song as Sarne spends the whole song trying to chat her up in a nightclub and Wendy continually turning down his advances with regular cockney offerings of 'get lost' and 'shove it, but who eventually gives in after Sarne convinces her that there's a lovely moon out there and she relents and says, 'Oh alright, but not for too long', Sarne following it charmingly with 'While we got time for a bit of slap and tickle' to which Wendy replies, 'I'll slap and tickle you in a minute'. They eventually get close enough as Wendy says, 'You don't 'arf need a shave'. Richard later revealed that she was paid a mere £15 for that one appearance.
Sarne followed it with the carbon copy, Will I What? this time with Billie Davis, who had a top 10 hit with Tell Him in 1963. That same year Sarne recorded the original version of Just like Eddie which was, soon after, a hit for Heinz. Sarne's third single, Just for Kicks, was banned by the BBC for encouraging reckless driving. "I don't think people understood that these records were satire, but there you go. I rather resented being a gimmicky singer with a cockney accent and I tried to change it, but with no success," Sarne revealed.
The advent of The Beatles and The Rolling Stones made life difficult for the existing stars. Mike Sarne: "We used to dress in shiny suits and we wore stage makeup like actors. I was on tour with The Rolling Stones and Brian Jones thought you should wear what you wore in the street. He thought we were ponces and what we were doing was against his rhythm and blues ethic. I felt like a real phony – and The Rolling Stones had 4,000 screaming girls in the audience to make their point."
As journalist, author and radio presenter Spencer Leigh pointed out, don't feel sorry for Mike Sarne; he had a short, torrid affair with Brigitte Bardot when they made the film, Two Weeks in September in 1966. He has had an erratic career as a film director, making one of the cinema's greatest turkeys, Myra Breckinridge (1970) with Mae West and Raquel Welch. "Actually," says Mike, "there was a really good review in The Times. I suppose the critic lost his job."
In 1986 Mike Berry and Wendy Richard, both from the cast of Are You Being Served?, updated Come Outside with references to medallion men.
Sarne returned to acting and was seen in Minder, The Bill, Moonlighting, Howard's Way and Jonathan Creek among others. In 2012 he appeared as Father Mabeuf in the film version of Les Misérables. He is nearly 78 and still makes the occasional TV appearances.
In the 1990s Charles Blackwell co-wrote songs for David Hasselhoff which were hits in Europe and in more recent years he was commissioned by the European Parliament to orchestrate and conduct the Anthem of Europe (Ode to Joy by Beethoven) with a 70-man orchestra, for a new recording that is played at every parliamentary sitting.
Wendy Richard found even more fame as Pauline Fowler in Eastenders right from episode one in 1985 until the character's death in 2006. Three years later Wendy died of breast cancer aged just 65.