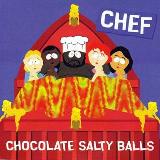 A lot of megastars unofficially earn themselves a nickname and most of the time they are flattering, Elvis Presley was The King of Rock 'n' Roll, Aretha Franklin was the Queen of Soul and Andy Williams was the Emperor of Easy, but one that is not so well known was Black Moses, it doesn't describe a lot, but that's the moniker that became associated with Isaac Hayes and it came from the name of his fifth album.
The soul man was born in Tennessee in 1942 and his childhood must have been hard because his mother died young and then his father abandoned the family leaving Isaac to be raised by his grandparents. At the age of five he taught himself to play both the saxophone and keyboards and then began singing in soul clubs in the late fifties. In 1962 he joined the recently formed Stax record label whose house band were Booker T & The M.G's and quite often Isaac found himself standing in for Booker T who would be pursuing other engagements. He turned his hand to song writing and teaming up with Dave Porter the pair wrote a number of songs for artists including Sam & Dave, Aretha Franklin, The Emotions and William Bell. He also launched a singing career of his own culminating with the 1971 song and film soundtrack to Shaft in which he wrote, produced and performed all tracks. At the following year's Grammys the song won the awards for Best Engineered Recording, Non-Classical and Best Instrumental Arrangement – even though there was vocals. The film soundtrack won for Best Instrumental Composition Written Specifically for a Motion Picture or for Television. He also became the first black artist to win an Oscar.
Smashed at a party at Stax, Isaac Hayes went to the electric piano and talked his way through some standards. This led to some classic albums, notably Hot Buttered Soul (1969), in which he spent over 10 minutes on sensual interpretations of Walk on By and By the Time I Get To Phoenix. "It was like I was preaching a sermon," said Isaac, "and when I did them in a club, I found that some people were crying during the songs." Complete with his gold chains and medallions Isaac became a major concert attraction.
A whole younger generation would know very little of him until he landed the role of Chef in the adult cartoon South Park. Fritz the Cat, in 1972, demonstrated a market for adult cartoon features, admittedly aimed at the student population, but it wasn't until South Park that the medium became really popular. It was created by Trey Parker and Matt Stone and recounted the exploits of the 10-year-olds Stan, Kyle, Cartman and Kenny. Going against all conventions, Kenny was killed in most of the episodes, only to reappear in the next. The script was packed with vulgarities, sexual humour and comic violence, never more so than in the film, South Park: Bigger, Longer and Uncut, in which the USA wages war on Canada. The film is noted for its grotesque parody of Disney musicals with Satan's Up There. Isaac played Jerome McElroy, otherwise known as Chef.
Isaac Hayes had written music for the film, Beavis and Butt-Head Do America (1996), so landing the role of Chef in South Park was a natural progression. Trey Parker explained how he managed to get Isaac to agree, "I'm not sure how we managed it really, it was this really funny thing that happened, because all of a sudden we had this show and then we decided we needed a theme song." A message had been sent to Isaac Hayes who then called Trey, "I couldn't believe it, so I said to him 'would you do a song for us?'" Matt added, "Initially we wanted to do his voice but that didn't go down too well as we were both white and there's this thing in America where generally black people will do black people and white people will do white people. We knew we wanted someone like Isaac or Barry White or Lou Rawls because we knew we wanted a seventies soul brother kind of guy." Trey continued, "After Isaac agreed, we went to the studio and Isaac said, 'OK guys what do you want me to do?'" Trey said, "Didn't they tell you what this was, and he said, 'no' so I had to say to him, basically, you're big and fat and you're the only black guy in the whole town and you're a total stereotype and you're a chef and you sing love songs all the time, to which Isaac replied, 'OK that's cool!'
The main song was Chocolate Salty Balls (P.S. I Love You) which was the title of a 1998 episode and was a recipe packed with innuendo: Oooo, Suck on my chocolate salty balls, Put 'em in your mouth, and suck 'em, They're on fire, baby. The record was produced by Rick Rubin, who was noted for his work with The Beastie Boys and then Johnny Cash in his later years. Its success led to Chef Aid: The South Park Album and a celebrity book edited by Isaac Hayes, Cooking with Heart and Soul. One of the participants, John Travolta, offers Royale with Cheese. The single shot to number one in 1999 but never released as a single in the States. Within the song, Chef offers the recipe for his creation which is as follows in anyone wants to try it: two tablespoons cinnamon, two-three egg whites, half a stick of butter, one cup unsweetened chocolate, half a cup of brandy, one to two bags of sugar, a pinch of vanilla and one cup of flour. It doesn't sound like it should work with that much flour and sugar, but in all fairness it doesn't say how many balls he's making.
Isaac Hayes had a cameo appearance in Blues Brothers 2000, but the film didn't rekindle the excitement of the first. He continued making concert appearances and did a lot of humanitarian work for The Isaac Hayes Foundation.
In January 2006 it was announced that Isaac had suffered a stroke which was initially denied by his agent, but admitted by Isaac that he had. He died just 10 days before his 66th birthday in his home town of Memphis.