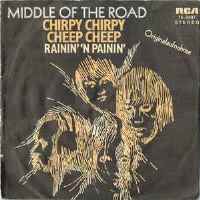 The first ever request for a Single of the Week came back in October 2011 and was MacArthur Park by Richard Harris and the person requesting it claimed that the lyrics were absolute nonsense. Well, they had a surprise when I wrote the story and they realised that they weren't rubbish at all and told quite a sad story. This week's choice is one of the catchiest number one hits of the 70s but in this case the lyrics really don't mean anything. The request came from Blodwyn Buttercup who said, "I used to sing this when I was little to anyone that would listen lol and it is still a firm fave of mine on my long-distance driving playlist it really cheers me up."
The song started life in Liverpool and was a hit in the US and across Europe before being recorded by a Scottish band with a Spanish name who were signed in Italy to an American label. Work that out.
I'll explain, the song's sole writer was a man called Lally Stott who was born in Liverpool and was a member of a band called Denny Seyton and the Sabres who just scraped into the top 50 in 1964 with a cover of Jerome Kern and Dorothy Fields' song The Way You Look Tonight. Stott, whose real first name was Harold, was born in 1945 and recorded the original version in 1970 which did nothing in the UK and limped to number 92 on the Billboard Hot 100 in April 1971. It did, however, make the top 10 in the Netherlands and South Africa and topped the chart in both Australia and Zimbabwe.
He was signed to Philips records who, for reasons, as always, are best known to themselves, weren't keen on releasing it many countries and they decided to offer it to the Trinidad-born brother-and-sister duo Mac and Katie Kissoon whose version was recorded at a quicker pace. Their version peaked at a more respectable number 20 in the States, number 10 in Canada and stiffed at number 41 in the UK.
In 1967, singer Sally Carr (born Sarah Carr), guitarist Ian McCredie, his brother Eric on bass and drummer Ken Andrew formed a band called Part Four but within a couple of years had changed their name to Los Caracas and their style of music to Latin American. In 1970, they entered one of the original talent shows, Opportunity Knocks which they won. When little happened following their win, they moved to Italy where they met record producer Giacomo Tosti who suggested they record the Lally Stott song and had them signed to RCA records. As the song was not remotely Latin-American sounding a name change was suggested and Middle of the Road they became.
With its distinctive drumming intro and catchy, 'Where's your mama gone' lyric it took off and made the top 10 in 18 countries. Originally a slow-burner in the UK until Tony Blackburn chose it as his record of the week on his Radio 1 breakfast show and then it flew here too.
The song seems to tell the story of a baby called Don who keeps asking where his mama and papa had gone when he woke up and all we know is that they went 'far far away' and all he could hear was his mama singing, 'chirpy, chirpy, cheep, cheep'. Frankly it seems like his parents were deluded and then abandoned their baby. We don't know where. We don't know if they ever came back and we don't know, and will probably never know, what happened to Don. Makes you wonder why it wasn't banned for reasons of neglect to a child.
Stott managed to enjoy the success of his song around the world, but died in a motorbike accident in June 1977 aged 32.
Chirpy Chirpy Cheep Cheep stayed on the UK chart for 34 weeks and was still in the chart when the follow-ups Tweedle Dee, Tweedle Dum (number two) and Soley Soley (number five) were charting. They had two further lower hits with Samson And Delilah and Sacramento (A Wonderful Town) which both did well in Scandinavia.
Sally Carr left the group in 1977 and was replaced by Linda Carroll who stayed with the band until 1981.
It's a little-known fact that Middle of the Road inspired a much more successful Swedish group by the name of ABBA. Middle of the Road's chart career had come to an end before ABBA won Eurovision in 1974. In an interview with the Sunday Post, Sally Carr said, "Agnetha covered two of our hits in Swedish, before she joined Abba. And the two boys Benny and Bjorn, on a live television interview, said that they used our sound as a guide for their sound." Carr also remembered, "It was Tony Blackburn who interviewed us the first time. He actually thought we were Italian. Ken turned round and said to him: 'Don't be stupid, we're Scottish'."
Even after 50 years since it was number one, everyone still seems to know the song. As Sally said, "Your grannies and your mums and dads, and your wee tots know Chirpy Chirpy Cheep Cheep. I always used to laugh and say, 'Yeah, I'm chirpy, but I'm not cheap.'"