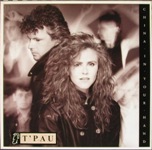 Just two months after The Firm had immortalised the Star Trek characters in their chart topping hit, Star Trekkin, along came T'Pau, who took their name from the stateswoman who appeared in the episode Amok Time and was from the planet Vulcan, also home to Second Officer Mr Spock.
T'Pau's lead singer, Liverpool-born Carol Decker began as a member of a ska band, The Lazers at Shrewsbury Art College. Ronnie Rogers was a guitarist with a band called The Katz. In 1982 Carol attended a Katz gig where Ronnie threw his guitar into the audience, which hit Carol and cut her finger. She used it as an opportunity to get backstage and meet Ronnie, whom she fancied. She successfully poached him for her own band, but just three weeks later, the band split. Carol and Ronnie put together a new band and won a couple of support slots at London's Marquee Club with a repertoire that included cover versions of Save Your Kisses for Me and Ob-La-Di, Ob-La-Da. After being spotted by former Curiosity Killed The Cat manager, Chris Cooke, he offered to oversee Carol's career. "I was very taken with Carol's voice, so we struck a kind of agreement and the first thing I did was fire most of the band," revealed Chris in an interview with Q magazine. "The songs were all there but the band just weren't cutting it."
They recruited guitarist Taj Wyzgowski, bass player Paul Jackson, keyboard player Michael Chetwood and London-born drummer, Tim Burgess to form T'Pau. They recorded some demos and got a contract with Siren Records and were offered a support slot on Nik Kershaw's UK tour.
Their debut album, Bridge Of Spies, was released in September of 1987 and the first single from it was Heart and Soul which reached number four in both the UK and the US. Taj, who was more of a jazz guitarist, didn't feel comfortable with T'Pau's rock style, so he left and Dean Howard became his replacement.
The next release, China in Your Hand, failed to chart in the US but became the 600th UK number one and was top of the chart on the week of the King's Cross fire. It was re-recorded for the single version and Carol explained to me why: "We recorded the song in one passionate take and we were happy with it for the album. Although it wasn't noticeable enough to mar the enjoyment of the track, the tempo fluctuated so much that we could not edit the album version successfully for the single, besides which, the record company thought it was too long. So we went to the Workhouse Studio in London and re-recorded it as faithful to the production as possible in a three-minute format." Well, four minutes and five seconds actually, "Roy Thomas Baker wasn't available so as Ronnie and Tim worked into the wee small hours to get it right, we agreed they should get the production credit. We originally intended to have David Sanborn do the sax solo on the album, but due to a fear of flying, he wasn't able to make it to Chicago on time." For the single version, Gary Barnacle did the honours.
The inspiration for China in Your Hand came from Frankenstein's creator, Mary Shelley. "I was watching a documentary on the whole Mary Shelley and Byron and Keats gang and was enthralled by how, at 19, she outsold both noted poets," revealed Carol. "But her success caused much dissent and jealousy in her marriage and friendships, so created her own monster. It is a story within a story, be careful what you wish for in case you get it. Ronnie's mother gave us a china tea-set and if you lifted the cups up to the light you can see a woman's face in the bottom. The cups were paper thin and so fragile when you held it in your hand. I guess subconsciously that's how I got the title."
Other Top 20 hits followed: Valentine, I Will Be with You, Secret Garden and Whenever You Need Me but then it all went wrong. "When it was good it was brilliant, but there was a lot going on," admitted Carol. The strain of being in a successful band, and the inevitable clashes with the other band members who wanted an ever-increasing slice of the pie took their toll. Ronnie's mum died of cancer while we were away followed by my dad, who died of a heart attack in 1990 so the band split in 1991 with Ron returning to production. "The record sales started to slump and the band began bickering. Then we got dropped by the record company and everything just ground to a halt. We had nothing left to give each other," Carol said. The breakdown of the band also coincided with the breakdown of her relationship with Rogers. "So what do you do when it seems things can't get any worse? Drink," laughed Carol at the time. "I'm Irish-Liverpudlian stock so it's in our blood to reach for the bottle." She gained control fairly quickly and soon launched a solo career. In 1997 she assembled a new T'Pau and the following year performed China in Your Hand with the BBC Concert Orchestra at the Princess Diana Tribute Concert at Althorp House.
In the summer of 2003 Carol appeared in the all-star, all-female hit show, Mum's The Word in London's West End. Later the same year she appeared in the film Nine Dead Gay Guys as the wife of Stephen Berkoff.
In 2011 she felt insulted when Gary Barlow, then a judge on X-Factor, made a derogatory comment about China In Your Hand and Carol took to Twitter to vent her spleen. During the series, Amelia Lily took to the stage to perform the song and at the end of it Gary came out and said, "It was nice to hear that song sung in tune." which prompted Carol to comment, "He implied that I'd sung it out of tune. I was shell-shocked. I was nervous about Amelia singing it because I didn't want her to do better than me. It was my song, it's all I've got left. I wanted her to give a good performance but not eclipse me. I tweeted him asking, 'What's your problem?' And within minutes my phone was ringing. X Factor asked me to go on Xtra Factor but Gary Barlow refused to face me. I had to hide from the tabloids the next day. I'm very conscious of the fact that his career is massive and mine isn't any more. How I handled it was difficult because it can look like you're trying to latch on to something to get attention."
"I sloped off to LA for a while to stay with friends and wrote some songs for other people," Carol said in an interview with the Sunday Express. "I was very depressed for several years but I brought myself back from the brink. I had made some money but not tons. I won't plead poverty but financially it's as good as the deal you sign and we didn't sign a very good deal. We wrote all the songs and royalties still trickle in now but a millionaire I'm not."
Rogers moved to their recording studios in Monmouth where he now lives and in 2012 the pair gigged intermittently and then embarked on a hugely successful 25th anniversary tour.
Eight years ago they left the bright lights of London Carol moved to Henley with her husband Richard who is an executive chef for the restaurant chain Bodeans, and their children Scarlett, 15, and Dylan, 11. "Scarlett was seven and Dylan was three and I just didn't fancy city life anymore, "but how I missed the bars and all the parties," she admitted.