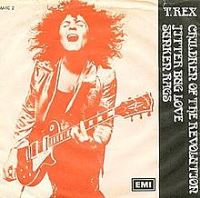 This week's artist was a glam rock item and a thoughtful and considerate one at that. He cared about his fans and didn't want them wasting unnecessary money and paying twice for records which is why many of this singles were three-track EPs known then as maxi-singles, this act of kindness was verified by his long-time producer Tony Visconti. Children of the Revolution was one such track.
Marc Bolan was born Mark Feld in Stoke Newington in London in 1947 and is generally credited as the man who started the whole glam rock genre. He attended school in nearby Upper Clapton and in 1956, after receiving his first guitar as a present, he formed a skiffle band at school called Susie and the Hula Hoops and although there was no one called Susie, their lead singer was a 12 year-old Helen Shapiro who attended the same school. In 1962, at the age of 15, he was expelled for bad behaviour. A few months later his good looks briefly earned him a job with a modelling agency but in 1964, he decided on a career in music.
He met Geoffrey Delaroy-Hall who became his first manager and he recorded a song called All At Once. Then he met the child actor Allan Warren and the pair shared a flat together with Mark changing his name to Toby Tyler. Warren watched Mark playing guitar around the flat, saw his potential, and offered to become his second manager. The following year he changed his name to Marc Bolan and signed a record deal with Decca. Two years after that, and following a brief spell as lead guitarist with the psychedelic-rock band John's Children, he formed the band Tyrannosaurus Rex with Bill Legend, Mickey Finn and Steve Currie. With plenty of support from John Peel they released three albums and four singles before evolving into T. Rex in 1970 and scoring their first big hit with the number two song Ride a White Swan. They were teamed with producer Tony Visconti who said, "What I saw in Marc Bolan had nothing to do with strings, or very high standards of artistry; what I saw in him was raw talent. I saw genius. I saw a potential rock star in Marc – right from the minute, the hour I met him." When Visconti first heard it, he loved the riff of Children of the Revolution he loved it so much when Marc began jamming he suggested to Marc that he had an idea to add strings which he did and is the version we all know today.
They'd hit the big time, the six-week number one Hot Love followed then Get It On went to the top, Jeepster peaked at two and Telegram Sam and Metal Guru were both chart-toppers. Next came Children of the Revolution a song that was originally recorded for the album The Slider but didn't make it onto the album. Johnny Reece, radio DJ and T. Rex expert said, "The reason for this was that Bolan felt it didn't quite 'fit' on The Slider – and he's right actually – it wouldn't have. So, they thought of putting it back for the next album, Tanx, though, as it turns out, it didn't fit there either because by the time that Tanx was ready for release, T. Rex had quite a change of direction."
The opening lyrics, 'Well, you can bump and grind it is good for your mind, well, you can twist and shout, let it all hang out' is a nod to sixties radicalism and the Beatles. Later lyrics like 'I drive a Rolls Royce 'cause it's good for my voice' is generally about his self-interest, but it's the banging guitar riff and drum patterns that make it quite anthemic. My personal disappointment is that there should be a final drums beat at the end, but it just wasn't there. "Initially this song was a 20 minute jam in the Studio," Reece continues, "and they all enjoyed it so much, it was redone and cut down. It was also the only single on the T. Rex Wax Co label to change from the blue/red label design to a Red/White one with a 7″ cover to match."
Whilst many songs that were about revolution were generally political or about war, this wasn't, Marc's revolution was aimed at people who wanted to dress a little bit differently say in a more hippy style. Marc was seen on Top of the Pops wearing a top hat and a feather boa and anyone who wanted to do the same was fine by Marc. It would be a style later adopted by everyone from Elton John and Alice Cooper to Freddie Mercury and Lady Gaga.
"The two tracks on the B-side, Jitterbug Love and Sunken Rags were both strong songs and were both thought of as possible singles," Reece says. "There is a version of the song that appeared in the film Born to Boogie and is a live version played in John Lennon's house in Surrey and featured Elton John on piano, and Ringo Starr on drums."
T. Rex were a little unlucky with their four UK number two hits, Ride a White Swan was kept off the top by Clive Dunn's Grandad, Jeepster couldn't unseat Benny Hill's Ernie, Children of the Revolution was unable to squeeze passed David Cassidy's How Can I Be Sure and their Solid Gold Easy Action, well it didn't sell quite enough to shift Little Jimmy Osmond.
Bolan's death is well documented but a small rock shrine marks the spot which was placed there in September 2007 on what would have been Bolan's 60th birthday.
The opera singer Maria Callas died on the same day as Bolan, but it was he who made the front page of the newspapers, so rock music clearly rules!