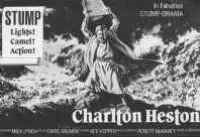 Bananrama, The Gorillaz, Ash, Mika, Haysi Fantayzee and Sheryl Crow, to name a few all, did it. What? Had a hit single with an actor in the title. There are many more and some are better known than others. This week's suggestion is one I don't  ever remember hearing on the radio, but I have played it in my quizzes especially in a cricket connection as well as an actor's theme. It's Charlton Heston by Stump.
From The Stump Story, bass player Kev Hopper describes how the band got together, "In 1982 I met guitarist Chris Salmon in Whitstable during a summer holiday. He had a very distinctive style and I was fascinated with his playing – so we made a vague arrangement to get together in the future after we had finished our Art degrees at Coventry and Canterbury. I originally had in mind a band that would play a cross between Suction Prints by Captain Beefheart and DMZ by Brand X – splintered structures and dissonant harmonics – combined with a post-punk flavour a singer might bring. Anyway, as planned, Chris and I settled down to play together in London around '84… and the music began to go its own way, quite naturally. We had no luck finding a singer after advertising in Melody Maker, but an Irish drummer, Rob McKahey turned up. He was an obvious first choice right from the start: his flamboyant, tumbling drum style was only matched by his astonishing facility for self-promotion and bullshit. He liked our music and tackled it with great confidence… and that gave us all confidence. As it happened, Rob had recently moved from Cork and knew a community of Irish musicians who had settled in London – including members of bands such as Five Go Down To The Sea and Microdisney. Among them was a Brixton squatter called Mick Lynch (another ex-member of Microdisney). Rob thought he might fit in and invited him down to our rehearsal basement on the Old Kent Road to see what would happen. Before he had sung a word, Chris and I were immediately taken with his appearance – tall and thin with a Tin Tin quiff."
Mick's frontman image became popular with the music press and they indeed graced the cover of both NME and Melody Maker. They were classed as an indie band because their riffs and lyrics had a pop element gained them exposure on Channel 4's The Tube.
In my exclusive interview with Chris Salmon, he explained how Charlton Heston came about, "We wrote this out in Berlin in Hansa Studios during the protracted recording of (their only album) A Fierce Pancake. It was a spontaneous thing and a bit of a joke at the time. Initially just a one-verse song to be maybe added on the B-side of the album with some other little snippets in a similar vein to the flip side of Abbey Road which I think certainly would have worked if we'd gone with that concept."
During the recording Kev had disappeared off on his own with his new toy, he gave me this as a tape and I disappeared off and very quickly wrote the guitar riff as a sort of country and western piss-take. Only took about half an hour I think. Then we forgot about it, just assuming it would be used as part of the album somehow. Sometime later we were coming down to breakfast in Hansa studios and Mick was pulling his t-shirt on over his head as he was sitting down and quipped 'Charlton Heston put his vest on' and everybody said 'remember that!' As far as I remember he wrote a verse at the time on that theme and it became a one-verse song to go with the instrumental and Boggy Home as the album's outro."
The making of the A Fierce Pancake album, a title named after a term meaning deep conundrum in a 1939/1940 novel called The Third Policeman by Flann O'Brien, was difficult. Numerous people were involved, "It involved several producers," Chris continued, "we ended up with John Robey trying to sort out the tapes in London. He said 'that sounds like a hit to me' when he heard Charlton Heston so he asked Mick to write a few more verses and we made it into a song. I think the bass was actually a keyboard and Rob added bodhran (an Irish drum). It was put out as a single and we did a video with Tim Pope involving 1000 frogs as extras."
They toured extensively and as Hopper explained, "We began playing our first gigs and Mick emerged as a terrific front man – even people who didn't like the music were entertained watching his performance and laughing at his Flann O'Brien- inspired patois between the songs. He would play-act and gyrate his gangly form in a comic manner. He extended the appeal of the band immensely: without him, we would have been doomed to art-band status – and that was something we were consciously trying to avoid at the time. A highly sociable, mainly Irish audience spread the word fast and it didn't take long before we began packing out all the venues and becoming one of the hottest live acts on the London Indie scene."
Charlton Heston peaked at number 72 on the UK chart, it didn't help that, "John Peel hated it", Chris admitted. The follow-up single, Buffalo failed to chart and thus, Stump's fame was short-lived. "We split up because of boredom," Chris explained, "The second album took nine months to record and strangely enough the record company didn't tell us to stop. I went back to a nine to five job which was a shock to the system. I did a bit of paper collecting for Friends Of The Earth which was one of the worst jobs I ever had, I was a glorified dustman." Since 1994, he has been a visual artist and is an Associate Member of the Royal Birmingham Society of Artists (RBSA) and the Royal Society of Painter Printmakers. His work can be seen at http://chrissalmonart.co.uk/
As for the other members, Kev Hopper continued making music and has recorded material as Spoombung and more recently as a member of the band Prescott alongside Rhodri Marsden, Keith Moline and Frank Byng. Rob McKahey moved back to Cork and is still a musician, but sadly, Mick died of cancer in December 2015, he was just 56. He wrote in both Irish and English for Cork's Dowtcha Puppet theatre. "Mick was a star, an enigma, one in a million," Rob McKahey said to the Irish Times. "He'd come in for rehearsals and read out the lyrics he'd written to one of our crazy tunes and we'd all just be in awe."