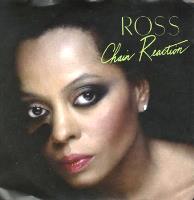 In 1981, after two decades with Motown Records, Diana changed labels. She signed a $20m contract with RCA in America and an international deal with Capitol/EMI. Her first UK hit for the new label was a winner probably because it was a cover of a 1950s chart-topper in the shape of Why Do Fools Fall In Love. The majority of the material for the new label certainly didn't excite the public with the first half a dozen hits reaching mediocre chart positions. Then a super group of brothers got involved and things changed.
In the early eighties, Barry Gibb, alongside producers Karl Richardson and Albhy Gauten, discussed working on some songs for Diana Ross. They finally got around to it in 1985, which resulted in the album Eaten Alive. The title track, co-written with Michael Jackson, was the first single released from it and stalled at number 71. As Barry Gibb described, "Diana Ross is a woman of many parts, and she concentrates on about a dozen things at once. She might be hosting the Academy Awards the same week as she's doing her vocals."
The album was due to have an August release but was delayed for a month. The record label decided that the title track was to be the first single issued but the press slated it with Rolling Stone magazine writer Davitt Sigerson calling Michael Jackson's input 'unhelpful help' and noted that the song was 'certainly his worst effort since Muscles.' A 12″ single mix was better received by club DJs but ignored by radio.
The album was finished and ready for release but, "Diana was still looking for that one song she could call a single," Barry Gibb remembered in a 2001 interview. Maurice Gibb reasoned, "We thought, wouldn't it be great to make a great Supremes record — we've already got the lead singer!" Barry continued, "It was Robin who persuaded her by saying, 'We think it's time you did something that you would have done with the Supremes and not just Diana Ross'. Diana quite liked the idea, so that's exactly what the brothers did. "We had Chain Reaction all along but didn't have the nerve to play it to her because it was so Motown-ish that we were scared she wouldn't want to go back there," They'd given the song a real Holland-Dozier-Holland feel but with much more suggestive lyrics, just take a close listen to the second verse which opens with, 'You make me tremble when your hand moves lower, you taste a little then you swallow slower. Nature has a way of yielding treasure, pleasure made for you, ooh!' that's when you realise the whole song is about multiple orgasms. "Once Diana had recorded it, she sat down and heard the playback and realised it was a credible tribute to her past," Barry explained.
Chain Reaction was not only co-produced by Barry Gibb, he also added backing vocals to give it their trademark sound. To accompany the Supremes' sound that the Bee Gees had created, the video showed Diana as a sixties recreation of herself in a modern style dance show shot in black and white. The song went to number one giving Diana not only her second solo chart-topper but it came almost 15 years after her first, I'm Still Waiting in 1971. It became Ms Ross' biggest selling UK single and earned the Gibb's even more money when it was re-issued in 1993 and went back into the chart at number 20 and then another resurgence when a cover version by Steps took it to number two in 2001. In the UK, it won the Ivor Novello award for most performed song in 1986.
What is hard to understand is why, despite Diana's popularity in her native land having had 46 hits with the Supremes and 43 solo hits, both her UK number one hits never made any impact over there. I'm Still Waiting stalled at number 63 and Chain Reaction faltered at number 95 then a 'special new mix' the following year stiffed at 66. Very odd.
Talking of odd, for those who saw her at the recent Platinum Party at the Palace, why was she so out of tune when she opened her set? I did hear that for those who saw her fiddling around with something by her hip, under her clothes, and wondered what is was, apparently it was her auto tune facility. That might explain it, but it begged the question; why did someone not sort that out before she came on stage and the other question I have is, why didn't Shirley Bassey close the show instead?
Interestingly, two weeks after the Palace party, a friend of a friend text to say he was in Birmingham watching Diana Ross. He was in the fourth row and said she was brilliant. Mind you, the ticket was £295. All I can say is, thank God my ticket for the Party at the Palace was free!