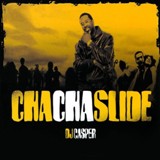 It's incredible how some songs have a dance crazy attached to them which were never originally intended, the prime example being YMCA which, if you watch the original 1978 video, never did the semaphore arm movements which a whole audience will engage in if you have a good DJ to encourage them. This week I focus on a 2004 chart-topper which, the writer never envisaged would become an audience participation act that's still fully indulged in to this day.
That song is Cha Cha Slide by DJ Casper who was born William Perry in Chicago, Illinois in 1965 and was also known as Mr C – The Slide Man. He explained how he got the name from, "I got the name Casper from when I was young and roller-skated a lot. I would always wear white whatever I did stage-wise."
The song, which spawned a number of less-successful copycat versions, opens with the line 'This is something new,' well it isn't not. "I wrote Cha Cha Slide in 1996 as an aerobics workout programme for a gym trainer friend of mine called David Wilson and I recorded and released my own version in 1998," remembered Casper. It made little impact. In 2003 it surfaced in clubs across Europe and All Around The World Records picked it up for a UK release.
Although Casper wrote the song, the writing credit contradicts this. It seems that Marvel Thompson, a Chicago gang leader known as 'King' Of the Black Disciples, had overseen a drugs operation which raked in over $300,000 a day. He laundered some of the drug money into some legitimate businesses, including M.O.B. Records, which Casper was originally signed to. It led to a six-year investigation by the F.B.I. when he was then arrested and charged with drugs conspiracy. Eventually in March 2005 he pleaded guilty to conspiring with other members of the street gang to distribute cocaine and heroin and was sentenced to 15 years in prison.
The infectious two-step novelty song entered the chart at number two, having received virtually no airplay on mainstream radio. In, what was then a sliding singles market, the song made the rare one step climb to number one, the first time a song had climbed to the top since DJ Ötzi in the spring of 2001.
I mentioned earlier that there were some lesser successful version, but one did apparently sell enough to get into the chart and was by the mysterious MC Jig, but Casper reached number one whilst the cover only reached number 33. "I didn't appreciate his version," said Casper, "because he was trying to make people think he was the creator but he used my music and my words."
The dance moves to Cha Cha Slide involve Casper getting the audience to slide to the left and then to the right as well as asking them to clap, hop and stomp their feet. There's still so many who get a bit lost when it comes to the Charlie Brown, the more clued up ladies do it carefully! The follow-up single was another party favourite. Adopting the same instructing method, Casper, using a sample from the Gap Band original, rowed up the chart with a remake of Oops Upside Your Head.
Little was heard of DJ Casper over the next 12 years, but it May 2016 it was announced that he was diagnosed with two forms of kidney cancer; renal cancer and nero endocrine cancer. His wife Joyce, in an interview with Jet magazine said, "They did surgery on him at the end of January, but were unsuccessful, so they decided to do chemotherapy. I'm able to give him injections every day, because I'm a nurse, which is a blessing. My mom is a pastor, so there are a lot of prayers going up, and some Sundays, we make it to church. He's not working nearly as much as he used to, and all the medications are quite expensive, so I had it on my heart to throw him a benefit. There will be dinner, live entertainment and a special tribute to Casper to highlight all he's done. He's not just the guy who created the Cha-Cha Slide, in the process of paving his career, Casper used to roller skate and he won the World's Largest Steppers Contest nine times straight."
We wish him well and hopefully a complete recovery.