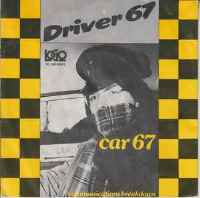 This week's suggestion is classed in many places as a novelty song. I strongly disagree. The Birdie Song, YMCA, Agadoo et al are novelty songs, this is not. It's certainly different, but then again, most of the 1970s unearthed sometinhg different which is what made it such a great decade for music. This song had a very strong emotional appeal and is sad at the same time. It has a lot of meaning, even the late Queen Mother thought so.
The man behind Driver 67 is Paul Phillips from Wolverhampton whose career started in the early 1970s playing in a local band until he met an American multi-instrumentalist called Pete Zorn from Pennsylvania. The two struck up a wonderful friendship and they started making music together. The usual story ensued where they spend a few years trying to get numerous record labels interested in their product, but eventually, after three years, the new fledgling Logo records showed interested. They had already signed the punk band Alberto Y Lost Trios Paranoias whose hit, Heads Down No Nonsense Mindless Boogie gave them their first hit in 1978. They also signed The Tourists who were Dave Stewart and Annie Lennox before they became the Eurythmics and Streetband who really did have the novelty hit Toast as sung by Paul Young. Driver 67 is actually a proper band and comprises musicians Dave Mattacks, Ian Lynn and Martin Jenner as well as Phillips.
Car 67 is a mini soap opera set into almost three minutes which is probably what the perfect pop record should be. Paul had a very brief stint as a real-life cabbie and began writing this song whilst idly ranked up somewhere waiting for a fare. He once said he was "Possibly the worst cab driver London has ever known."
The song tells the story of a cab driver who sets off to work when the radio controller calls him and asks him to pick up a passenger at 83 Royal Gardens. There is no real road called Royal Gardens in Wolverhampton but there is a small area by that name. The taxi driver, the previous night, had split up with his girlfriend and that address is where she now lived. He pleads with his boss not to let him do the pick and after explaining his reasons the boss relented and found someone else for the pick. Eventually car 23 was asked if he could do it.
The song entered the chart the week before Christmas 1978 and was selling so well that the record label wasn't able to keep up with demand. It could well have got higher than its number seven peak, maybe even number one. What gave it extra appeal was when it appeared on Top of the Pops, Phillips played both the part of the taxi driver sitting in a real Cortina Mk III and also in a BBC studio pretending to be the controller. The song apparently cost £850 to make and the production, according to the label, says It's a Tax Loss Production.
In the early 1980s, Radio Two DJ Ed Stewart had attended a gala where he met Princess Margaret, Ed said, "I asked her if her mother might like a birthday request played?" A couple of days later Princess Margaret called Ed and made the request saying that her mother liked the song because it, "told a warm and human story about a mini cab driver who is asked to pick up a girl who has jilted him." Ed later admitted he was, "Surprised to get the call but was very flattered."
There was a follow-up single called Headlights, but due to its content of a truck driver menacing an innocent girl who was stranded at the side of the road. Even though she tells him to back off, he persists so the BBC refused to play it. According to Phillips, "Headlights was part of a package of songs that Pete Zorn and I had amassed over a three-year period. It came to me in a dream and was in my head when I woke up in the middle of the night. I always kept pen and paper by the bed, and I quickly scribbled down the words that appeared to be on a radio playing in my head. Somehow – I didn't even try to resolve the means – the girl escapes from the truck and the rest of the song has the asshole driver following her and menacing her, 'I can see your fright in the dead of the night. I can pick you up in my headlights'".
Phillips has written a book for aspiring musicians on how to make it in into the music business and he is still making music. In 2014, he released an album called Now That's What I Call Divorce which was based on some real-life experiences. So, all in all, the theme of his songs hasn't changed much in over 40 years.