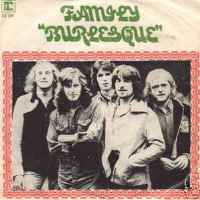 Family were an underrated band from the late sixties and early seventies and Roger Chapman's voice hasn't changed in 50 years. Major commercial success eluded them and one of the reasons is probably due to the ever-changing personnel that made it was hard to sustain their artistic potential.
Roger Maxwell Chapman was born in Leicester in April 1942 and as a youngster didn't know what he wanted to do, so how did he get started? "I never planned to be in the music business really, I just started singing with pals, literally on street corners back in 1958, stuff by The Coasters, Fats Domino and Jerry Lee Lewis," he explained in an interview with Peter Viney. "We were 15-year-old kids and we started doing talent contests. We were called The Searchers, but then I joined a local group in Leicester, the Rocking R's, because they were the only people I knew who could play Ray Charles tunes. I left school and wanted to go to art college, but being the type of geezer I was I ended up doing an apprenticeship in painting and decorating. I got the elbow from that after a few months and never really got on with work anyway, just doing odds and sods, working in factories and stuff. I remember Charlie Whitney and Jim King (two other members of Family) got me off the building site, they turned up one day and asked me to join The Farinas, and that was that."
The Farinas released one single on Fontana in August 1964 called You'd Better Stop, and it was Jim who sang lead vocals on that. He then joined The Roaring Sixties who, in 1966 were renamed Family. Their first three singles, Scene Thru the Eye of a Lens, Me My Friend and Second Generation Woman all failed to make any impact, but then came No Mule's Fool which reached number 29 towards the end of 1969. Jim King left the band later that year due to ill health. The following year saw The Weaver's Answer peak at number 11 and one year after that In My Own Time gave them their biggest hit when it reached number four in the summer of 1971. Seemingly, annually, came their final hit and this week's suggestion, Burlesque.
The line-up of the band at the time of Burlesque were; Roger Chapman (vocals), John 'Charlie' Whitney (guitars & keyboards), John Palmer (keyboards & flute), John Wetton (bass) and Rob Townsend (drums)
All their hits were written by Charlie Whitney and Roger Chapman but Roger didn't start writing song until he was in his 20s. "My first attempt was when I was about 22, but as I didn't play an instrument everything I did was instinctive, so it was very difficult to write songs in that sense. Then it just sort of grew – Charlie and I wrote two or three songs together, rehearsed them and did them on stage. Then the band went through this thing where we elbowed the drummer that we had, and a lot of the writing came from when the four of us would be in Jim King's flat. Jim would be playing soprano sax, Ric (Grech) would be playing the violin, Charlie would have his acoustic guitar and the four of us would rehearse while we were waiting to get a new drummer- who was Rob Townsend. It was a very strange environment, you have to remember that this is a real loopy trio of instruments we had there as well. For no particular reason we started to write all these songs, and what we came up with was really quite unique."
Burlesque really showcased John Wetton's bass so much that really it became the lead instrument. It was also the opening track on the album Bandstand which saw a more commercial change in direction. The song was about a bar/nightclub of that name in Humberstone Road, Leicester. The venue was opened by George Neal who said on Facebook, "I opened The Burlesque All-nighter in 1966 and it was part of my plan to celebrate England winning the World Cup."
Family's final concert was at the Hawthorn Building of Leicester Polytechnic before splitting in late 1973. Wetton went on to played with King Crimson and later Asia, Townsend briefly joined Medicine Head and Roger and Charlie formed The Streetwalkers who were around for three years and recorded a couple of sessions for John Peel.
Roger has continued to perform, and in February 2013, they played a one-off reunion gig at the o2 Shepherds Bush Empire which featured Palmer, Townsend and Jim Cregan who had replaced Wetton in Family and was also a member of Steve Harley's Cockney Rebel. Demand for tickets was high that they ended up playing two nights and obviously getting the bug again and played more gig in 2014-2016 including festivals in Italy and the UK.
In reply to a question Nick Lowe was asked about when do you know you're a great bass player, he replied, "When you can play Burlesque." Praise indeed.