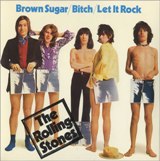 Years ago, back in the mid-eighties, I was the resident DJ in a nightclub called The Mayfair in Southampton where I worked for almost three years. It was owned and run by Mecca and many of their venues then adopted the old-fashioned policy of providing a live band as well as a DJ and the resident band I worked with were called Blitz led by Rob Price. They usually did three 45-minute sets per night with me playing for the rest of the time. Quite often, when I returned to my DJ box whilst the band were on their last number, I frequently used to sing along (with an open mic) but fairly quietly as I was not the world's best singer. One night they were concluding with Happy Hour by the Housemartins and Rob spotted me singing and so decided to inform the band that when it gets to the 'what a good place to be' lyric, the band would stop playing and left me doing the line acapella. Oooh! Not good. Anyway, Rob thought I was ok and decided to give me a song to perform on my own and so my stage debut came with a cover of Paul Simon's You Can Call Me Al, which wasn't too bad. Once we'd exhausted it, he suggested another for me to debut on New Year's Eve and he suggested Brown Sugar. I panicked. I only had three weeks and I didn't know the lyrics. My dad, bless him, spent an hour in Chappell's in Bond Street writing all the lyrics out for me to learn. I promptly committed them to memory and didn't do a bad job on the night, and it's that classic Rolling Stones song that is the subject of this week's Single of the Week.
The sixties were arguably the Stones' most successful decade, but by the seventies they were still flying, having launched their own label with the famous lips logo designed by John Pasche based on Jagger's own gob. It came about after Mick decided he wanted a new logo and went to the London's Royal College of Art to find a student with a good eye and a good hand. He spotted the work of Pasche and offered him £50 to draw the logo. Apparently Jagger told Pasche he wanted something to resemble Kali, the Hindu goddess of everlasting energy, but as Pasche said, "I went into this sort of wood-panelled boardroom and there he was. I was face-to-face with him, the first thing you were aware of was the size of his lips and mouth and that was more inspiring."
The logo was first used on the Brown Sugar single and the Sticky Fingers album which itself came with a novel zip-up fly on the front of a pair of trousers with the outline of a large penis within. Many assumed it was modelled on Jagger, but Andy Warhol and his team, who conceived the idea, said, "Many men posed for the design of which Jagger was not one of them." They've never revealed who it was. Maybe it was all a cock and bull story!
At the time, many cited Marsha Hunt as the inspiration behind the track after she and Jagger met when she was appearing in the London production of Hair. Their affair was a well-kept secret until 1972 when it was revealed they had a daughter called Karis. Marsha was probably only half the inspiration because according to Bill Wyman, he said it was partially inspired by a black backup singer named Claudia Lennear, who was an Ikette – a member of Ike Turner's backup group. Claudia and Jagger met when The Stones toured with Ike and Tina Turner in 1969. The track, Lady Grinning Soul which appears on David Bowie's album Aladdin Sane, was also written about her.
Brown Sugar is a good upbeat party type song, but its lyrical content is more serious which deals with black slaves from Africa being sold in New Orleans and raped by their white masters. But people had their doubts as the title bared little resemblance to the lyrical content. According to Tony Sanchez's book Up And Down with The Rolling Stones, the slavery and whipping was a double meaning for the perils of being controlled by Brown Mexican smack, or Brown Sugar as is was known.
Although Mick and Keith, like Lennon and McCartney, made a pact to take joint credits on all their songs, this one is all Jagger, which an engineer, Jim Dickinson, at Muscle Shoals studio in Alabama claimed was written in just 40 minutes at the session. He originally called it Black Pussy, but decided it was a little too direct and may restrict airplay and so changed it to Brown Sugar. The opening line, 'Scarred old slaver know he doin' alright' is also not what it seems as Keith revealed in his 2010 biography, Life, 'Some poor guy at their publishing company probably came up with that transcription for the lyrics, but Jagger was singing, 'Skydog Slaver,' as 'Skydog' was a nickname for Muscle Shoals regular Duane Allman, since he was high always high on dope.' The line 'hear his whip the women just around midnight' was supposed to be 'hear him with the women just around midnight' but Mick sang the wrong line on the first take and it stayed.
Mick's vocals were deliberately mixed down into the tracks so as to conceal some of the other scandalous subjects contained within like interracial sex, cunnilingus, and, less obviously, sadomasochism and rape. It was Mick's decision after taking advice Fats Domino once gave him which was, "You should never sing the words out very clearly."
The recording sessions for what would become Sticky Fingers actually took place in December 1969, some 18 months before the album was released all because of a legal dispute with their former manager, Allen Klein, over royalties. At that same session Wild Horses and You Gotta Move were also laid down and overdubs being added by the Rolling Stones engineer Glyn Johns back in England. The saxophone part was played by Bobby Keyes, a regular Stones session member who passed away in December 2014.
A bootleg version of Brown Sugar, which has Eric Clapton playing lead guitar, was recorded at a birthday party for Keith Richards and was widely considered to have been part of an informal audition by Clapton to become The Stones' second guitarist. He never got the job.
In 1995, Mick Jagger was interviewed by Rolling Stone magazine and attributed the success of the song to a good groove. After noting that the lyrics could mean so many lewd subjects, he said, "the combination of those subjects, the lyrical ambiguity was partially why the song was considered successful, but God knows what I'm on about on that song. It's such a mishmash. All the nasty subjects in one go… I never would write that song now." When the interviewer, Jann Wenner, asked him why, Jagger replied, "I would probably censor myself. I'd think, 'Oh God, I can't. I've got to stop. I can't just write raw like that."
I guess now that when I sang that song back in 1986 I had no idea what I was singing about….luckily!