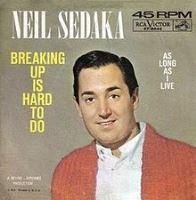 This week's suggestion is, again, a relationship song – the ones that have mass appeal and ones that are better remembered. Neil Sedaka was one-half of brilliant song writing partnership that came out of New York's famous Brill Building. Such names as Gerry Goffin and Carole King, Barry Mann and Cynthia Weil, Jeff Barry and Ellie Greenwich and Doc Pomus and Mort Shuman – all whom have written memorable classics that have all stood the test of time. Sedaka, and his writing partner, Howard Greenfield, collectively wrote over 25 UK hits in 20 years. The majority were sung by Neil and Breaking Up Is Hard To Do, from 1962, is one of them.
Sedaka, who was born in Brooklyn, New York, in 1939, became a classical pianist having studied at the Julliard School of Music, but it was only when he met a boy from a few streets away that he became interested in pop music and he and Howard Greenfield formed their song writing partnership.
Their first 'success' came in 1956 when they wrote a track for the Tokens of which Sedaka was briefly a member. They wrote song for the Cookies, The Clovers and Cardinals. Their first major worldwide hit was in 1958 when Connie Francis took Stupid Cupid to the top of the chart. That song was originally intended for the Shepherd Sisters but Francis turned up at the Brill Building, heard it and told Sedaka and Greenfield she wanted it, and she got it.
Breaking Up Is Hard To Do was Sedaka's ninth UK hit and reached number seven in September 1962. "I was travelling through California and while I was driving in Los Angeles I heard a local hit called It Will Stand by The Showmen," Neil explained in an interview with Chicken Soup for The Soul. "I felt harmonically it was an exciting recording. The marriage of the voice and melody and the energy in the record inspired me."
He went back to the Brill Building, wrote a melody and gave it a title. He then took it to Howard who was fairly unimpressed. Neil believed in it because he was convinced that the title would have wide appeal realising that the song had a happy upbeat feel with a more sentimental lyric.
He kept taking it back to Howard pressing him to write a lyric. He eventually did and then Neil played it, along with a few other songs, to his friend, songwriter Barry Mann he too thought it was just OK.
They booked a studio slot to record the song, but the night before when Neil was lying in bed, an idea hit him and he called up an arranger Allan Lorber in the middle of the night and started singing, 'come-a come-a down, dooby doo down down'. Allan, after the initial shock of being woken up and sung to down a phone, liked it and the song was cut the next day.
It gave Neil his first American chart-topper and the song has been covered by a number of people including The Happenings, Lenny Welch and the Partridge Family who took their version four places higher in the UK exactly 10 years after Sedaka. Neil also covered the song, well he re-recorded it in 1975 in a much slower tempo and made it a heart-felt ballad. That took him back into the US top 10 and thus he became the first act to remake a number one and take the same song back into the top 10.
Years later, Neil's son had an interesting experience with the song. Neil explained, "He was going out with a lovely girl and she gave him an ultimatum, 'marry me or we're breaking up.' He left to determine his future and when he got in his car, my song was playing on the radio and so he turned back and they got married and are still married to this day."