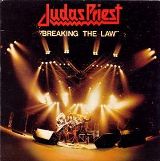 Trivia question; what do the Rolling Stones, Radiohead, Deacon Blue, the Pretty Things and Judas Priest all have in common? Answer; they all took their name from other people's song titles. The Rolling Stones from a Muddy Waters song, Radiohead from Talking Heads, Deacon Blue from Steely Dan, the Pretty Things from Willie Dixon and Judas Priest from a track on Bob Dylan's John Wesley Harding album The Ballad of Frankie Lee and Judas Priest.
Judas Priest were formed in Birmingham as far back as 1970 and, apart from a three year hiatus in the nineties, they're still together and perform regularly. The main line up comprises lead singer Rob Halford, guitarist K.K.Downing, bass player Ian Hill and after their record company suggested they bring in a keyboard player, they decided to recruit a second guitarist instead, Glenn Tipton in 1974. Glenn does also play keyboards, but they were the first British heavy metal group to have two guitarists. As for a drummer, well they've had eight of those over the years – the one with the longest tenure is Scott Travis who joined in 1996 and is still there.
They grafted for seven years before they saw any kind of chart action. The albums Rocka Rolla (1974) and Sad Wings of Destiny (1976) failed to excite the public, but then in 1977, their third album Sin After Sin reached the top 30. Two further albums followed, Stained Class (1978) and Killing Machine (1978) saw chart action too, but then in 1979 they hit the top 10 with Unleashed in the East. Their most successful album came the following year when British Steel reached number four and the first two singles lifted from it, Living after Midnight and Breaking the Law both reached number 12.
The album was recorded at Tittenhurst Park, a 72-acre Georgian country house near Ascot, Berkshire which was owned by John Lennon between 1969 and 1971 and then by Ringo Starr until 1988. Rob explained what it was like when they first went there and was he tempted to pilfer a souvenir? "I think Ringo nailed everything down," he said with a laugh. "To walk into that house and be in the room where Lennon did the world-famous Imagine was a bit like being a hard-core Elvis fan and recording a record at Graceland. That's a fairly spontaneous thought, and I don't believe I've ever said that before, but that's what it felt like. You can't escape the fact that the Beatles were, and still are, a revolution that changed popular music."
The band, early on, developed a close working relationship with few arguments, but by 1980 things were stepping up, "We were red hot," Rob revealed, "We worked with a great producer, Tom Allom, who really pushed us. He wanted us to keep things simple and direct. He wanted us to be very straight forward with our arrangements. That's how those riffs on Breaking the Law and Living after Midnight came about."
Breaking The Law tells the story of someone who gets tired of everything that comes with an ordinary life – a life that had become boring. This leads the person to take a chance and start breaking the law. It comes complete with a couple of sound effects of police sirens and glass being broken which, in the days before sampling, were either taken from a sound effect record or making the noises live.
The police siren was produced by guitarist K.K. Downing using the whammy on his Stratocaster, but as for the breaking glass, that was real. Rob and Glenn literally smashed empty milk and beer bottles in Ringo Starr's house to capture the sound.
The song came easily, Glenn Tipton recalled in an interview with Billboard magazine, "We used to meet up at various houses to write, and we just broke into that riff one day and the song wrote itself. We wrote that song in about an hour, I think. Rob just started singing, 'Breaking the law, breaking the law,' and before we knew it we had a classic Priest song." Rob added, "It was a time in the UK when there was a lot of strife, a lot of government strife, the miners were on strike, the car unions were on strike, there were street riots, it was a terrible time. That was the incentive for me to write a lyric to try to connect with that feeling that was out there. We never went into a room and said, 'we've got to try and get this punk attitude into our music,' but it certainly seemed to capture some of that anarchy in its projection, musically."
Rob's image was wearing leather but few, back in the early days, realised he was gay. Would they have been as successful if it had been known then that a gay man was heading a heavy metal band? No one can say, but it seems unlikely. In 2014 The Guardian ran the headline: Judas Priest's Rob Halford: I've become the stately homo of heavy metal' and in that interview Rob talked openly about it, "Astonishingly, no one straight seemed to cotton on to the look's connotations, of course, my gay friends were immediately like, 'what's all this about?'" – but, then again people have always overlooked stuff about Judas Priest, not least the political slant to at least some of their lyrics. Breaking the Law was a kind of metal counterpart to Ghost Town, inspired by the winter of discontent and the rise of Margaret Thatcher. All of that's in there, you know: 'completely wasting, out of work and down' – no one cares, I'm going to break the law. We weren't giving people affirmation to break the law, but we could understand their frustration."
The video featured the band as bank robbers with Rob riding in a Cadillac towards the bank, singing the first verse, then meeting up with the rest of the band at the bank. They then break in and use their instruments to bring the customers to their knees. Next they break into the safe and steal a gold disc for the parent album British Steel, which was slightly ironic as, at that time, it hadn't yet gone gold. The security guard is seen sitting in his room sleeping in front of the security TV, but is awoken by the loud music and instead of doing something, he just looks in awe at the TV. As the band are leaving the security guard picks up an air guitar and starts playing along. That video is ranked at number 40 on VH1's 40 Greatest Metal songs list.
Breaking The Law can be heard in the Beavis and Butthead movie, they used to sing it when they did something knowingly illegal. It's also been used in the Jus-Rol pastry TV advert which shows a working mum whipping up a chicken and pesto pastry tart for her children in a matter of moments, while dancing round the kitchen.
The band also performed a parody of this song in January 2014 during the 25th season of The Simpsons in the one called Steal This Episode where we see an enthusiastic FBI agent in charge of anti-piracy goes after Homer, after he starts illegally downloading films and goes into hiding. The band perform a spoof version of the tune in an effort to lure him out.