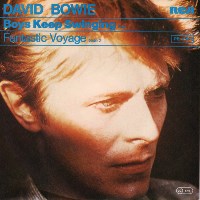 The video era really came to life in 1981 with the birth of MTV, but of course, there were videos before that and it's always been cited that Queen's Bohemian Rhapsody was the first. It wasn't. For a start, the Beatles were doing promo videos in the sixties with Paperback Writer and Strawberry Fields Forever being the best known. In 1979, Rolling Stone magazine stated that promotional video tapes were becoming 'the newest selling tool in rock,' giving David Bowie's Boys Keep Swinging as an example.
Boys Keep Swinging was David's last UK top 10 hit of the 1970s and the accompanying video shows David, much like Phil Collins doing You Can't Hurry Love, singing his own backing vocals in triplicate and in drag. The BBC were hot on David's heels as they had banned the video to Heroes because of light shining through David's crotch and deemed it suggestive, so he had to be careful. The video to Boys Keep Swinging, despite the title suggesting it might have connotations, started off the David standing in a dapper suit at a microphone and the BBC must have only watched about 45 seconds of it and considered it passable. Thankfully, they didn't watch any more otherwise we may not have got to see the bit where at 52 seconds the Bowie's in drag are seen albeit it's only a brief glimpse and not immediately obvious it's David. Apparently, when it was aired there were, as usual, complaints. I don't believe anyone complained when the Two Ronnies dressed up and even shared a bed.
David wanted the track to have that American garage band sound and thought, to do that, it would be a good idea if a couple of the musicians swapped instruments, so the guitarist, Carlos Alomar, played the drums and the drummer, Dennis Davis played bass. The other musos were, Adrian Belew – guitar, Brian Eno on piano, Tony Visconti also played bass guitar (because Tony didn't think Dennis' efforts were good enough) and Simon House played violin.
The song was written about the guitarist Adrian Belew who explained in an interview with Uncut magazine that Bowie wrote it with him in mind. He said, "In New York, David was doing vocals for Boys Keep Swinging, he played me it and said: 'This is written after you, in the spirit of you.' I think he saw me as a naïve person who just enjoyed life. I was thrilled with that."
Belew explained his somewhat futuristic sounding guitar solo, "What I do is, say, use four tracks for a recorded solo and then I cut them up, knock up a little four-point mixer clipping the solos in and out. I give myself arbitrary numbers of bars in which they can play within a particular area and go backwards and forwards from one track to another. The effect is somewhat histrionic."
Bowie, in an interview with Bust magazine in 2000 said of the song, "I do not feel that there is anything remotely glorious about being either male or female. I was merely playing on the idea of the colonisation of gender."
In 1997, Blur released the single M.O.R. which 'borrowed' Boys Keep Swinging's melody and thus its writers. Eno and Bowie made a noise and were then awarded writing credits on the track.
Boys Keep Swinging reached number seven in the UK chart but was not released in America as his label there, RCA, deemed the video too suggestive so instead released Look Back in Anger which was another track from the parent album, Lodger but it failed to chart.
Lodger was not as well received as a number of previous Bowie albums. Melody Maker's Jon Savage said in his review, 'Will the eighties really be this boring?' to which Tony Visconti replied in an interview with The Guardian, "It's the mix. Someone had called it thin and muddy and that's pretty bad, to be both thin and muddy! And that's what always nagged me and David about it."