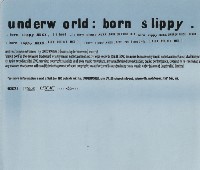 How could you describe this week's choice? Personally, I would go with a 90s dance anthem with an infectious hook and a hard beat best heard on the dancefloor with some alcohol inside you. One of the two men behind the track described it in an interview with Uncut magazine as, "A map of a journey that starts at the Ship on Wardour Street, goes to Tottenham Court Road tune and gets the late-night train back to Romford." Yep, Karl Hyde's take on his biggest hit Born Slippy. But what is it about? Let's find out.
Hyde's explanation in isolation doesn't mean a lot, but an interview with The Guardian in 2006 gives it a little more context, "We used to go out drinking in Soho and I ended up in the Ship on Wardour Street. All the lyrics were written on that night. A drunk sees the world in fragments and I wanted to recreate that. I was inspired by Lou Reed's New York album and Sam Shepard's Motel Chronicles. I was into flash photography as well, so I was walking around Soho with a notebook and camera, just observing things. In those days I'd open the book whenever a musical idea inspired me. Rick [Smith] came up with a rhythm and I started singing over it. The vocals were done in one take. When I lost my place, I'd repeat the same line; that's why it goes, 'lager, lager, lager, lager.' The first time we played it live, people raised their lager cans and I was horrified because I was still deep into alcoholism. It was never meant to be a drinking anthem; it was a cry for help. Now I don't mind," Karl Hyde said. It was after the drinking session in London that he struggled to get a late-night bus home to Romford.
Underworld are Karl Hyde, Rick Smith and Darren Emerson who came together in Romford in 1981. Emerson was a member from 1991-2001. Originally a funk band, but within a couple of years their sound turned to trance and techno. Their debut hit, as Underworld, was the double A-sided track Spikee and Dogman Go Woof, but it's not the first time they had graced the chart. Before changing their name to Underworld in 1987, they were called Freur, which, long before Prince, was depicted as the symbol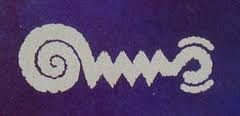 and charted one hit, Doot Doot which stalled at number 59 in 1983, but  it did make number one Italy. Born Slippy was originally released in 1995 and that too fell short when it stiffed at number 52. Within 14 months it was a much bigger hit all thanks to a re-mix and a film.
In an interview with Q magazine, Karl explained what happened after he and Rick made several re-mixes of the track and re-released on CD and two 12″ singles, "The record comes out and it's the biggest selling 12" we've ever had. Then we get the call that some geezer called Danny Boyle who wants to put the track in the film version of Trainspotting. Myself and Rick weren't part of a druggy culture, we didn't see the association with our music. So, we said no to the request as we didn't like the analogy that we thought was being made. That's the last time we've ever said no Danny Boyle! He convinced us to go to the edit suite and we realised it was the opposite of glorification. It perfectly put the song back into context. The first time we played it live my heart sank cos loads of people were holding cans of lager aloft. The film redressed the balance, gave the song resonance."
The title of song bears no resemblance to any of the lyrics, so why is it called Born Slippy? Karl's simple answer is, "We saw a greyhound running at Romford dog track, I bet on it and won money." obviously!!
The stand-out lyrics from the song are the repetitive 'lager, lager, lager, which gets mentioned 19 times in the radio edit version of the song, but not many people will have noticed that the word 'boy' features heavily too. That crops up no less than 41 times.
Now just a duo, the pair love playing various festivals; they've done the Reading festival, Japan's Fuji Rock and Glastonbury twice, in 1998 and again in 2016. It's the song that secure their future and retirement and they love playing it very often using it as the set closer. Hyde reflected again, "Born Slippy was never meant to be a drinking anthem – it was a cry for help."