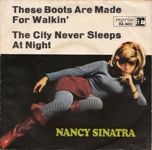 Because of his connections with the Mafia, Frank Sinatra earned himself a reputation of being quite ruthless, and that even, seemingly, extended to his daughter. Nancy had been signed to her father's record label but when she was about to be dropped when her first few singles all flopped. Not even dad stepped in, but luckily things changed when they teamed her with producer Lee Hazlewood.
By 1965, Hazlewood was living off the royalties from Duane Eddy's hits which he'd written a dozen of and produced all of them. His friend, Jimmy Bowen, was working for Frank Sinatra's label, Reprise, and offered him exceptional terms to make stars from the boy band, Dino, Desi & Billy in America. This he did with I'm A Fool and Not the Lovin' Kind and he also secured a US hit for Dino's dad, Dean Martin, with Houston.
Prior to being teamed with Hazlewood, Nancy had cut several singles without success. She had been recording drippy teen songs and Hazlewood wanted something with more bite. As he said to her, "You're not a virgin, you're a grown woman, and we have to reflect that." The first attempt was So Long Babe and the second, These Boots Are Made for Walkin', which he had had written about her crumbling marriage to the rock 'n' roll singer, Tommy Sands. Nancy regretted the tough, trampling Boots: "The image created by that song isn't the real me," she said in 1971, "Boots was hard and I'm as soft as they come."
Nancy Sinatra recalled in the documentary, The Wrecking Crew, that Lee Hazlewood was going to record the song himself, but she talked him out of it. "When a guy sings it, the song sounds harsh and abusive, but it's perfect for a little girl." Hazlewood often drew inspiration for his songs from regular people. In an interview with Blender magazine, he said, "I was in a Texas bar when some patrons started razzing an older guy about his younger girlfriend and how she controlled him. The man responded by putting his feet on a barstool and saying, 'I know what you think – that she might be the boss. But I am the boss of my house, and these boots will walk all over her the day that I'm not.'"
These Boots Are Made for Walkin' was a transatlantic number one and sparked off a succession of hits including Sugar Town, Somethin' Stupid (with her dad), the 1967 James Bond film theme You Only Live Twice and some oddball duets with the deep-voiced Hazlewood including Jackson, Ladybird and Some Velvet Morning. She was the female lead in the 1968 Elvis Presley film, Speedway, and she returned to the charts in 1971 when a playful duet Did You Ever with Lee Hazlewood which reached number two. She and Elvis became good friends and she was the first person Elvis called when Lisa Marie was born.
The walking bass line – to accompany the image of boots walking all over a man – was provided by Chuck Berghofer who brought in his string bass and Carol Kaye played the electric bass. Hazelwood had him play short sliding notes to get the sound.
Just prior to Hazlewood presenting Boots to her, he said, "I had already written a beautiful song for her called The City Never Sleeps at Night, and she wondered if it would sell. I replied, 'Three times more than 'So Long Babe,' and that did 60,000. We're building up your career.' I changed my mind and put it on the B-side of Boots and that sold six million. When Boots was number one in half the countries in the world, Nancy came over to my house, and she was crying. She said, 'They didn't pick up on my option at Reprise and they said I owed them $12,000.' I said, 'You're kidding, we've got the biggest record in the world.' I rang my lawyer in New York and I rang Nancy the next day and said, 'How would you like $1 million? I've got three labels that are offering that for you right now and I can get something pretty good for myself as well.' She talked to her father and he said she could write her own contract with Reprise – after all she was selling more records than him at the time."
The song has been covered by Billy Ray Cyrus on the same album as Achy Breaky Heart and reached number 63 in the UK. It has appeared in films too, firstly in the 1987 movie Full Metal Jacket in a scene where a prostitute solicits business in Vietnam and then in the 1994 film Prêt-à-Porter which was sung by Sam Phillips. Megadeth did a cover on their 1985 debut album Killing is my Business…And Business is Good. The original editions included the uncensored version, but later pressings had the heavily bleeped version because of Hazlewood's refusal to grant the group the rights to re-release the version with its altered lyrics intact. The only other charting version in the UK was by Jessica Simpson and uncredited Willie Nelson who reached number four and was featured on the soundtrack of the 2005 movie The Dukes of Hazzard. Nelson played Uncle Jessie in the movie and Simpson played Daisy Duke.
Hazlewood enjoyed a resurgence in the nineties when a younger generation discovered his earlier solo efforts. As for Nancy, she recorded an album of duets with the country star, Mel Tillis in 1981 but generally had stopped performing. In 1995, she made a comeback by writing a lavish biography of her father called, Frank Sinatra – An American Legend, which offered no criticisms of his behaviour. She also returned to a different type of stage by making a stance for the older woman by posing nude for Playboy.
In September 2009 she released the download-only album Cherry Smiles: The Rare Singles, featuring previously unreleased tracks and later the same year she began hosting a weekly show called Nancy for Frank on Sirius Satellite Radio where she shares her personal insights about her father. In December 2013 her latest album, Shifting Gears, was released and features 15 cover songs from her own personal vault.