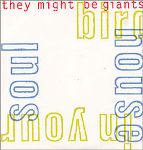 Here's a trivia question: what connects the bands Black Sabbath, Fine Young Cannibals, The Mission, Mudhoney, Veruca Salt and My Bloody Valentine. Answer: they are all bands named after cult movies. Another such group is They Might Be Giants who took their name from the 1971 movie starring George C. Scott and Joanne Woodward and was based on the play by James Goldman. The title is an allusion to Don Quixote, who mistook windmills for giants.
This year that band celebrate their 30th year in the business. They were formed in 1982 in Lincoln, Massachusetts by John Flansburgh and John Linnell and for the first eight years their third member was a drum machine. In 1990 they recruited real people and over the years there has been a varying line up, but the current crop are, in addition to the two original members, Dan Miller, Danny Weinkauf & Marty Beller. Between 1984 and 1987 they were the house band at a club called Darinka on the East Side of Lincoln.
Their first two albums, They Might Be Giants (1986) and Lincoln (1987) failed to make any impact and likewise with their first two singles Don't Let's Start (1987) and Ana NG (1988), but it was the first single from their third album Flood that made everyone sit up and take notice. That track was Birdhouse In Your Soul.
It's an immensely catchy song that seems, lyrically, to make no sense. So what is the song about? John Linnell explains, "The song is a story of a child's blue canary-shaped night light, told from the night light's point of view. Across the room from the night light is a picture of a lighthouse which would be his primitive ancestor. It could be interpreted that the night light is a metaphor for God or a guardian angel protecting the child. The thing is, there are so many syllables in the songs that we have to come up with something to fill the spaces. So it ends up being kind of Gilbert and Sullivany."
There is a lot of words to cram in, so which came first the words or the music? John recalled in an interview with Rolling Stone magazine, "The melody and chords were cooked up years earlier, and the lyrics had to be shoehorned in to match the melody, which explains why the words are so oblique. I mean beautiful. I didn't find out what the Longines Symphonette was until after the song was released. It rhymed with 'infinite'."
The song's video, which was directed by Adam Bernstein, was filmed inside the New York County's Surrogate's Court and Hall of Records building in Manhattan.
The follow up, Istanbul (Not Constantinople) which petered out at number 61 was a cover of a 1954 hit for Frankie Vaughan but originally recorded the year before by the Four Lads.
Although they continued to tour, some eleven years elapsed until They Might Be Giants troubled the chart again, when they did it was with a track called Boss Of Me which reached number 21 and was used as the theme tune to the Sky TV series Malcolm In The Middle. Fast-forward another nine years and Birdhouse In Your Soul was re-issued following its use in a television commercial for Clarke's shoes.
In 2011 they released their 15th studio album called Join Us and last October they performed in-game for a special musical event to commemorate the 3rd birthday of their popular AdventureQuest Worlds.