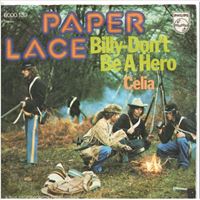 On week-ending 6th April 1974, there was something unique about the top three UK singles that week. There was Emma by Hot Chocolate which had moved up to number three, Paper Lace's Billy Don't Be A Hero had just come down from number one and Terry Jacks rose to the top with Seasons In The Sun – any ideas?  Well, they were all on the subject of death. This week I look at the song that had just dropped from number one.
Billy Don't Be A Hero was written by the songwriters Peter Callander and Mitch Murray who had met in the mid-sixties. Mitch had previously had success as the writer of How Do you Do It and I Like It for Gerry & The Pacemakers as well as the top three hits I'm Tellin' you Now and You Were Made For Me by Freddie & The Dreams whereas Peter had co-written, with other songwriter, hits for Tom Jones, Cilla Black and Paul and Barry Ryan, but the first hit they wrote together was The Tremeloes' 1967 number four hit Even The Bad Times Are Good. In January 1968 their song The Ballad of Bonnie and Clyde, as sung by Georgie Fame, rose to the top slot giving them their first chart-topper and their first real story song. Just over three years later, another quality story song went to number two courtesy of Tony Christie's I Did What I Did for Maria. Story songs seemed to be the way forward and in 1974, after seeing a film about the War between the States, came up with the idea of writing a song about a the American Civil War and a guy who wants to go off to war despite his fiancé begging him to stay.
"We're both Yankophiles who were exposed to American music," they said to Billboard at the time, "Most of our songs are slanted toward the United States because that's also where the money is. We approach our business the same way as if we were selling nuts and bolts."
The song was recorded by Paper Lace, but who were they and how did an unknown band, at the time, get the song? Formed in Nottingham in 1967, they were originally called Music Box and comprised lead singer and drummer, Phil Wright, bassist, Cliff Fish, guitarists, Michael Vaughan, Chris Morris and, sounding like a tribute act, Carlo Santanna. They struggled for seven years despite being the house band at Tiffany's in Rochdale but gained valuable working experience. Eventually they got the break they needed when they auditioned for a slot on the TV talent show, Opportunity Knocks. According to Phil Wright, "Opportunity Knocks was pretty much the 1970s version of The X-Factor. There was a huge audition week in 1970 at the Bridgford Hotel, which is now the Rushcliffe Borough Council building near the City Ground and there were thousands of people queuing up. We turned up in our best suits, did a few numbers, and were told that they liked us but not to expect to go on straight away. When they finally got back to us in 1973, we thought 'do we really need this now?' But they were getting viewing figures of seven million, so we went for it and we won five weeks on the trot!"
Once the song was written it was a case of finding the right act to do it, Mitch Murray wanted to give the song to a major artist, but Peter Callander's wife, Connie, saw Paper Lace win Opportunity Knocks and told Peter about them and got in touch with them. Phil Wright continued, "Peter Callander got in touch with our management and offered us the songs with the possibility of more songs if it took off. We went down, recorded it, and they said "Hey, this is a great song, it's going to be a hit". The song was then released on Callander and Murray's own newly launched Bus Stop label and the song went to number one. They had three further hits on the label and The Brothers with Sing Me were the only other act to chart on their label.
Paper Lace's version was released in the States, but unbeknown to them at the time, a cover version had already been recorded by Bo Donaldson and The Heywards, which went on the top the Billboard singles chart whereas the Paper Lace version peaked at number 96. In order not to fall fowl again, Paper Lace's follow-up, The Night Chicago Died, also written by Callander and Murray, was rushed released before anyone had a chance to cover it and thankfully rewarded with their very own number one. What did Mitch think about Paper Lace's version not really hitting big in the States? "It might not have been number one if it was Paper Lace's version," Mitch told Brian Nash and Allan Zullo, "People took notice of us because we were beaten to the post as it made more of a story for DJs to talk about."
The song carried a powerful, anti-war message and the comedian and campaigner Spike Milligan made media appearances saying how significant this record was and how he admired the poignancy of its pay-off, 'I heard she threw the letter away'.
Their third and final hit, The Black Eyed Boys reached number 11, but then law suits followed as Paper Lace objected to Mitch and Peter's control. Paper Lace went to Warner's and had a further chart single with We've Got the Whole World in His Hands with Nottingham FC.
The band split in 1980, but three years later Chris Morris formed a new line-up and went out touring the oldies circuit. 'Billy…' is still a popular attraction and appealed to a younger crowd following its inclusion in the films Reservoir Dogs and The Adventures of Priscilla, Queen of the Desert. Original member Carlo Santanna also re-joined the line-up in 2011.
They are apparently still active and their Twitter account and website both invite you to click here if you want to see them live, but on their gigs tab the latest message says 'Please check back for more information on 2015 Tour dates'! Hmmmm, I'll wait and continue to wonder if I've missed the boat!