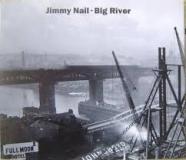 The North-East of England was a bit of a latecomer when it came to being identified on the UK chart scene. Arguably, Bruce Welch (actually born in Sussex but grew up in County Durham) and Alan Price, as members of the Shadows and Animals respectively, gave the area some identity in the sixties, then in the seventies, Lindisfarne, Geordie and Bryan Ferry really put it on the map and by the end of decade, Sting and Mark Knopfler gave it more identity. From the 1980s onwards David A. Stewart and Jimmy Nail completed the picture. This week I focus on actor-cum singer, Jimmy Nail and his 1995 hit Big River.
Jimmy was born James Michael Aloysius Bradford in Benton, Newcastle-Upon-Tyne in 1954 and was expelled from his school for setting curtains alight in the school hall, but his mother said she always knew he was a clever kid because he used to study the dictionary and when he was 13 he wrote a poem about the Vietnam War. That same year tragedy struck when his sister Shelagh, died just after her 20th birthday party when she had mixed alcohol with anti-depressant drugs. Jimmy said of it in an interview with Pennyblack Music, "I thought, why has this happened to us? It seemed the bottom had dropped out of our world. There wasn't much understanding of how to deal with those things then, at least not in my family. There was no discussion. I couldn't broach it with my mum, never. It was all just too painful for all of us. It corresponded with a decline in my school work. Everything changed all at once. The whole family fragmented. My mum had a breakdown, my other sister, Valerie, left home (she is now Head of Drama at Sunderland University), and my dad got on with it the way that Northern men do. He just closed himself off completely. I lost my way completely. I would not do what anyone in authority wanted me to. I got into an awful lot of trouble; it was a real downward spiral that culminated, 10 years later, in a prison sentence for violence. I loathe violence now. I don't even like seeing it on TV." Jimmy came to his senses after his father had visited him in Strangeways and wept, "It was one of the worst moments of my life, I knew there had to be something better than that," he said.
Once he got out of prison he took a job sweeping up in a glass factory, one day he accidentally stood on a six inch nail causing a massive injury to his foot, but on the back of that misfortune, he gained the name Nail. After leaving the glass factory he formed his first band the King Crabs playing in some local pubs and built a cult following around Newcastle.
He got his lucky break when he was chosen to appear as an extra in the 1971 film Get Carter and followed it with many bit parts in various television series' including an episode of Minder before making his name as Leonard 'Oz' Osbourne, an arrogant, abrasive heavy drinking Geordie in the 1983 TV series Auf Wiedersehen, Pet which ran for 40 episodes over a period of 21 years. In 1991 he wrote and starred in Spender which ran for two years and then Crocodile Shoes (1994) and Crocodile Shoes II (1996), that same year he appeared as Agustín Magaldi alongside Antonio Banderas as Ché Guevara and Madonna as Eva Perón in Evita.
In 1985 he surprised a lot of people when he released a cover version of Rose Royce's Love Don't Live Here Anymore which was produced by Queen's Roger Taylor and reached number three in the UK chart. The parent album, Take It or Leave It, failed to make an impact. We then had to wait a further six years until his tones graced our chart again. In 1992, he recorded the album Growing up in Public which featured appearances by guitarists George Harrison, David Gilmour and Gary Moore and it contained the hit single Ain't No Doubt which was co-written by one hit wonder singer Charlie Dore, and reached number one. It was followed by a song he wrote for his mother, Laura. In 1994 Crocodile Shoes, the theme to his TV series, reached number four.
Then we moved forward two years to this week's subject, Big River, a song written about the River Tyne which runs through Jimmy's home town and more so tells the story about his memories of growing up in the North East and his recollections about his father's career in the Tyne shipyards. "My father was a shipyard worker, an amateur boxer and a professional footballer he was a very hard man who was always working and hardly ever at home." The shipyard was once a bustling place when coal and shipbuilding was the main industry of the North East.
The song struck a chord with many people because the song could easily have been written about any British city with the shipyard or dock like Liverpool, Belfast or Glasgow where the industry is now very much missed, but Jimmy gave the song, and, in turn, the people, a glimpse of hope when, at the end, he sings 'And in my heart I know it will rise again, the river will rise again.' The song, which features fellow Georgie Mark Knopfler on guitar and reached number 18 in the UK chart, ran to six minutes which most radio stations, surprisingly, played the whole of, despite there being a radio edit of four and a quarter minutes. Jon Kelly quite pointlessly remixed the song in 1996 and it was back in the chart again, this time stalling at a lowly number 72.
Jimmy, who describes his own voice as husky and riddled with melancholia, said "I like singing, I was an accidental actor. Music was always my first love, my real passion. I just needed to prove myself and acting parts were a step along the way to this. It was a fluke I hit the jackpot as an actor."
In 1997 he gave up acting to concentrate on his music career. "It was bit of a risk after all those cheques," he admitted, but it was something he felt passionate about. In 1999 he released the album Tadpoles in a Jar and two years later Ten Great Songs and an OK Voice but neither troubled the UK chart.
Since then he has concentrated on song writing, "I'd like to write scripts for TV and films, maybe a novel, too. Plus poetry. And I want to get more into musical composition – maybe doing film scores or a musical one of these days," he said.
Jimmy lives in London with his wife and two sons, Tommy and Freddie. "My children's triumphs and joys are mine," he says. "We lead a very middle class London life. They have no idea what my past was like, which is good. I was saying to the wife recently how happy I am now, more than I have ever been before. I don't want my family to know about what went previously, and I really don't enjoy talking about the person I once was."
In 2012, another fellow Geordie, Sting, had an idea to write a play about his home town, "It was about the shipyard and it was called The Last Ship," Sting recalled, I wanted to write some songs about some characters that I knew and some characters I made up and found there was a lot to say. I had an instinct about Jimmy very early on, that I needed him as a talisman, if you like, a blueprint for the kind of actor I needed." Jimmy didn't write any of the script nor the songs, but he played an important role in its infancy, Sting said, "Jimmy actually kept me going when I'd be flagging and I'd think, I'm not sure what I'm doing here, and he'd say, 'No, it's important work.' Without Jimmy, we wouldn't be here." Jimmy played the role of Jackie White in the Chicago try-out at the Bank of America Theatre before moving to the Neil Simon Theater in New York in October 2014. Jimmy's latest role is playing Parson Nathaniel in War of the Worlds alongside David Essex and Daniel Bedingfield which began a year ago and is currently running at the Dominion Theatre in London.