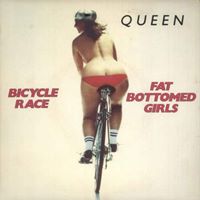 This week's suggestion came from one of my Thursday night quiz regulars, Mummybear who emailed to ask, "Having recently watch Bohemian Rhapsody, where Queen singles get the 'Hollywood treatment' as to their origins, we were listening to Bicycle Race in the car and were wondering about the origins of this song." Well mummybear, let's find out.
This song was released in 1978 as part of a double A-side with Fat Bottomed Girls which reached number 11 in the UK chart. It was their first of three double sided hits even though many cite We Are the Champions / We Will rock You, the previous year, as being their first, but the latter was never listed on any chart as such and was, therefore, not a UK hit. Even the record label says 'B' on it. It was just one of those much-played B-sides.
Both Bicycle Race and Fat Bottomed Girls were taken from their seventh hit album Jazz which was recorded in a remote area in France because they were using the time as a tax break. The band were being heavily taxed and that's why they took off to France. For future albums they used a studio in Montreux in Switzerland. Queen's drummer, Roger Taylor, recalled in the TV documentary, Days of our Lives, "We were being taxed as much as 98% on royalties on previous albums, so we decided to record outside the UK."
It was while in his hotel room, the song's author, Freddie Mercury, saw the Tour de France pass his hotel window and that's what gave him the inspiration he needed for Bicycle Race. Fat Bottomed Girls was written by the guitarist Brian May and is seen from the point of view about a male liking a large lady. "I wrote it with Fred in mind, as you do especially if you've got a great singer who likes fat bottomed girls… or boys," Brian said in a Mojo interview.
One of the bizarre things is that fat bottomed girls is mentioned in the lyric of Bicycle Race, 'Fat bottomed girls, they'll be riding today so look out for those beauties, oh yeah'. One of the other unique things about the single is that is it has a bicycle bell solo with an unusual chord progression shifting in time signature from a regular 4/4 to 6/8. Soon after the band began playing the track live, cycle shops in the area were suddenly selling out of bells because fans were buying them in their droves to ring at the concerts.
The song is not generally classed as a 'list' song, but could or maybe should be because it mentions John Wayne, cocaine, tax, Star Wars, Jaws, Jesus, Vietnam and Watergate.
Another memorable feature is the accompanying video of naked women riding round a cycle track. The whole thing was staged at Wimbledon Stadium in south-west London and featured 65 professional models cycling naked but clever photography covered their important bits. A poster shot of the event came free with the album but only if the stores decided to stock them. The more prudish owners refused and the purchaser had to order a copy via the good old-fashioned postage system.
In Queen – the New Visual Documentary by Ken Dean, Brian May gave his thoughts on nude bicycle racing, "We lost some of our audience with that one, 'How could you do it? It doesn't go with your spiritual side.' But my answer is that the physical side is just as much a part of a person as the spiritual or intellectual side. It's fun. I'll make no apologies. All music skirts around sex, sometimes very directly. Ours doesn't. In our music, sex is either implied or referred to semi-jokingly, but it's always there."
In 2005, a tribute album called Killer Queen: A Tribute to Queen was released and featured 16 different acts performing a Queen song, mostly hit singles and Bicycle Race was performed by the Nashville garage band Be Your Own Pet whilst Fat Bottomed Girls was submitted by the lesser-known all-female all female rock band Antigone Rising.