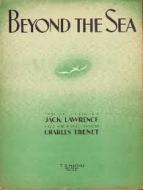 Cole Porter, Irving Berlin and George and Ira Gershwin's are some of the biggest and most successful names in songwriting history, but there are stacks more, almost unknown names, who wrote equally as popular, everlasting and memorable songs. Jack Lawrence is one such name.
Among his penned credits you will find songs like Tenderely (Nat King Cole), Hold My Hand (UK number one for Don Cornell), No One But You (Billy Eckstein), Yes My Darling Daughter (Eydie Gorme) and La Mer (Beyond The Sea) (Bobby Darin).
The original title, La Mer (which means 'The sea'), with its French lyric was written by Charles Trenet on a train with musician Léo Chauliac in 1943 while travelling along the French Mediterranean coast on his way back to Narbonne after holidaying in Paris. It is also said that he wrote it in 15 minutes on a piece of railway toilet paper. It was an evocative song about seaside resorts where he imagined white horses and heavenly angels coming out of the changing moods of the sea and then comments on what he sees in its reflection. It would be three years until Trenet actually recorded the song. Trenet explained in an interview that he was told that it was not swing enough to be a hit and for this reason it sat in a drawer for three years, but when he did it became an unexpected hit. It was made even more popular when it was used in the 1948 movie Every Girl Should Be Married which starred Cary Grant. The song wasn't quite so imaginative when it was given an English lyric interpretation by Jack Lawrence, but none the less it earned Bobby Darin a gold disc.
Jack Lawrence was born Jacob Louis Schwartz in Brooklyn, New York on 7th April 1912 and grew up an orthodox Jew as the third of four sons. With practically no musical training he began writing songs at the age of eight. Due to parental pressure after he graduated he enrolled in the First Institute of Podiatry and matriculated with a doctorate in 1932, the same year that saw the publication of his first song Play Fiddle Play.
During World War II, Jack served in the Coast Guards and later, at his request, was transferred to the United States merchant marine. After the war, he went to Hollywood, where he began writing songs for a number of movies.
In 1947 he wrote a song called Linda which was notably recorded by Ray Noble and his Orchestra and went to number one in America. The Linda in question was his lawyer's daughter Linda Eastman who later became Mrs Paul McCartney. Alongside Sammy Fain, Lawrence wrote Once Upon a Dream as performed in Disney's 1959 film Sleeping Beauty and although uncredited, he said that he collaborated with Frank Churchill to write Never Smile at a Crocodile and with Victor Young and Oliver Wallace composed the title tune for 1953 film Peter Pan.
Jack wrote the English lyric to La Mer but originally without success. Michael Feinstein, a close friend of Lawrence's said, "After the first lyric failed to impress, Jack wrote a new English lyric, it was more successful with an anthemic sort of lyric that matched the majesty of the tune. But when Bobby Darin found the song and swung it, it became an instant classic, and people only perform it a la Bobby Darin." The new lyrics written in 1948 bore no relation to the original ones but by adding the word 'Beyond' it turned the meaning of the song into a story about a lover pining for their lost love. Benny Goodman recorded a version in 1948 and Roger Williams charted in the USA in 1955.
Other notable versions among the 4000 that have been recorded are George Benson in 1985 who briefly graced the lower end of the UK chart and Robbie Williams included it on his 2001 album Swing When You're Winning and it was his version that was used over the closing credits of the 2003 movie Finding Nemo. In 2005 it was used in a French TV commercial for Carnival Cruises. additionally Ewan McGregor and Cameron Diaz sang it in the film A Life Less Ordinary, Kevin Spacey sang it in the wonderful Bobby Darin biopic in 2004 and Moby did a techo remix which featured on the soundtrack to the 2007 video game Bioshock.
Lawrence was inducted into the Songwriters Hall Of Fame in 1975. In the 80's, he was actively engaged as a Broadway producer and the owner of two theatres in the Broadway district which were named the Jack Lawrence and the Audrey Wood. He was co-producer of off-Broadway's long running success, Other People's Money and on Broadway with Lena Horne, The Lady and Her Music. Lawrence. He had worked with Quincy Jones in the 60s on the film The Pawnbroker and was writing new songs for him at the time of his death in 2009 at the age of 96. Bobby Darin died in 1973 after failing to take his medication for a weak heart before attending a dental appointment and Charles Trenet died in 2001 after suffering complications following a stroke.