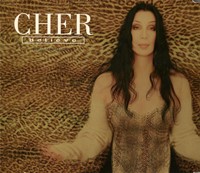 Gay anthems, regardless of the artist's gender, have been around for a lot longer than you might think. It was in the disco era of the late-70s that gay anthems made their mark with songs like Instant Replay (Dan Hartman), You Make Me Feel (Mighty Real) (Sylvester) and, of course, YMCA by the Village People even though it later became more of a party song. In the mid-eighties, songs by Miquel Brown and Evelyn Thomas were highly rotated in the gay clubs and when Kylie Minogue arrived in the late-80s, she very soon became a highly regarded gay icon. This week's choice also became a gay icon in her latter period, but the gay fans weren't too keen on her material. So, how did that change? Let's find out.
In 1987, the chairman of Warner Music, Rob Dickens, the son of Percy Dickens, the man who launched the UK singles chart back in 1952, signed Cher to his label and, knowing Cher was a gay icon, had the idea to record some dance tracks for her fans. "I have a lot of gay friends, who adore Cher," Dickins explained to Ella Braidwood at PinkNews. "Without really thinking, I said to her, 'Gay men adore you, they don't really like the records you're making, but they love you. Now, wouldn't it be a great idea to make a record, where they could love the record and love you?'"
Cher had been around since the early 60s originally providing backing vocals for some of Phil Spector's groups before embarking on a successful concurrent six-year solo career with her husband Sonny (Bono) and a solo career which is still going. She first hit number one, with Sonny, in 1965 with I Got You Babe and her first solo chart-topper came 26 years later with The Shoop Shoop Song (It's In His Kiss). She topped the chart again four years later in collaboration with Neneh Cherry, Eric Clapton and Chrissie Hynde with a cover of The Judds' Love Can Build a Bridge for Comic Relief. Then just three and a half years later came Believe which, when it did peak broke two records; she was the oldest solo female to have a UK number one – she was 53 – and soon earned the accolade of the biggest-selling single ever in the UK by a solo female. The former achievement lasted 26 years until Kate Bush who was almost 11 years older when Running Up That Hill topped the chart after its inclusion in the Netflix series Stranger Things
Although Cher's addiction to plastic surgery rivals Michael Jackson's, she has never become the figure of fun that Jackson had, largely because she has a great sense of humour and can laugh at herself. Even in her fifties, she can appear scantily clad in the most tackily designed dresses and still look great. You can, if you wish, buy replicas of them on cher.com. The storage of her wigs apparently takes up most of the third floor of Cher Castle in Malibu.
She combines the stadium sparkle of Tina Turner, the constant reinventing of Madonna and the tackiness of Dolly Parton with family dramas that put the Osbournes to shame. Her daughter, Chastity, is a lesbian activist, who wrote a savage book about her parents, Sonny and Cher, in Family Outing. Cher accepted the criticism and appeared on Oprah to help promote it. Her son with Gregg Allman, Elijah Blue, played in Deadsy, a band strongly influenced by the black magic practitioner, Aleister Crowley.
I've written about many songs that were written in half an hour or less, but this song was the complete opposite. It took around six years from its conception. The song follows in the footsteps of Gloria Gaynor's I Will Survive and Madonna's You'll See and tells the story of how there is life after a relationship and, if you have hope and believe in yourself, it can happen.
In 1992, four staff songwriters at Warner Brothers records, Steve Torch, Matt Gray, Stuart McLennen and Tim Powell, penned a demo which was sent to Nick Van Eede who had been the lead singer and songwriter with the Cutting Crew and was now a top producer. He explained to Songfacts, "Kevin MacMichael and I produced the original demo with Mark Scott and Brian Higgins, we tweaked the melody and chords in the famous chorus, listen to the first two chords to I've Been in Love Before (a single for the Cutting Crew) and the first two chords to Believe and you'll hear the similarity. We got paid a bottle of whisky between us for the session!" From there, the song was sent to Metro Productions where two more songwriters, Brian Higgins and Paul Barry made some adjustments. The producers at Metro, Mark Taylor and Brian Rawling tried out various studio techniques giving the song a synthesized sound including the now famous autotune. The idea was to appeal to the gay audience without alienating her existing fans who preferred her big ballad material.
Mark Taylor explained in an interview with Sound on Sound magazine, "We ended up producing the song twice: It was just too hardcore dance – it wasn't happening. I scrapped it and started again, because I realised it needed a sound that was unusual, but not in a typical dance record sort of way. This was tricky, because dance music is very specific. To get what I was after I had to think about each sound very carefully, so that the sound itself was dance-based but not obviously so."
In a 2013 interview with Q magazine, Cher explained where the vocal effect came from, "While we were recording Believe in the UK, I saw Roachford on a morning TV show. He was singing with a vocoder and guitar, and it sounded so great. My producer said, 'You can't do that after you've recorded the song. But I was playing around with the pitch machine and I think I can get something interesting from that.' So, he played it and we just smiled at each other. It was exactly what we needed to make the really boring verse…sing." It was highly publicised by the producers that the effect on the song was created using a vocoder, but the press and the public weren't entirely convinced and eventually it was revealed that they used an Auto-Tune processor, a device invented to correct the pitch in recorded vocals.
Cher said of Believe, "It was just a little fun thing, nothing deep, but my hopes for it were high." and quite probably her bank balance too. The follow-up single, Strong Enough, written by Mark Taylor and Paul Barry, again featured the distorted vocal and disco thump and was another international hit. Since then, she has made the UK Top 20 with the Taylor and Rawling productions All Or Nothing and The Music's No Good Without You.
Additionally, Believe won Cher her first Grammy and the accompanying album of the same name sold 10 million copies worldwide. She has only graced the UK singles chart one further time, to date, when, once again, she worked with producer Mark Taylor on the song I Hope You Find It which had first been recorded by Miley Cyrus. It's been 10 years since Cher was last in the UK chart and, although she is now 78, I wouldn't want to take a wager that her singing career is over.