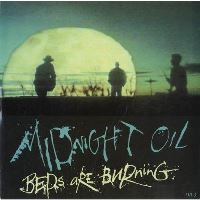 If you ask virtually anyone who was into music in the 1980s how many hit singles Midnight Oil had, they are likely to say one and that's purely because they are remembered in the UK for their biggest hit, Beds Are Burning. They actually had half a dozen. Their next biggest being Truganini which scraped into the top 30 in 1993. In their native Australia, they had far more hits although Beds Are Burning is their second biggest reaching the same position down under as here. But what is the song all about? Let's find out.
The band formed in Sydney as far back as 1972 but took them six years until they scored any success in Oz. They were originally called The Oils but changed their name in 1976 when they amended their line up to comprise singer Peter Garrett, guitarists Jim Moginie Martin Rotsey and drummer Rob Hirst. The only varying member was the bass player: Andrew James originally then Peter Gilford until Bones Hillman became the final permanent member.
Beds Are Burning is a political song as one can understand from the second and third verse where they sing, 'The time has come to say fair's fair, to pay the rent, to pay our share. The time has come, a fact's a fact, it belongs to them, let's give it back.' Give what back you might be thinking? Well, I can tell you. A massive rock standing 2,831 feet high and a perimeter of 5.8 miles, its name is Uluru to the locals and Ayers Rock to the rest of the world. I can vouch for its size as I climbed it in 2001, it took me 54 minutes up and 38 minutes to come down and a tiny piece of I still proudly possess.
"Back in 1985, Uluru was handed back to the First Nations people that lived around its base," Peter Garrett explained to Duncan Haskell at Songwriting. "Around that time, we had become quite popular here in Australia and we had started to get more of an audience in Europe and the United States. We were approached by some folks from out in the desert here who asked if we'd like to submit a song, or songs, to commemorate the handing back of Uluru. We thought, 'We could have a crack at it but surely there is a First Nations band that should be approached first?' – We'd gotten to know quite a few of the bands from the desert and elsewhere, bands like the Warumpi Band. They came back and said, 'We want the message of the handback to go the big cities, and that's where Midnight Oil is from, so could you have a crack at it?' So, Jim Moginie (Garrett's song writing partner) and I got to work. Jim & I got together when we were 15 and almost immediately started writing songs. We actually wrote three songs for this handback and one of them was accepted, a song called The Dead Heart which we'd already recorded."
After the success of Beds Are Burning, Garrett said to Songfacts, "In retrospect it was the song we were born to record. It's got all the bits to make it work, strong rhythms, good melody and the lyrics had some punch, while being very Aussie, it took a while to stick. It's incredible how much it still gets played around the place. Who would have thought an Aboriginal land rights song would travel that far?"
The whole band are credited as songwriters on this track and drummer Rob Hirst explained his part, "I wrote the chorus before we went out into the desert and it was actually translated from Italian. I had been to an art exhibition which featured the story of the fascists during the Second World War, Mussolini and the fightback from the partisans. The guy who put the exhibition on explained to me that there was an expression from Italy about the fightback from those partisans, 'How could you sleep when beds are burning?' and I thought we could write a song about the same idea of an ancient Australian community who had so much thrown at it but was still joyfully dancing in the desert, singing their songs and pushing back against all the shocking things that had been visited upon them ever since Europeans had arrived in this country. We had the chorus written and we had the groove but I actually wrote the verse lyrics while travelling around with a friend of ours who was very well known in the desert – a guy called Charlie McMahon from the band Gondwanaland who was playing with us every night and was also a guide. We were still city slickers but were wide-eyed and learning, picking up as much as we could. I travelled around a lot with Charlie in his Toyota Troopcarrier, listening to him explain bits and pieces about the bush. I was jotting all the time in my black Moleskine book, writing things down in case melodies come into your head later on. We hoped the chorus would send a real shiver down the spine and that Pete's delivery of the verse would sound very Australian. We were very determined that our band would be seen as an Australian band, in an international context. We were determined to put place names and other specific bits and pieces in all our songs."
The parent album, Diesel and Dust, made the UK top 20 and was produced by the British producer Warne Livesey who had worked extensively with The The, Julian Cope, Deacon Blue and Paul Young. "We had no idea that Beds Are Burning had any particular merit above all the other songs on the album, but, much to our surprise, that song opened up a much larger audience right across the world," Garrett recalled. "On the back of that song and a few others from Diesel and Dust, we were able to get from a college audience in the States to a larger audience and play some quite big festivals in Europe."
Beds Are Burning was used in the 1988 TV movie Ladykillers and was featured in the 2007 film The Kite Runner. The band split up in 2003 but reformed in mid-2016. Last year, 2020, was a year of mixed feeling; on the up side they released Gadigal Land, their first single in 18 years which received radio play in Australia but failed to chart, on the down side, Bones Hillman died of cancer in November.