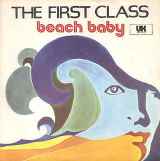 Most of us could name a handful of one-hit-wonders, but can you name a five-one-hit-wonder? No, that is not a spelling error, it's true, there is one person who has fronted five different acts who have all had one UK hit single and that man is Tony Burrows.
Burrows began his career in the 1960s as a member of The Kestrels which also included Roger's Cook and Greenaway who, as you'll know went on to form a legendary song writing partnership and wrote dozens of hits for a myriad artists as well as a couple of hits of their own as David and Jonathan. The Kestrels did chart any songs but they did, however, tour with a Beatles and were once a backing band for Benny Hill. He then joined the Ivy League replacing original members John Carter and Ken Lewis who had left to form the Flowerpot Men. They wrote the song Let's Go to San Francisco and called upon Burrows to perform vocal duties.
Tony Burrows became one of the most recognisable voices on pop radio in the late sixties and early seventies. In 1970 he was the vocalist on Love Grows (Where My Rosemary Goes) by the chart-topping session group Edison Lighthouse, two weeks later he charted as part of the line-up of the White Plains' on My Baby Loves Lovin', and the following week he charted as the lead on United We Stand by the original line-up of Brotherhood of Man. Four weeks later he was there again with the semi-novelty Gimme Dat Ding by the Pipkins – all of which made the top 10. So why did Tony not stick to one group once success came? "That was because I still refused to tour while the groups all continued to record and do television," he told Rebeat. "Once the song became a hit, they wanted to do an album and book these groups for concerts, but I wasn't going to do that. So what they'd do is find someone to lip sync the song and film it so the listeners would recognize that person as the lead singer when they were on tour."
Bubblegum music was a short-lived music genre in the late sixties, and in 1974 when First Class released Beach Baby it was a real cross between bubblegum and the classic Beach boys surf sound. John explained how it came about, "That was through John Carter who told me he had a song he wanted me to do and said, 'I've got a feeling about this demo.' The demo was just John and a guitar, and he was singing the song, but I could tell there was something there. So we went into the studio and recorded it. There were basically about 18 different tracks, and John and I did all of the backing vocals as well as the lead. I heard that when Brian Wilson first heard Beach Baby he said, 'I don't know who it is, but it's definitely West Coast America' which I took as a great, great tribute — I really did. I grew up with American pop music. We had recorded it as basically a tribute to the Beach Boys. I've since met him two or three times, and the other guys as well, and I've heard that when people are going into the theatre for one of his shows, he often plays Beach Baby, which is really nice."
First Class, as a group, never existed. They were yet another bunch of session musicians assembled for the sole purpose of recording Beach Baby. John Carter, who wrote the song with his wife Jill at their home in East Sheen, always preferred writing and production than touring and performing and Tony being the same it was an odd but good combination. It's just shame they didn't have a regular group they could write songs for who would then record them and tour.
Having said that, neither have done badly. Burrows also did some TV commercials, the most memorable one being the Coca Cola advert. Susan Shirley had recorded a song called True Love and Apple Pie which was written by Roger's Cook and Greenaway, who reused the tune for I'd Like To Teach The World To Sing. Burrows sang it in the ad and the New Seekers recorded it for a number one hit. He also did ads for Rowntree and Vauxhall. On top of that, he has sung backing vocals for Elton John, James Last, Tom Jones and Rod Stewart.
In the nineties, Carter set up his own Sunny record label for the purpose of marketing all his back catalogue. He and Jill currently run their own publishing company. Additionally, in 2012, he teamed up with a Brazilian musician, Salomao Hamzem, and have released three albums, A Friend in Need (2016), Coming Home (2017) and Time Will Tell, in 2018.
Tony is probably the most successful one-hit-wonder, five times and Beach Baby is certainly the best song the Beach Boys never recorded.