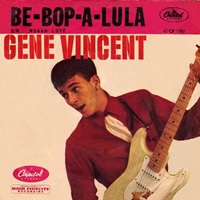 Don't you just love a song where you sing along to all the words and then realise that those words make no sense whatsoever. This is not songs with meaningless titles, just meaningless lyrics like Zoom by Fat Larry's Band, White Room by Cream and I Am the Walrus by the Beatles being good examples. This week's suggestion is another and not only that, there are many different stories behind how this song came about and, to be honest, there isn't one that is more plausible than the others. Let's look at Be-Bop-A-Lula.
Firstly, let's get the artist credit correct, Like Bill Haley whose backing band were credited as His Comets, Gene Vincent's band were His Blue Caps, not The Blue Caps, that's with the exception of his 1960 hits Wild Cat and My Heart which was credited just to Gene Vincent and his final top 20 hit, Pistol Packin' Mama where he was backed by The Beat Boys. The Blue Caps, who were guitarist Cliff Gallop, drummer Dickie Harrell, rhythm guitarist Willie Williams and bass player Jack Neal, were named after the head gear worn by President Eisenhower when he played golf.
Vincent, who took his stage name from a mixture of his birth name Vincent Eugene Craddock, was born in Norfolk, Virginia in February 1935 and is one of the underrated rock 'n' roll pioneers of the 1950s where, in his native States, he was generally accepted as a one hit wonder whereas on these shores he managed eight hit singles. Thankfully for him, his 'one hit' was one of the most memorable of the rock 'n' roll era.
In 1952, he dropped out of school and tried to enlist in the U.S. Navy but he was too young so decided to become a sailor which he enjoyed. Three years later he re-enlisted in the Navy and was given a $900 bonus and used the money to buy a Triumph motorcycle. Unfortunately, neither the Bike nor his Navy career lasted long because he had a motorbike accident which damaged his leg and caused him trouble and pain for the remainder of his life. There are two stories behind the accident, both told, at the time, by Vincent, one which was that a woman ran a red light and smashed into him which is a story he told with great regularity, but the other story, which he told a close friend, and to me, the more believable one, was that he'd gone out drinking and was late getting back to base so he tried to ride under the security barrier which was midway closing and it caught him knocking him off the bike which then landed on his left leg and crushed it. The hospital recommended that it be amputated but he didn't allow them to do that and had it put in a cast for over a year and eventually into a metal brace which he wore for the rest of his life.
Just like the two stories of the motorbike, there are two stories of how Be-Bop-A-Lula came about. The first is that following his accident and recovering at Portsmouth Naval Hospital, he was unable to move so he began playing guitar and that's there he wrote the song, but according to Harrell, "The song was written by a guy from Portsmouth named Donald Graves," he explained in an interview with Mojo. "Vincent and his manager at the time, Bill 'Sherriff Tex' Davis, bought the song from Graves for 25 dollars. It happened a lot in those days. Guys would take the sure money," Another story was that, according to Graves, the title was inspired by the 1920s vaudeville song Don't Bring Lulu. Davis claimed it was inspired by a little Lulu comic book which he'd shown Vincent who immediately said, "Hey, let's called it Be-Bop-A-Lulu." Over the years, it turns out that it was probably inspired by 1945 Helen Humes jazz track Be Baba Leba.
Vincent's demo tape found its way to Capitol records which had been owned by the song writer Johnny Mercer and was generally home to crooners like Frank Sinatra and Nat King Cole, but they had just been bought out by EMI and were expanding their musical output and looking for someone like Elvis Presley. They signed Vincent and he recorded a song called Woman Love which was written by Jack Rhodes & Dick Reynolds. Ken Nelson was a producer and A&R man for the label and asked to see the lyrics to woman Love as he wasn't convinced by what he'd heard. No one was quite sure what he thought he'd heard, but the lyric he wanted to clarify was 'Well I'm lookin' for a woman with a one track mind, A huggin' and a kissin' and a smoochin' all the time'. Once Nelson saw that he agreed to record it. He initially brought in some top session musicians to play on the track, but once he heard The Blue Caps play he let them and sent his musicians home. Cliff Gallop was an accomplished musician and it was his playing in particular that would have convinced him. Woman Love was their first released with Be-Bop-A-Lula consigned to the B-side.
Once the song had reached the radio stations, they weren't keen on Woman Love also citing it as offensive so decided to flip it over and promote Be-Bop-A-Lula and then became the official A-side. If you listen carefully to the song, 37 seconds in you'll hear a slightly distant scream, this was made by the drummer Dickie Harrell who later admitted the reason he did it was so that his mother would know that he was on the recording. Guitarist Gallop was unamused and was insistent that they redo the take but it was that first take that was committed to vinyl. Vincent, however, did approve of it and gave a scream whenever he played the song live.
The lines, 'Well she's the girl in the red blue jeans' and 'Well now she's the one that's got that beat, she's the woman with the flyin' feet' are not cutting edge so it was undoubtedly the sound that sold the song not the lyrics. The way Vincent sings was very reminiscent of Elvis and some listeners rang in to ask if it was really Elvis. It's not only the listeners who were convinced, there were stories at the time that Scotty Moore and Bill Black, Elvis' guitarist and bass player respectively, were annoyed that Elvis had recorded the song without them. Even Gladys Presley (Elvis' mum), when she first heard it on the radio, told her son that she like his new record. According to Andrew Hickey on his 500 Songs blog claimed that even Elvis, when he first heard it, got confused and wondered if he'd forgotten that he had recorded it. Most of these stories are unlikely to be true, but they made for a nice story.
On 17th April 1960, whilst on a tour of the UK with fellow rock 'n' roller Eddie Cochran another car accident happened this time in Chippenham, Wiltshire. They were travelling back to London from a show in a Ford Consul taxi. It was claimed that the driver was doing in excess of 60mph through the streets of Chippenham when he hit a lamppost after his tyre blew out and Cochran was thrown from the vehicle. Cochran's fiancée, the songwriter Sharon Sheeley, was also with them suffered a broken pelvis and Vincent broke his collarbone. It didn't do his leg any favours either. Cochran died the following day. The driver, George Martin, was fined £50 and banned from driving for 15 years. Because the tour, up to that point, had proved successful, the promoter Don Arden brought Vincent back to the UK the following year to do an extensive tour in various theatres and ballrooms.
Vincent was a hard task master and was unable to keep a permanent line up of his Blue Caps so that line up changed a number of times. Vincent died in October 1971 at the age of 36, his causes were a ruptured leg ulcer causing internal haemorrhaging and heart failure. Dickie Harrell is 81 years old and still living in Virginia, Willie Williams died in September 1999. Gallup and Neal both left the Blue Caps at the same time and briefly backed Perry Como before Neal went back to being a plumber. He died on 22 Sep 2011. As for Gallup he was originally offered a job by Ken Nelson as a session guitarist but he turned it down and quit the music business completely and became a school janitor. Even more bizarrely, he never liked to talk about his brief time in the music world and would often get embarrassed when people wanted to ask him questions. He also never signed a single autograph and when he died in October 1988, his widow made sure that all the obituaries never mentioned his musical history.
Gene Vincent's memory and music have been kept alive by musicians who were inspired by them, none more so than Ian Dury who paid tribute with the 1976 song Sweet Gene Vincent and Paul McCartney whose first ever record he bought was Be-Bop-a-Lula which he performed on his MTV Unplugged appearance in 1991.