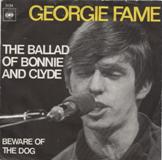 Many songs have been inspired by a film, for example, John Hartford wrote Gentle on my Mind after seeing the 1965 film Doctor Zhivago, Breakfast at Tiffany's was written after Deep Blue Something singer and songwriter, Todd Pipes, saw Audrey Hepburn in Roman Holiday, but decided that Breakfast at Tiffany's would make a better song title and this week's choice, The Ballad of Bonnie And Clyde was another.
The songwriters, Mitch Murray and Peter Callender, went to see the film, Bonnie and Clyde, about two 1930s gangsters, Bonnie Parker played by Faye Dunaway and Clyde Barrow portrayed by Warren Beatty. "We both decided that they had blown the music," says Mitch, "They should have had a hit song and so we thought we would write one. At first we considered giving it to Joe Brown or Lonnie Donegan, but they didn't seem quite right for the song. Then the managing director of CBS told Peter that they had signed Georgie Fame and were looking for a big hit. We added a special jazzy bit for Georgie – 'Bonnie and Clyde got to be Public Enemy Number One' – as we thought that would sell it to him, but he wasn't very keen on the song. We did a demo with machine guns and skidding cars and we were asked to go to the session with our sound effects."
The film's music interludes included Deep Night by Rudy Vallee and Foggy Mountain Breakdown by Lester Flatt and Earl Scruggs, to name a couple, but no actual theme. It tells the story of how Clyde, who had recently been released from prison, returns to crime as a bank robber. He meets a waitress, Bonnie, who is bored of her job and life, and together the two form the basis of a gang of bank robbers who terrorise the American southwest in the 1920s.
Georgie Fame said, "I was working up north and I had to fly down to London, do the track, and go back up north for that night's show. I was working pretty hard at the time and I hadn't even seen the film when I recorded the song." Once the track was recorded, the producer, Mike Smith, took it to a studio at Marble Arch to spend the night mixing it. But then came a problem; "The sound effects were wonderful," Smith explained, "but we discovered an electrical fault and we had clicks all through the drum track. I had to call up (session drummer) Clem Cattini to help." Clem told me, "I received this call from Mike late one night to go to the studio as he need my help. He told me to get a taxi and he would pay for it, so I went up to London, listened to the track that needed to be re-recorded, did it in two takes and then got a taxi home." Smith continued, "It was not easy, but I managed to use Georgie's vocal and the front line from the brass and eventually got it together. To this day, Georgie doesn't quite believe they did it, but we ended up with an outstanding record." Mitch Murray, the song's co-writer, remembered, "We didn't feel that we get Georgie to do it again because he hadn't wanted to sing it in the first place! Clem Cattini came in and put the drums back on the track and that is not easy as he was doing it the wrong way round. He did a brilliant job."
The song went to number one in January 1968 and although the Blue Flames backed Georgie on most of the early singles, they weren't always credited. Sunny, Sitting in the Park, Because I Love You, Try My World and The Ballad of Bonnie and Clyde all failed to credit the Blue Flames on the label. It was Georgie's third and final UK number one following Yeh Yeh in 1965 and Get Away in 1966. The song did manage to upset some movies goers because they claim it gave away the ending of the film.
Fame, whose real name is Clive Powell, continues to record and tour both on his own and as a member of Bill Wyman's Rhythm Kings. He was also been an on and off member of Van Morrison's group too. He has two sons, Tristan and James, who are both musicians and in 2010 they all performed together at Twickenham Stadium to celebrate the 10th-birthday celebrations of The Eel Pie Club.
With their husky voices, and fellow Geordies, Georgie Fame and Alan Price are often confused and they increased the confusion by making the album, Fame and Price Together, which included their hit Rosetta. Georgie told Spencer Leigh, "We both play the piano and sing, but I don't see a lot of similarity. Still, people genuinely come up to me and ask for Simon Smith and His Amazing Dancing Bear and Alan gets requests for The Ballad of Bonnie and Clyde."