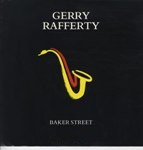 While Baker Street will forever remain Gerry's best known work, it's sad that many people were never exposed to Gerry's incredible body of work. When he first hit the chart as a solo artist in 1978, many thought he was a new kid on the block, but he had a history.
Rafferty was born in Paisley in 1947. "My father was Irish so growing up in Paisley I was hearing all these songs when I was two or three," he remembered. His mother was Scottish and taught him traditional folk songs. He left school in 1963 and took a job in a butcher's shop, but being influenced by the Beatles and Bob Dylan he began writing his own songs. At weekends he and school mate Joe Egan formed a band called the Mavericks covering mainly Stones and Beatles songs.
In 1965 he moved to London and began busking on the London Underground. The following year Egan followed him to London and they both joined a band called the Fifth Column. Two years later they parted company and in 1969 Gerry joined Tim Harvey and Billy Connolly in the folk duo The Humblebums, thus making them a trio. Within a few weeks, Harvey left and they returned to a duo.
In 1972 Rafferty and Egan joined company again and this time as Stealers Wheel. They recorded three albums and they had their first chart success the following year with Stuck in the Middle. That song was brought to a new audience 19 years later following its inclusion in the film Reservoir Dogs.
After three years Stealers Wheel split but there were problems which meant that Rafferty was been unable to release any material due to disputes about the band's remaining contractual recording obligations. Gerry had a friend who owned a flat in London's Baker Street and it was a convenient place to stay as he tried to disentangle himself from his Stealers Wheel contracts. Rafferty explained in an interview with the Daily Telegraph, "Everybody was suing each other, so I ended up spending a lot of time on the overnight train from Glasgow to London for meetings with lawyers. I knew a guy who lived in a little flat off Baker Street and we'd sit and chat or play guitar there through the night."
This gave him time to work on his debut solo album City To City. The first single was Baker Street, a track about a man who dreams of owning a house and living away from his neighbourhood, but he is a drunk, and cannot achieve that goal. He drinks to forget what he doesn't have, and never realises he's a rolling stone with no direction. The last verse of the song was inspired by the problems he'd had with the record company. He expresses his exhilaration as his legal and financial frustrations are finally resolved with the lines, 'When you wake up it's a new morning, the sun is shining it's a new morning, you're going, you're going home.'
One of the songs most notable features is both the guitar and saxophone solos. The latter has been the subject of much speculation, not about who plays it, but who actually wrote it. Having said that, there was, at one time, some conjecture as to who played the saxophone. Many may have heard that it was Blockbusters presenter Bob Holness. This was in invention by then-NME journalist Stuart Maconie. He recalled, "My personal and silly part in a sad story is that as an NME writer I invented, in my Would You Believe It slot, the urban myth claiming that Bob played the sax solo on Gerry's 1978 hit Baker Street. That's not true. What is true, is that Gerry's enigmatic, wry songcraft and his way with a nagging melody made him a reluctant star in successive eras of 70s pop."
So what about who did write that solo? Well, the man who actually played it was a Scottish session musician called Raphael Ravenscroft. In 1988, Gerry said, "When I wrote the song I saw that bit as an instrumental part but I didn't know what. We tried electric guitar but it sounded weak, and we tried other things and I think it was [producer] Hugh Murphy's suggestion that we tried saxophone."In 2006, Ravenscroft explained in The Times, that he was given a sheet of music with gaps in. He said, ""If you're asking me: 'Did Gerry hand me a piece of music to play?' then no, he didn't. In fact, most of what I played was an old blues riff."He was meant to recording a soprano saxophone solo, but it didn't sound right. Ravenscroft then went out to his car got out his alto sax and recorded what we now hear on the record.
After reading this Gerry retorted with, "Ravenscroft was actually my second choice to play the saxophone solo, as Pete Zorn was unavailable. The only confusion at the time that I didn't enjoy too much was the fact that a lot of people believed that the line was written by him but it was my line. I sang it to him."
The City To City album was remastered in 2011 and it contained the original electric guitar version of the song. In the sleeve notes, Gerry's friend, Rab Noakes noted, 'Let's hope the original Baker Street demo will, at last, silence all who keep on asserting that the saxophone player came up with the melody line. He didn't. He just blew what he was told by the person who did write it, Gerry Rafferty.
Ravenscroft's fee was, apparently, a cheque for £27, which he says bounced anyway and was framed and hung on his solicitor's wall. He received no further payment for his session-playing, adding, "If I had received pots of money, I wouldn't have known what to do. It might have destroyed me." Interestingly, in January 2011 in an interview on BBC London, presenter Simon Lederman claimed that Ravenscroft himself thought the solo was out of tune. He asked, "What do you think when you hear the sax solo now?" Ravenscroft replied, "I'm irritated because it's out of tune, yeah it's flat by enough of a degree that it irritates me at best" and was gutted when I heard it played back." He added that he had not been able to re-record the take as he was not involved when the song was mixed. The single version was produced using the tape of the album version sped up slightly, so as to raise the tempo and thus be more radio-friendly. This also had the result of raising the key by a half tone. The original album version was six minutes long; the single is just four minutes 10 seconds.
There was no dispute over the soaring guitar solo that leads into the sax solo, which was played by Hugh Burns. Slash, from Guns N' Roses once cited this song was an influence on Sweet Child O' Mine.
Gerry followed it with the hits, Night Owl, Get It Right Next Time, Bring It All Home and Royal Mile. Other great songs like Right Down The Line and Don't Speak of My Heart failed to sell enough to make the chart. In 1987 Gerry tried his hand at production and was rewarded with the number three hit Letter from America by the Proclaimers'.
Many people have covered Baker Street over the years but only one other version made the chart and that was in 1992 when Undercover went one place higher than Gerry's original by peaking at number two only kept from the top by The Shamen's Ebeneezer Goode.
In 2008, Rafferty moved away from California, where he had been living, to Ireland where he rented a house. He started drinking again and it was reported that his friend Billy Connolly arranged for the singer to enter rehab. But Rafferty apparently checked himself out and flew to London and checked himself into St Thomas' Hospital suffering from a chronic liver condition. On 1st August that year, Gerry discharged himself and left all his belonging thus leading to the hospital filing a missing persons report. In November the following year he was found and he told a journalist from the Sunday Express that he had been living in Florence in Italy and was splitting his time between a home in Dorset and visits to Scotland each year. One year later, Gerry was admitted to the Royal Bournemouth Hospital with suspected liver failure. He died in January 2011 and Raphael died from a stroke in October 2014.
For 30 years Gerry received £80,000 a year from Baker Street alone. In October 2010 the song was recognised by the BMI for surpassing 5 million performances worldwide. You do the maths!