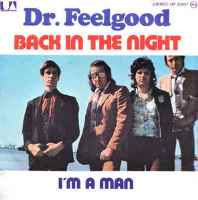 When you think of early punk, you immediately think of the Sex Pistols then maybe the Stranglers and the Clash and given punk was so different from anything we had before, you wonder who or what inspired these bands, well one act who influenced all three of the above was Dr. Feelgood. They had formed five years before back in 1971 and were one of the original bands on the pub-rock scene. This week's track, which has appeared on two different albums, was more successful second time round after its inclusion on their 1976 chart-topping live album Stupidity.
Dr. Feelgood hail from Canvey Island and originally comprised, Lee Brilleaux, Wilko Johnson, John B. Sparks and John Martin and acquired their name from a 1962 song called Doctor Feel-Good by Dr. Feelgood and the Interns which was written by their guitarist Curtis Smith. It's believed that Lee Brilleaux heard the version by Johnny Kidd and the Pirates which was released on the B-side of their last UK hit, Always and Ever. A doctor feelgood is a slang term for heroin.
Wilko Johnson recalled the band's influence on the punk bands of the time, "A lot of those punk bands, were young and they were like beginners and they were very influenced by the Feelgoods. What they took from Feelgood was the simplicity and the energy. Technically a lot of them weren't too clever, but they had the simplicity and the energy, plus they had the fashion thing. The look. It happened like that. But Dr. Feelgood had a fair input into what happened there."
Back in the Night was written solely by Wilko and originally appeared in their second album Malpractice in 1975 which made the top 20, but not all the band were impressed with it, "I remember when I wrote that song," Wilko said to Toby Sligo, "I sat up all night writing that fucker – and I was so chuffed with it, and I went to the rehearsal the next day and played it to them and they just sneered at it. Well, they didn't sneer. They just went, 'Oh, it's alright'. You know, 'You bastards, it's really good!'"
The song tells of the morning after a night of passion, seemingly with a one-night stand and they've then crashed out by the fireside. They wake up late and she rushes him out door after refusing him breakfast. Then it's just a memory of what happened back in the night.
Back in the Night was released as their third single but failed to sell anywhere near enough copies to trouble the charts. Their most successful single came four years later when Milk and Alcohol, which was co-written by Nick Lowe went to number nine in the UK chart.
Wilko Johnson left the group in 1977 due to differences with Lee Brilleaux and was replaced by John 'Gypie' Mayo with Johnson briefly joining Ian Dury's Blockheads.
In January 2013 he was diagnosed with pancreatic cancer and chose not to receive any chemotherapy. It transpired that his cancer wasn't the type originally thought and had a huge tumour weighing 3kg. The massive tumour was removed and he was completely cleared of the disease. Prior to what he thought was his imminent death, he speedily recorded an album with Roger Daltrey called Going Back Home which went to number three and gave him his biggest success outside of the Feelgoods.
Brilleaux died of lymphoma in April 1994, he was just 41. Mayo died of cancer in October 2013. The band are still going with Robert Kane on lead vocals and bassist Phil Mitchell and Kevin Morris on drums who have both been members since 1983.