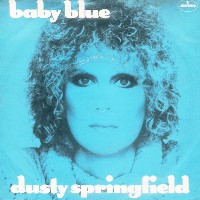 When the request for this song came in, I thought, 'Ooh yes, I remember this song, but not too many will. A minor hit in the late seventies and one which, at the time, came with the headlines, 'Dusty's comeback' and 'Dusty does Disco', both those statements are true, although she never really went away.
Checking any chart book, my one is recommended! you'll see that the wonderful Dusty Springfield had 17 UK hit singles between 1963 and 1970 followed by a gap of nine years until she appeared again in 1979 with the number 61 hit, Baby Blue. She didn't disappear during the seventies, she continues to record and released the single Yesterday When I Was Young (1972), Who Gets Your Love and Learn To Say Goodbye (1973), Bring Him Back and What's It Gonna Be (1974), A Love Like Yours (Don't Come Knocking Every Day), That's The Kind Of Love I've Got For You and I'm Coming Home Again in 1978, none of which made much impact. But then she appeared in October 1979 with Baby Blue and written by an act who, not only had their debut hit in the same chart, but it's the same week they hit number one. The song was written by Messrs Geoff Downes, Trevor Horn and Bruce Wooley aka The Buggles, so it was a double whammy for the trio with Video Killed the Radio Star flying to the top.
Horn was born in Durham in 1949 and followed in his father's footsteps. His father played double bass in a big band and when Trevor was eight, he took up the same instrument. Once proficient he even stood in for his dad when he couldn't make a gig. He moved to London in 1970 where he played some sessions and also produced the occasional jingle for some advertising companies. He played bass guitar for Tina Charles and began writing songs. In 1978, he formed The Buggles and signed a deal with Island records.
His song writing career began with Baby Blue, Trevor recalled in Songwriting in 2019, "It wasn't much of a success, it only got to number 41 (actually 61! Trevor) but it was the first time somebody jumped on a track that we had written. We wrote it at a party I think after Bruce's (Wooley) brother had given is all poppers or something. We were in the kitchen with an acoustic guitar. When I first heard the Dusty version of it, I just thought it sounded so ordinary."
It was a disco stomper and the first Dusty single to be released on a 12″ single. For reasons unknown, the song was not included on the album Living Without Your Love but the tour that accompanied the album led to an unexpected problem with royalty. She performed a concert at the Royal Albert Hall with Princess Margaret in attendance and her on-stage chat between songs included a comment about the large number of gay people in the audience and said that she was glad royalty wasn't "confined to the box." Although the comment was said in all innocence, given many knew of her own sexuality (which she never made clear publicly), Dusty was absolutely mortified when she learned that Princess Margaret had felt personally insulted. Soon after, The Princess send Dusty a typed letter which dusty had to sign and send back.
Her 'real' comeback happened in 1987 when Neil Tennant of the Pet Shop Boys revealed that Dusty in Memphis was one of his favourite albums and wanted to work with her. He'd written What Have I Done to Deserve This? with fellow Pet Shop Boy Chris Lowe and American songwriter Allee Willis in 1984 and submitted it to Dusty's management, but they weren't interested until the PSB's debut album, Please proved a success. She then agreed and the song eventually went to number two and becoming her biggest hit since her chart-topping You Don't Have to Say You Love Me (Io Che No Vivo Senza Te) 21 years earlier.
In 1994, Dusty went to Nashville to record a new album called A Very Fine Love during which she felt unwell and soon returned the UK. She was diagnosed with breast cancer and went through months of treatment. In 1995 was given the all-clear. The following year, the cancer had returned but further treatments failed to work and she died in her home town on Henley-on-Thames on 2nd March 1999 aged just 59.