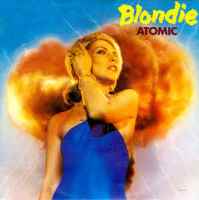 The amount of people I have conversations with who think Nena, who had the 1984 chart-topper 99 Red Balloons, is an actual person is unbelievable, I often correct them to explain that it was a group whose lead singer was called Gabrielle Kerner. The same was true of the group who recorded this week's suggested Single of the Week. So many people though Blondie was Debbie Harry. Granted they acquired that name because, as Debbie recalled, "I had always been called 'blondie' by assorted motorists and truck drivers and thought it was a good name, a natural and so easy to remember". Anyway, now I've cleared that up, let's find out about their first number one of the eighties, Atomic.
Now, be honest, how many times have you sung along to this song and not really understood what you're singing about? Yes, guilty! Well, the title itself actually doesn't have any significant meaning within the song, but the focus is more on the line, 'oooh your hair is beautiful' and Debbie explained how that came about, "The lyrics, well, a lot of the time I would write while the band were just playing the song and trying to figure it out. I would just be kind of scatting along with them and I would start going, 'Oooooooh, your hair is beautiful.'" So, basically, she made it up. As for the music, "Jimmy Destri (the keyboard player) who wrote this song," Debbie continued, "was trying to do something like Heart of Glass, and then somehow or another we gave it the spaghetti western treatment. Before that it was just lying there like a lox."
The 7″ single is a shortened version of the album version yet both intros owe a nod to different songs. The album version was inspired by the nursery rhyme Three Blind Mice whereas the single borrows heavily from Dean Parrish's northern Soul hit I'm On My Way from 1975 although originally released in 1967. However, the 12″ is worth checking out as it features a live cover version of David Bowie's Heroes with some great guitar work by King Crimson's Robert Fripp. Record Mirror described Atomic as 'Vapid and irritating' the best thing about this single is the live version of David Bowie's Heroes on the B-side.'
Atomic was the debut single from the album Eat to The Beat and was also one of the first ever rock video albums, with a video to accompany each song. Following the success of Blondie's previous album Parallel Lines, Mike Chapman was asked to take care of production.
Debbie Harry, who had always wanted to be a movie star, decided to pursue acting. She was cast in her first role as Lillian Harlan in Mark Reichert's Union City. Chris Stein (Debbie's partner) provided some of the music for the soundtrack and the title track, Union City Blue reached number 13 in the UK.
There has been plenty of exposure for the song over the years with appearances in the films, When Strangers Appear (2001) and Bend It Like Beckham (2002) as well as various television series' including Queer as Folk (1999), Cold Case (2006), Who's Doing the Dishes? (2016), Chilling Adventures of Sabrina (2018 and The Flight Attendant (2020). The song has also been heard in Coca-Cola commercials during the 1998 and 2002 FIFA World Cup campaigns. In 1996, Sleeper covered it for the Trainspotting soundtrack and appears in the B-side of their single Sale of the Century.
Naturally brunette Deborah, as she now likes to be called, began a new vocation. She was asked to present a three-part documentary on Sky's Discovery Channel. The series focused on how rock 'n' roll music, particularly The Beatles and the worlds of fashion and film, permeated countries outside the Western world. She recalled, "In 1980, I nearly met John Lennon. I was supposed to go and meet him the week after it happened. It was kind of awful. I mean beyond him getting shot I would have really liked to have met him."
Between 1988 and 1995, five of Blondie's hit singles were re-mixed and back in the chart for no apparent reason and generally went by unnoticed with Atomic reaching number 19 followed by Heart of Glass which went four places better and these mixes probably haven't been heard since.