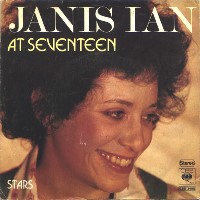 I first learned the truth of Janis Ian in 1979 when I was actually 16 and received a promo copy of Fly Too High. It flew very low into the UK chart but was well received in the clubs where I used to play. Two years later, after my first real intimate liaison, the young lady I was with put on an LP from her collection. As I lay there listening and taking in the magic of the wonderfully honest lyrics to what I later learned was Between The Lines it became obvious that Janis was a lady who knew how to make a point and make it in a way you just had to listen.
Janis, who was born Janis Eddy Fink in Brooklyn, New York in 1951 to a Jewish family was raised in New Jersey, was a fan of Joan Baez and her influence led her to write her first song, Hair Of Spun Gold, at the age of 12. A year later she wrote Society's Child, a song about an interracial romance (you can read the story of that here: (https://www.jonkutner.com/societys-child-janis-ian/) and in her 2008 Autobiography of the same name where she talks about receiving hate mail and death threats over the song's content.
Throughout 1974 and into 1975 Janis was playing the club circuit. She would tour for a few months and then spend a couple of months writing songs and then go into the studio to record them rather than write all the tracks and then record them all. She would then go back on the road to make some more money. Sound Studios in New York is where she recorded and in the studio next door was a man in a similarly poor position. Janis said of him, "We became friends and hung out at the diner together, we were both starving." That man was Bruce Springsteen. They later both signed to CBS records and Between the Lines was her first with that label. On it was, arguably, her most famous song At Seventeen which was never a UK hit but did make number three on Billboard for which she won a Grammy for best Pop Female Vocal.
It's her most brutally honest song and tells of teenage angst and adolescent insecurity 'And those of us with ravaged faces, lacking in the social graces, desperately remained at home inventing lovers on the phone' – it breaks your heart to think that came from a girl who could think that about herself at a fairly young age. It tells the story of her own life but looking back to when she in her early teens, "I had to move back into my mom's house because I was broke and I couldn't make any money on the road. I was sitting at the kitchen table with a guitar one day, and I was reading a New York Times article about a debutante, and the opening line was 'I learned the truth at 18.' I was playing that little samba figure, and that line struck me for some reason. The whole article was about how she learned being a debutante didn't mean that much. I changed it to 17 because 18 didn't scan," Janis explained to Songfacts.
She wrote the first verse quickly and easily, 'I leaned the truth at 17, that love what meant for beauty queens and for high school girls with clear skinned smiles. ' The chorus wasn't so easy, "Sometimes you don't have a lot of control over a song. You can control the craft, but not the inspiration. I wrote the first verse and chorus and it was so brutally honest. It's hard to imagine now but people weren't writing that type of song then. I was coming out of listening to people like Billie Holiday and Nina Simone, who did write those kinds of songs, but pop music and folk music really didn't. I remember thinking I couldn't blow this because it really was going to be a good song. I put it away for three weeks and it took about three months to write the whole thing. I couldn't figure out the ending, I couldn't figure out what to do with her, then I thought I would recap it, bring myself into it and bring it into the past."
Once recorded she began showcasing it and initially performed the song with her eyes closed as she sang it. She was worried that the audience would laugh at her because of the personal nature of the lyrics. In 1976, she was invited to appear on the first-ever edition of NBC's Saturday Night Live as the first music guest which she did so alongside Billy Preston. She remembered, "I realised it was a hit not only when it sold out all the time, but also when people started clapping after the first few bars."
Like At Seventeen, most of the songs on the album carry a sombre mood and most tell the story of heartbreak and lost loves or more to the point a lack of them. It doesn't sound like a recipe for a successful album but then again with an American population of just over 200 million there might just have been enough people going through relationship problems to have touched a nerve. She once said, "To me it's never been a depressing song. It says 'ugly duckling girls like me,' and to me the ugly duckling always turns into a swan. It offers hope that there is a world out there of people who understand."
Between the Lines won a Grammy for Best Female Pop Vocal Performance beating Olivia Newton John and Helen Reddy and At Seventeen was also nominated for Song of the Year. In the song there's a line that goes; 'To those of us who knew the pain of valentines that never came' this obviously had such an effect on so many people that the following Valentine's day she received 461 Valentine cards.
In 1981, whilst on holiday in the States, I was driving through Washington D.C. and saw a sign saying, 'For One Night Only – Janis Ian'. I slammed on the brakes, reversed to see the sign clearly only to realise it was the previous night. I'd missed my opportunity. Janis rarely toured the UK but luckily, in 1985, she played one date only at the Dominion Theatre in London's Tottenham Court Road and I was there in the front row. The house was packed and I believe the audience's reaction overwhelmed her somewhat. I don't think she realised she had so many fans in this country. The show was awesome!
In 1989 she moved to Nashville where she met Patricia Snyder and the couple eventually married in 2003. Around the same time Janis began writing science-fiction books and has had many works published including an anthology called Stars: Original Stories Based on the Songs of Janis Ian.
Between The Lines never made the UK chart but remains to this day, my all-time favourite album.