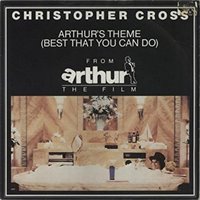 It had never occurred to me, until I recently read an interview with a song writer, that if they are lucky enough to pen a song used as a film theme the best thing for them is to have it featured at the beginning rather than over the end credits. If that can happen then they've got more chance of the song being a lot more successful. Why? read on. This week's suggestion did just that and proved the theory as it was a top 10 hit in the UK and a three-week chart topper in the States as well as winning a Grammy for Best Song.
The song is Arthur's Theme (Best That you Can Do) which accompanied the great film of 1981 starring Dudley Moore, Liza Minnelli and Sir John Gielgud. The story tells of the alcoholic millionaire playboy (Dudley Moore) who is an heir to a huge fortune which, as part of his family agreement, he can only receive if he marries Susan, but he doesn't love her and therefore doesn't want to marry her. Instead it's a poor waitress who wins his heart but he has to choose whether he takes the money or the woman. If you've never seen it, you'll need to watch it to find out.
The song's title is not mentioned within the song although the parenthesis (Best That you Can Do) is but the song's most memorable line is 'When you get caught between the moon and New York City' which is what the original title was. The song credits Peter Allen, Burt Bacharach, Christopher Cross and Carole Bayer Sager as writers but it was the Australian lyricist Peter Allen who came up with that line for a song he was working on with Carole Bayer Sager.
When you think about where that place might be, the moon and New York City, it's obviously somewhere in the sky and that is where the inspiration struck. Allen was on a flight to New York's JFK airport and whilst waiting to land the plane was on a circling hold whilst waiting for clearance to land. In an interview with Songfacts, Susan Lina claimed she was an attendant on that flight and said to them, "Peter Allen was on my flight and when he was deplaning he said to me, 'You have inspired me to write a song, and you will know it when you hear it.'
Bayer Sayer, who  is best remembered for her 1977 hit You're Moving Out Today, was recording a new album in 1981 called Sometimes Late at Night. She'd met Burt Bacharach who she soon became romantically linked with and he produced and co-wrote some songs for her album. She explained, "We were writing together, and now we were living together. My friend Arnold Stieffel, who was then at ICM (and has managed Rod Stewart since the mid-Eighties), thought that getting Burt a movie to score would be the best way to kick-start his comeback, and he hit a home run in his first at-bat. He came up with Arthur." Another close connection to the film is that Liza Minnelli was Peter Allen's ex-wife. Bacharach penned the tune and he asked Bayer Sager to work on some lyrics. It was at this point she remembered the line that Allen had come up with and called him to ask his permission to use it. He obviously said yes and that earned him a writing credit for which he would then get 25% of the writer's royalties.
Once with song was finished and submitted, Bayer Sager recalled, "The director wanted a song to play over the opening scene, which is a songwriter's dream, because when it plays over the end credits, half the audience is already walking out. Burt and I watched the scene over and over on a small monitor in our living room. He was trying out lots of melody ideas as I was trying to think of words that felt right for the scene which is when I recalled that I had written years earlier with Peter Allen.
Christopher Cross was a new up and coming star in the early 80s and had won five Grammy awards in 1981 which included Record of the Year, Song of the Year, and Best Arrangement Accompanying Vocalist(s) for the hit Sailing, Album of The Year for Christopher Cross, and Best New Artist. He was considered as first choice to score the film but the film's director, Steve Gordon disallowed that decision because, as it was his first film, he didn't want someone fairly inexperienced to score it, so he chose Burt Bacharach. However, Cross did get to co-compose some of the songs.
In 1982, Arthur's Theme won the Oscar for Best Original Song beating another film-title theme – Endless Love and, ironically, Arthur's Theme knocked Endless Love off the top of the Billboard number one slot. All four writers accepted the award from Bette Midler and it was Bayer Sager who gave the speech. Five days after that Bayer Sager and Bacharach married.
The pair continued to write together and had two further US chart-toppers with On My Own by Patti LaBelle & Michael McDonald and That's What Friends Are For by Dionne Warwick & Friends which was originally recorded by Rod Stewart presumably because of the Arnold Stieffel connection.
Bacharach and Bayer Sager divorced in 1991. Sager, in 1996, married the former chairman of Warner Brothers and CEO of the Los Angeles Dodgers baseball team, Robert Daly and they live in Los Angeles. Bacharach also lives in L.A and, at 93, he is still writing songs and last year was collaborating on and up-and-coming single with Seattle-based single  Melody Federer. As for Cross, in 2019 he was planning a 2020 US tour which has been postponed due to the pandemic. Sadly, the film director Stephen Gordon never got to direct another film as he died of a heart attack in 1982, at the age of 44.