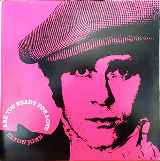 Serge Ramaekers did it successfully in 1993 with Freddie Mercury and Antonius Tom Holkenborg also made it work in 2002 with Elvis Presley so there shouldn't have been any reason why it wouldn't have worked when Ashley Beedle attempted it in 2003 and he proved it. What? Remix an old, fairly obscure track and make a number one hit out of it.
With Freddie, the original version of Living On My Own peaked at a lowly number 50 in 1985, the Elvis song, A Little Less Conversation, was only ever an album track, but Nike asked Holkenborg aka Junkie XL to remix it for a television advertising campaign. He did and when they sought permission from the Presley estate they refused unless the remixer agreed to change his name as they believed his name had a drug connotation, so he agreed to call himself JXL and all was sorted. This week's suggestion is Are you Ready For Love which topped the UK singles chart 24 years after it first appeared, but it was put out as a test first.
The original track was recorded with producer, Thom Bell, at Sigma Sounds Studios in Philadelphia. Thom had invited the Detroit Spinners to record backing vocals and two versions of the song were laid down. One had all of The Spinners, the other with only lead singer Phillipe Wynne on backing vocals. It was the latter that was released as a single some two years after the recording. The other version is only available on the 1990s box set The Complete Thom Bell Sessions. The track wasn't released until 1979 because Elton wasn't entirely happy with the original mixes. He thought they were too cluttered, so asked sound engineer and producer Clive Franks to remix the track and make it less so. Clive remembered, "We mixed all the tracks in just two or three days, but I hate to admit, I've got no idea which mix was actually issued as a single – that was left up to Elton and John Reid to decide."
First time round it just missed the top 40 in May 1979 possibly because, despite Elton's popularity, radio didn't seem to give much airtime to the track. The same year The Spinners, as they were known in the States, recorded their own version of the song and it appeared on their album From Here to Eternally. Later in 1979 Elton embarked on his first tour for three years, which included a performance in Israel, where only one westerner, Leonard Cohen, had performed before.
In the summer of 2003 Ashley Beedle remixed the track. Although little was done to the original sound, it became a nightclub smash. Its profile was boosted when Sky TV used it as backing music for their soccer coverage. When DJ Fatboy Slim heard it, he wanted it issued on his own Southern Fried record label.
In an interview with George Matlock, Ashley explained his role, "I like to think of the stuff as timeless. I live in two worlds, I'm in this group called X-Press 2 and we had quite a big hit in 2002 with a song called Lazy with David Byrne of Talking Heads. And when I DJ I produce on my own, I just look for the soul sounds. I grew up as a black music kid and my father had an amazing record collection which went right across the board. So I always carry that with me. The songs which grab me are the ones which motivate me. I'm not really a faceless techno bod. Although I'm a remix producer, Are You Ready for Love is a re-edit, that's a totally different thing altogether. That's where you've taken the elements of the track and you've enhanced the song, I have not added anything of my own. I have taken the song and restructured it in such a way that it's a bit more for the dance floor. Re-editing was the first way of remixing, back in the early days of disco in the 1970s. Eventually when technology became more available, people started adding their own instruments and effects. The actual edit for me took a day. I would sit down, load it into a computer, and play around with it with my engineer. I then sent it to the cutter, and he rang back to say it's not in stereo, it's in mono. And I said it was meant to be in mono! I wanted it to be really punchy and to have that old feel. It was done at my friends studio in Forest Hill, south east London, called South of the Border. She has a studio in her house. But it has a certain sound in there, where I do a lot of my edits. It has a boxy feel to the sound."
Initially, a strictly limited edition of 6000 pink vinyl 12″ copies were released which sold enough to enter the chart at number 66. Two months later, the track got a full CD release following its use this time by the Sky Sports channel to advertise the new season of football coverage. But the bizarre thing is that the remixed version does not appear on the CD single nor the cassette single. The first track is a 1979 re-issue and track two is full version which appeared on both sides of the original seven inch single. The remix, known as the Freeform Five Remix, only appeared on the B-side of the 12″ copy. So how many fans bought the CD, only to discover they already had it in their collection?