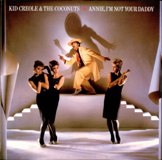 So, who is the most dapper pop star of them all, arguably it's got to be the man who led the coconuts, Kid Creole.
It's often reported that Kid Creole's real name is August Darnell, which is partly true, those are his middle names. His full name is Thomas August Darnell Browder and he was born in The Bronx area of New York in 1950. His style surely came from his father who was from Savanna. He and his brother started a series of bands starting in 1965 with The Strangers doing Beatles and Elvis covers, then The Inlaws and then the Air Bubbles. Thomas was soon fed up and broke up the band because he wanted a career in teaching and so after obtaining a degree in English and pursued that career, at least until 1974 when he decided to return to music. He called his brother and the pair agreed to form another band which they called Dr. Buzzard's Original Savannah Band.
It was around this time he changed his name to Kid Creole, a name he 'borrowed' from the Elvis Presley film King Creole. One of this childhood heroes was Cab Calloway and you can see Cab's inspiration in the way Kid dresses. He also turned his hand to production and began producing songs for other acts including Gichy Dan's Beachwood No.9, Don Armando's Second Avenue Rhumba Band and, in the eighties, Funkapolitan.
In 1980 he broke up the band again, this time because he was dissatisfied. "I was stifled because Stony would not allow people to grow beyond what he felt should be their space. He felt I should be the lyricist, the bassist and the background singer," he told Record Collector in 2002, "I had greater designs for the future. I needed a way to channel my new-found songwriting energies." So he formed a new band, namely the Coconuts. He took with him his percussionist and vibraphone player, Andy Hernandez, who went by the name Coati Mundi and three girls – the Coconuts – who were Cheryl Poirier, Taryn Hagey and Adriana Kaegi.
During his days with the Savannah Band he spent and lost money like it was going out of fashion, "I made so much dough and wasted so much dough," he explained, "I bought houses and cars and made investments in clubs. I learned how quickly you can lose one million dollars. Thank God I wrote those songs – I could live off the royalties to Annie alone – because if I didn't, I'd be in the poor house."
The first hit came in 1981, Me No Pop I was credited as Kid Creole presents Coati Mundi and reached number 32. The following year was Kid Creole's most lucrative, four hit singles in one calendar year and three of them making the top 10. I'm A Wonderful Thing Baby got to number four, Stool Pigeon made number seven and then, the biggest, Annie I'm not your Daddy peaked at number two only held off by Culture Club's Do you Really Want to Hurt Me.
Annie I'm Not Your Daddy is not biographical. It has all the same sentiments at Michael Jackson's Billie Jean, except Annie predated Billie by three months. The songs tell the same story but in totally different ways. The accompanying video shows August, handcuffed and being kidnapped in a digger truck and taken to a disused warehouse then tied up while 'Annie' tries to get her revenge. His words are harsh and quite nasty, he actually says, 'see, if I was in your blood, then you wouldn't be so ugly.' But because the faux-calypso song, with its reggae influences and pumping horns section is so prominent, the harshness of the words are often overlooked. August once said, he never understood reggae like the reggae guys do, but, "I wanted to borrow from it and take it to the next level, which is what Annie, I'm Not Your Daddy did, I borrowed from Lord Kitchener and Mighty Sparrow."
It's also one of those songs that has the brilliant misheard lyric; listen casually to the Coconuts halfway through and you think you're hearing Ona ona onomatopoeia, ona ona onomatopoeia, but have a closer listen and you should hear I don't, I don't, I don't want to be your…
The parent album, Tropical Gangsters reached number three in the UK album chart and its chart life was extended when one final single, the reggae-influence Dear Addy was released and became the last release on the ZE label they were signed to.
In 1983, August won Best International Artist at the Brit Awards and immediately started his own Brindish Reef production company to release all his spinoff projects such as the Coconuts' Don't Take My Coconuts album. ITV offered him a TV special which he jumped at. It was called There's something Wrong in Paradise and was shown over Christmas 1983. August described it as "his ultimate dream."
He had married Adriana Kaegi and divorced in the mid-eighties although she remained a Coconut. Their final appearance as a band was at the Montreux Jazz Festival in 1986 and the final album was I, Too, Have Seen the Woods in 1987.
They reformed in 1990 but without Coati and had cracked the chart again with the number 29 hit, The Sex of It which was, not only written by Prince, but also recorded at his own Paisley Park studios with Sheila E on drums.
August splits his time between his two homes, one is Sweden and one in Hawaii. He also owns and works in his own Ambrosia Martini Lounge on the island of Maui with his coconut, Eva.
In 2011 his last album, to date, I Wake up Screaming was released and featured a new set of Coconuts, namely Eva Tudor-Jones, Roos van Rossum and the most recent member to join, Jessica Forsman. They still tour, but not so frequently. He said, "I'm lucky that my health had held up and I still enjoy wowing an audience with my band," he told Mojo magazine in 2011. "I'm blessed with a remarkable bunch of musicians who believe in the cause and love the music. Nothing beats the feeling of performing a dance track live. Watching people shaking themselves to the groove is a most welcome sight, even when they can't dance."