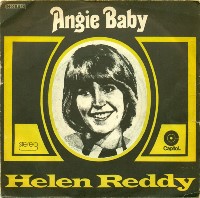 Helen Reddy was such a good-looking lady, had a great voice and made so many great songs, so it's a puzzling thought as to why she is only remembered for one hit in the UK. She is often classed as a one-hit wonder and not really surprising because after Angel Baby was a hit in 1975 six and a half years went by until she had her only other hit which was I Can't Say Goodbye to You, but it missed the top 40. Who was Angie and did Helen even know considering she didn't write it? Let's find out.
Helen was far more successful in the States and she's not even American. She was born in Melbourne, Australia in 1941 into a showbiz family so it's not surprising she followed in their footsteps and even more impressively, did so from the age of four.
In the early sixties, she entered a television talent show called Bandstand which she won and the prize was a ticket to New York for an audition. She passed the audition and so her recording career began in her new home. Her first single was called One Way Ticket (not the Neil Sedaka song) was recorded in 1968 and was first recorded by Gloria Loring. Gloria may not be a familiar name to you, but her son will be as he had an international number one hit in 2013 called Blurred Lines. Yes, Robin Thicke was Gloria Loring's son.
Her second release was called I Believe in Music which was backed with a cover of the Tim Rice and Andrew Lloyd Webber song I Don't Know How to Love Him. That was the song that got her a record deal with Capitol records and was a hit in its own right in Canada and on the back of that was flipped by DJs and became her debut American Billboard hit where it peaked at number 13 in 1971.
The following year she had her first US chart-topper with I Am Woman and exactly one year later had her second with Delta Dawn. Her third and final one came in December 1974 when Angie Baby spent a week at the top going into 1975.
Angie Baby was written and originally recorded by a real one-hit-wonder, a man by the name of Alan O'Day. His only UK hit was called Undercover Angel which got the same position as Helen Reddy's forgotten follow up, but he did it in 1977. Alan explained its inspiration in an interview with Forgotten Hits, "Back in 1974, I was trying to write a song loosely based on the character in the Beatles' Lady Madonna. My 'heroine' was initially a typical modern woman, dealing with the complexities of juggling family & work. Now when a writer is at the beginning stages of a project, gut-level feelings are sometimes all you have to go on. And my 'gut' told me that the character I was creating had a major problem: she was boring!" In a different interview with Billboard, he added, "I started adding layers of weirdness to her character. The weirder she got, the more interesting the song became."
The Angie in question is fictitious although possibly inspired by the Rolling Stones' song from the year previous. "This frustrating observation led me to explore some 'what if?' scenarios. What if the woman in my song was abnormal in some way? My thoughts went back several years to a young next-door neighbour girl who seemed 'socially retarded'. Very quiet, kept herself to herself. Although I hardly knew her, I liked to imagine what she thought about. I also remembered my own childhood; I was sick often as a kid, and being an only child, many of my days were spent in bed with a radio to keep me company. These thoughts germinated into an imaginary retarded teenage girl named Angie Baby and I began a lyric story describing her situation." All this is summed up very succinctly in the opening line, 'You live your life in the songs you hear, on the rock 'n' roll radio, and when a young girl doesn't have any friends, that's a really nice place to go.'
Alan took a vacation in Palm Springs and took the half-written song with him. He wanted to make the song more intriguing, "I had the idea of Angie becoming impregnated by this guy in the song and having a baby," he explained to Fred Bronson. He wanted to 'test' out the song on someone complete unconnected and he read the first part to the lady that ran the motel he was staying in. She figured her opinion would be more honest than some record executive, he explained her reaction, "She listened and really liked Angel as a person. When I told her, I was thinking about through further trial and tribulations, she got kind of upset and said, 'no, she's been through enough.'"
Once the song was finished, Alan took it to his publishing company who wanted to offer it to Cher as she had already covered the O'Day track, Train of Thought which is the opening track on her 1974 album Dark Lady, but Cher turned it down. Helen got the gig and, according to O'Day, sold approximately two million copies.
Reddy had further US hits and also tried her hand as an actress and appeared in three films, Airport '73, The Disney film Pete's Dragon and the 1978 shocking Sgt. Pepper's Lonely Hearts Club Band. In 2002, she decided to retire from the industry and moved back to her native Australia living in Sydney. In 2015, it was announced in the press that she had been diagnosed with dementia. She moved back to Los Angeles and in 2017 made an appearance at a Women's March which was in aid of Women's Rights and Unity following the inauguration of Donald Trump. Reddy died on 29 September 2020 in L.A. The year previous, a biographical film named after one of her biggest songs, I Am Woman with the Reddy being portrayed by the Australian actress Tilda Cobham-Hervey.
Alan O'Day recalled once of his happiest stories about the song, "It came in the form of a grateful letter from a mental hospital counsellor in Hawaii. It seems she had a traumatised patient named Angie, who had been unable to talk for some period of time. She decided to play the 45rpm single of Angie Baby, daily, for this unfortunate girl, to see if it might somehow help. The counsellor wrote that this girl began making dramatic progress, and if memory serves me, was ultimately released."
There was some confusion with some people about the song's content with people speculating as to what it was about. This quite often confused O'Day, one of his favourite stories is, "When Angie Baby was a hit in Australia, I got an unexpected 3am phone call from a radio DJ there, saying he had figured out the riddle of what Angie Baby did with the boy. Sleepy, but wanting to be polite, I asked, 'OK, what?' Triumphantly he answered, 'She turned him into a disc jockey!' Actually, I wish I'd thought of that!"