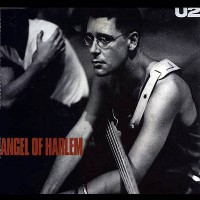 Very few groups can boast the same line up for an eternity. The Four Tops hold the record having had the same line up from 1954 (when they became the Four Tops) until 1997 when one of its founding member Lawrence Payton died – that's a total of 43 years. Motown's founder, Berry Gordy called them, "The epitome of loyalty, integrity, class." Creeping up fast is the group who are this week's suggestion, U2, having formed (as U2) in 1978 and are still going – that's 41 years. This week I delve into the follow-up hit to their first chart-topper, Desire, which is Angel of Harlem.
They landed their first UK top 40 hit in the summer of 1981 with Fire, the follow up's, Gloria and A Celebration missed the 40, but New Year's Day, in mid-January 1983, gave them their first top 10 hit. Their 1987 album, The Joshua Tree gave them three back to back top 10 hit singles – With Or Without You, I Still Haven't Found What I'm Looking For and Where The Streets Have No Name whilst their next album, Rattle & Hum went one better and produced four hits – Desire, Angel Of Harlem, When Love Comes To Town (with B. B. King) and All I Want Is You.
Angel of Harlem is not only a tribute to the blues, but also a tribute to Lady Day herself, Billie Holiday who was The Angel of Harlem. She was born Eleanora Fagan in April 1915 in Philadelphia, Pennsylvania and moved to Harlem, New York when she was 13. Once there, she performed in numerous nightclubs and sang about things that affected her, mainly broken relationships and drugs and she did it such a way that her audiences were often moved to tears.
Bono had been thinking about Billie because an American friend of his whom he'd met in San Francisco when they were teenagers, had given him a biography of the singer and he was fascinated, and the song was written on the road during their 1987 tour. It was the first time the band had visited New York and this visit is told in Angel of Harlem. "We landed in JFK and we were picked up in a limousine," Bono explained in the book U2 by U2. "We had never been in a limousine before, and with the din of punk rock not yet faded from our ears, there was a sort of guilty pleasure as we stepped into the limousine. Followed by a sly grin, as you admit to yourself this is fun. We crossed Triborough Bridge and saw the Manhattan skyline. The limo driver was black and he had the radio tuned to WBLS, a black music station. Billie Holiday was singing and there it was, city of blinding lights, neon hearts. They were advertising in the skies for people like us, as London had the year before."
The obvious reference is in the line, 'Lady Day got diamond eyes, she sees the truth behind the lies'. The line 'On BLS I heard the sound of an angel' refers to that New York radio station. The song was recorded at Sun Studios in Memphis, Tennessee during their 1987 tour and features the Memphis Horns, who had appeared on so many of the blues and soul classics that had been recorded there.
Angel of Harlem was produced by 'Cowboy' Jack Clement who was a regular at Sun Studios having worked there with Sam Phillips. Bono wanted Clement to produce the album but Clement, who had never heard of U2, was initially reluctant until someone pointed out that it might be a good career move for him. During the recording he had an idea, "I thought I would lighten the session up, so I sent out for a case of Absolut Vodka," Bono explained. "I was giving it to the horn players and we were all having a little laugh and Cowboy came up to me and said, 'Bono, how long you been doing this?' I said, '10 years, nearly.' He said, '10 years and you don't know not to give the horn section Absolut Vodka? You can give it to anybody else but you can't give a horn section Absolut.' I asked, 'Why, particularly, the horn section?' Cowboy said, 'Listen, stupid, you try playing a horn when your lips won't work.'"
The song had its live debut at the Smile Jamaica concert on October 16, 1988 in London, a benefit for the victims of Hurricane Gilbert.
Billie Holiday died of cirrhosis of the liver in 1959 at age 44.
Bono said of the song, "It's a jukebox song. We don't have many jukebox songs, maybe six or seven, but that's the one people like to play in bars.