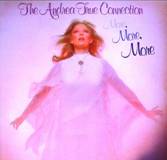 When it comes to talking about explicit songs, we tend to think, these days especially, about rap tracks with swearing or derogatory language in them, but back in the seventies, it was probably more about sex especially Donna Summer's early 1976 top 10 hit Love To Love You Baby which screamed orgasm at you, but few may realise the history of another top five hit just three months after Ms Summer's peak which was even more to the point. With lyrics which said, 'But if you want to know how I feel, get the cameras rolling get the action going' you're likely to think of a porn film and that's exactly who the lady that sang it was, a porn star.
The lady in question was Nashville-born Andrea Marie Truden who attended the Saint Cecilia Academy which was a Catholic school for girls. As a teenager and wanting to become a film star she moved to New York, changed her name to Andrea True and landed her first job as an extra in the Barbra Streisand and Robert Redford 1973 classic The Way We Were. Very little followed until some friends asked her if she wanted to help out in a porn movie they were making, she agreed thinking it could further her 'proper' acting career. It did enhance her acting career, but only in the X-rated kind where, if you indulge in that kind of past time, you may have spotted her in Hot Channels (1973), Deep Throat II (1974), The Seduction of Lynn Carter (1974) and Every Inch A Lady (1975). In early 1975 a Real Estate company in Jamaica spotted her and hired her to appear in their television commercials so she agreed and moved temporarily to Jamaica with her boyfriend who was, bizarrely, a gynaecologist.
Meanwhile in 1971 a session drummer called Gregg Diamond who had played for the likes of James Brown, Sonny & Cher and Melanie decided to further his career and get into songwriting. He struggled in the beginning explaining in an interview with Bruce Nash and Allan Zullo, "Months went by and I ran out of money and then lost my apartment. But rather than go back playing studio drums, I was determined to get into the music business as a producer or writer. I moved my piano into an empty room of an office building and worked on a song for weeks and weeks. It had an energy and it reeked of sex. All I knew was that I was going to keep working on it even though, at the time, it had no title nor lyrics."
Gregg's brother, Godfrey, in an interview with Red Bull Music Academy, explained how he got involved, "I get a call from my brother telling me he had got his hands on maybe $1,200, and he says 'Listen, I got this studio, it's really close to where you are, it's on 54th and Broadway. Want to come over? Let's blow this out.' I go, "Sure man, I have a break from two till five, I'll come right over!" I took bass player Jimmy Gregory with me and he plays this great bassline, I play drums, and Gregg plays the piano. That's where More, More, More happened. And that eventually turned into this team, which was Gregg, myself, Jimmy Gregory and Steve Love, who was in a band called Stories. Jimmy was in this band Five Dollar Shoes with Gregg. So we had this song hanging around for about a year. We tried different people on it, but we really didn't know what to do with it."
Out of nowhere, Gregg received a call from Andrea in Jamaica, "She said she'd heard of me from a mutual friend," Gregg recalled, she says "'I did this movie down in Jamaica and I made some money, but I can't leave the country with the money or they're going to take half of it. One of the guys that I know here has a studio. I hear you have something on tape that's really good and I want to sing it and break into the music business. I'll pay for your ticket, room and the studio time.'"
The very next day, Gregg flew to Kingston armed with some drums, a keyboard and a partial demo tape of the song. "She met me in a low-cut dress and took me over to her limo where she introduced me to her boyfriend," Gregg explained. It was the boyfriend who had hired studio time and Gregg got to work laying down the tracks for the various instruments, but the lyrics still weren't complete but told the boyfriend it would be finished within 48 hours. He went to the beach, began writing some more lyrics and then took a cab to a cafe on the other side of the island where he added some more. "It came to me as sexy as I imagined it," he said. He went to bed that night with only the hook and chorus written, but woke up at two in the morning and went to Andrea saying you're going to sing this. "So I put the tape on and then it came to my attention that she couldn't sing! I thought, 'I'm never going to get off this island, but I pursued it and carried on teaching her the song until daylight. Later that day I wrote the remaining lyrics on the way to the studio. Godfrey added, "We had her sing it like a dozen times, over and over, so we got this thick version of her, this big, lush, breathy and sexy vocal. Andrea didn't seem comfortable so Gregg suggested something, "I told her to make it feel like a porn set. Pull her blouse down a little and take her panties and shoes off and now give me your best sexy breathing. Godfrey said, "We edited it, cleaned it up and put a bunch of reverb on it so it has that big effect." Gregg continued, "We spent 72 hours recording, mixing and then re-mixing the track as well as electronically enhancing her voice but I finally finished the song."
The brothers returned to New York and approached Art Kass as Buddah records who, despite a lot of other records labels passing on it, liked it and drew up a deal for the record, and signs Andrea True as the artist. "When it broke the Hot 100, me and my brother were like, "This is the best we're ever gonna do in our life, we hit it, this is it," Godfrey explained excitedly. "It just kept creeping. It took like eight months to get into the top 20. And then we've got a number one record on our hands."
Gregg went on to work with Luther Vandross whom he'd met whilst working on More More More. "Luther had just done Bowie's Young Americans and we recorded a song called Hot Butterfly that was like Luther's coming-out party. Luther helped a lot with the lyrics and the melodies." Hot Butterfly never made the UK chart, but Cream (Always Rises to the Top) did peaked at number 61 in 1979.
One thing you may notice is that the only person credited on the label is Gregg Diamond with no sign of Godfrey, who explained, "Unfortunately, I love my brother very much, but he just wasn't so big with sharing credit, which eventually led to me not working with him anymore. For the first five or six albums, I'm just happy we get to do it again, and I don't care about credit. We were pioneers in the beginning, and we were doing it together."
The song continues to live on with a cover version in 1993 by Bananarama which made number 24 and another in 2004 which made number three for Rachel Stevens. Andrea's version appeared in two different episodes of The Simpsons and Stevens' version was used by the Sofa Carpet Specialist (ScS) for their TV adverts.
Gregg died in March 1999 of gastrointestinal bleeding aged just 49 and True died in November 2011 of heart failure, she was 68, just one number short of something she might have carried out in one of her films!