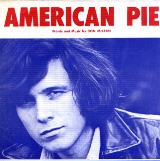 A long, long time ago, back in February 1959 Buddy Holly, along with the Big Bopper, Ritchie Valens and the pilot, Roger Peterson, all died in a plane crash in Clear Lake, Iowa, no song has immortalised the event more that Don McLean's 1971 song American Pie and has come to be known as 'The day the music died.'
Don McLean was born in New York on 2nd October 1945 and would have been just over 13 years old when the tragedy occurred, so it's quite feasible that the events he was singing about were from his personal memory, but unfortunately, Don doesn't really remember and never really liked to talk much about the song. On numerous occasions when he's been asked what the song means, his stock reply is usually, "It means I don't have to work again if I don't want to.
According to his website, McLean claims this song was originally inspired by the death of Buddy Holly and feels it was 'The Day the Music Died'. In subsequent years he has talked more about it and went on to say, "I didn't intend it to be about the death of music. Of course the music doesn't die but I was saying that people lack the basic trust to believe that the music will happen again. In other words, the levee doesn't remain dry. Most of my friends liked Elvis more than Buddy Holly, but I idolised him. I liked Buddy because he spoke to me. He was a symbol of something deeper than the music he made."
It's true that Don was a 13-year-old paper boy in New York and he did learned about the plane crash when he cut into his stack of papers and saw the lead story. In 2010 on an episode of the UK TV show, Songbook, Don explained, "For some reason I wanted to write a big song about America and about politics, but I wanted to do it in a different way. As I was fiddling around, I started singing this thing about the Buddy Holly crash, the thing that came out (singing), 'Long, long time ago, I can still remember how that music used to make me smile.' I thought, Whoa! What's that? And then 'the day the music died,' it just came out. And I said, 'oh, that is such a great idea,' and so that's all I had. Then I thought, I can't have another slow song on this record, I've got to speed this up. I came up with this chorus, crazy chorus, and then one time about a month later I just woke up and wrote the other five verses. Because I realised what it was, I knew what I had and basically, all I had to do was speed up the slow verse with the chorus and then slow down the last verse so it was like the first verse, and then tell the story, which was a dream. It is from all these fantasies and all these memories that I made it personal. Buddy Holly's death to me was a personal tragedy. As a child, I had no idea that nobody else felt that way much. I mean, I went to school and mentioned it and they said, 'so what?' So I carried this yearning and longing, if you will, this weird sadness that would overtake me when I would look at this album, The Buddy Holly Story, because that was my last Buddy record before he passed away."
Don was building his own career at his own pace. He'd lost his father when he was 15 and his marriage broke down during the recording of the American Pie album, but following the success of the single he was thrust into the spotlight and he was just not ready for this. In an interview with the NME in 1973, he explained how it affected him, "I was headed on a certain course, and the success I got with American Pie really threw me off. It just shattered my lifestyle and made me quite neurotic and extremely petulant and I was really prickly for a long time. If the things you're doing aren't increasing your energy and awareness and clarity and enjoyment, then you feel as though you're moving blindly. That's what happened to me. I seemed to be in a place where nothing felt like anything, and nothing meant anything. Literally nothing mattered. It was very hard for me to wake up in the morning and decide why it was I wanted to get up."
Many have tried to analyse the song and Don has never really agreed nor disagreed. In 1972 he once said, "I can't really interpret the song any better than you can." But if we look at it closely, we can probably ascertain that the jester was Bob Dylan because it refers to him wearing 'A coat he borrowed from James Dean,' and on the cover of The Freewheeling Bob Dylan, Dylan is wearing a red jacket similar to James 'And a voice that came from you and me' may well refer to the folk style he sings, and the line, 'And while the king was looking down the jester stole his thorny crown' could be about how Dylan took Elvis Presley's place as the number one performer.
The line 'And while Lenin read a book on Marx' most likely refers to the communist dictator, Vladimir Lenin, who led the Russian Revolution in 1917 and who built the USSR that was ruled by Josef Stalin. The 'Marx' is Karl Marx, but some have made comment that they think it's about John Lennon, whose songs often reflected a very communistic theology, especially Imagine. If that is true then the Marx must surely be Groucho, another cynical entertainer who was suspected of being a socialist, and whose wordplay was often similar to Lennon's lyrics. 'Did you write the book of love' is probably a reference to the 1958 hit Book of Love by the American group The Monotones. The chorus for that song goes 'Who wrote the book of love? Tell me, tell me, I wonder, wonder who, who wrote the book of love' another line asks, 'Was it someone from above?' Don was a practicing Catholic, and believed in the depravity of sixties music, hence the closing lyric: 'The Father, Son, and the Holy Ghost' they caught the last train for the coast, the day the music died.
Further on in the song, we hear the words 'moss grows fat on our rolling stone' referring to Mick Jagger's appearance at a concert in skin-tight outfits, displaying a roll of fat. Also the expression a rolling stone gathers no moss appear in
the lyrics of Buddy's own song Early in the Morning, which is about his ex missing him early in the morning when he's gone.
In the US, there was no radio edit and the radio stations played the full eight minutes and 30 second version, but of course, that was no good for British radio, so it was cut onto two sides of a single with part one fading out after four minutes and 10 seconds and then fading in on the B-side where the story continues. In the USA it made number one and stayed there for four weeks but in the UK it peaked at number two for two weeks behind Nilsson's Without You.
Some songs should never be covered and this is probably one of them as no one can give it the same meaning and sentiment as the writer, however, some have and really shouldn't have. In 1995 a dance version by Spanish singer Chupito stalled at number 54 and just three weeks later an Australian singer going by the name Just Luis actually made it to number 31. Then in 2000 Madonna, on the advice of her friend and actor Rupert Everett, decided she'd have a go. With her colossal fan base and following its appearance in the film The Next Best Thing, the song made it all the way to number one, but not everyone was happy, because in January 2007 the listeners of BBC 6Music voted it the worst cover of all time. Having said that, Don McLean himself wasn't too adverse to it, he said, "Madonna is a colossus in the music industry and she is going to be considered an important historical figure as well. She is a fine singer, a fine songwriter and record producer, and she has the power to guarantee success with any song she chooses to record. It is a gift for her to have recorded American Pie. I think her version is sensual and mystical. I also feel that she's chosen autobiographical verses that reflect her career and personal history. I hope it will cause people to ask what's happening to music in America. I have received many gifts from God but this is the first time I have ever received a gift from a goddess."
In 1999 Weird Al Yankovic naturally parodied it and called it The Saga Begins and was about Star Wars: The Phantom Menace and written from the point of view of Obi-Wan Kenobi. Sample lyric: 'Bye, bye this here Anakin guy, maybe Vader someday later but now just a small fry.'
Don, himself, was once the subject of a song too. In 1971, a singer named Lori Lieberman saw McLean perform this at the Troubadour Theater in Los Angeles. She claimed that she was so moved by the concert that her experience became the basis for her song Killing Me Softly With His Song, which she took to the writers Norman Gimbel and Charles Fox and after she'd explained how it made her feel they then put it into words and music and later became to massive hit for both Robert Flack in 1973 and the Fugees in 1996.
The song appears in a few films including Born on the Fourth of July (1989), Celebrity (1998) and Josie and the Pussycats (2001).
Don's original manuscript of American Pie was sold for $1.2 million at a Christie's New York auction in April 2015. McLean wrote this for the catalogue description: 'Basically in American Pie things are heading in the wrong direction. It is becoming less idyllic. I don't know whether you consider that wrong or right but it is a morality song in a sense. I was around in 1970 and now I am around in 2015. There is no poetry and very little romance in anything anymore, so it is really like the last phase of American Pie.