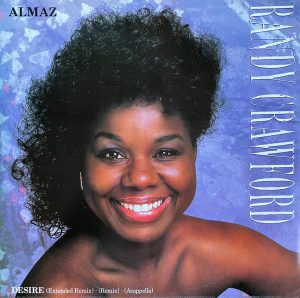 This week's suggestion features a singer with one of the most pure and distinctive voices of the 20th century. "I started singing in nightclubs when I was just 15," explained Randy Crawford. "I actually started singing a little bit earlier than that at school and various youth clubs of course." But this week's choice is her only hit that she wrote herself.
Randy, who was born Veronica Crawford in Macon, Georgia but grew up in Cincinnati, actually got her break in 1972 when she was a backing singer for George Benson and then opened for him on tour later that year. Her debut single was a cover of Knock on Wood which failed to chart. In 1976, she'd signed a deal with Warner Brothers records and recorded the album Everything Must Change which contained her original version of I've Never Been To Me. It was recorded the following year by Charlene but failed to make any impact. It was only when a radio DJ in America found it, started playing it that it became a hit. By that time Charlene had retired, moved to the UK and was working in a sweet shop in Ilford when she got the call to say she was in the chart and went back into the music business. It eventually got to number one in 1982.
In 1978 former Genesis guitarist, Steve Hackett, invited her to add vocals on Hoping Love Will Last, the opening track on his second solo album Please Don't Touch! but then, in 1979, Wilton Felder of the Crusaders invited her to sing on their hit Street Life and although she was uncredited, it was a big chart hit on both sides of the Atlantic.
In 1980, she launched a solo career with hits like Last Night At Danceland and One Day I'll fly Away which were both co-written by Joe Sample and produced by Wilton Felder of the Crusaders. Her next single, Tender Falls The Rain, was written by Crawford but failed to chart. Then came covers of Turley Richards' You Might Need Somebody and Brook Benton's Rainy Night In Georgia and in 1981, I was lucky enough to see Randy in concert where she showcased her version of Imagine and whole place was in tears following the recent news of Lennon's death. That recording was released as a live single in 1982.
Four years later, she was back in the top 10 with Almaz (which means diamond in Arabic). Randy tells the story, "I had some new neighbours moved in and they were from Eritrea, the woman's name was Almaz and her husband was in the fabric industry and when they moved into my neighbourhood they said they were political refugees and he asked me if I could write a song about his wife. I said, 'OK, I'll do my best'. They had knocked on my door and wanted to invite their new neighbour to dinner. Of course I went but the African food they served wasn't to my taste. But I witnessed this perfect love affair between them, although she was considerably younger than him. This beautiful couple with their baby, but before the song was ever completed and recorded they had moved out of the neighbourhood and I didn't know how to find them anymore. But the thing I like about the song the most is it talks about love surviving, 'born in a world where love survives' and that why I like that song so much. As refugees they were looking for 'a world where love survives'"
Success died off in the late eighties, but in mid-nineties she recorded the acclaimed album Naked and True which featured a cover of George Benson's Give Me the Night that reached number 60 in 1997. Seven months previous R&B singer Shola Ama made her debut with a cover of Crawford's You Might Need Somebody which peaked seven places higher than the original hit .
In 2007, she recorded a live album with Joe Sample at Abbey Road, and in 2018, she announced that she was retiring once she'd finished a The Farewell South Africa tour in both Pretoria and Cape Town but she suffered a stroke and the tour was cancelled.