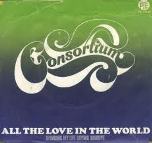 Isn't it amazing how bands, when they shorten their name, become more successful? For example, Ambrose Slade did far better as Slade, Sil Marillion succeeded as just Marillion and The Sweet made no impact as Sweetshop. In 1969, Consortium, albeit with just one hit, did better than when they were called West Coast Consortium.
West Coast Consortium are not, as you might imagine from the name, from California, but from London. The five-piece were formed in 1966 originally as a psychedelic band called X-It and comprised Robbie Fair on vocals, lead guitarist Geoffrey Simpson, rhythm guitarist Brian Bronson, bassist Ken Brown and John Podbury on drums. Simpson had written some songs in their early days and in 1967 they landed a contract with Pye records under the guidance of producer Tony Macaulay. Tony had been working with The Foundations and didn't really have time to concentrate on this new band whose name he also didn't like. Fair had a falsetto voice which was likened to the Beach Boys or the Four Seasons and gave the band a lush harmonic sound but with English tone. After Macaulay suggested they change their name, Fair came up with West Coast Consortium from where the Beach Boys and their sound originated.
In 1965 the British bandleader, Cyril Stapleton who, two years earlier, had landed himself a job as A&R manager at Pye records happened to attend a function where Consortium were playing and was so impressed that he decided to give them his personal attention on their next record. At the time, they had cut a version of a song Geoff Simpson had written called All the Love in the World with in-house producer Jack Dorsey. Stapleton complained to the label head that the production was poor to which the chief agreed and decided to take Dorsey off production duties.
They released two singles in 1967; Some Other Someday and Colour Sergeant Lillywhite the following year, both which were produced by Stapleton and both failed to attract any buyers. In 1969, the first version of All The Love In the World was dumped and a new one made with Stapleton at the controls. Stapleton, at the time, also suggested shortening their name to give it a slightly more mysterious image. The song was released and reached number 22 in the UK chart and just missed the top 10 in Holland.
Soon after, they added two more members to the line up with John Barker replacing Ken Brown on bass and Bill Mangham on organ and they released three further singles in 1969; Day the Train Never Came, Beggar Man and I Don't Want Her Any More backed with The House Upon The Hill. They were all recorded in a similar style to All the Love in the World, but it would appear that at this time the public were more interested in prog rock. They released one further single in 1970, the harmonious Copper Coloured Years, but when that failed Pye records said goodbye.
That wasn't the end of the band. In 1972 they managed to secure a recording contract with a small independent label  called Trend. Two more singles were recorded but the sound had somehow changed and Simpson decided to quit mainly because he wanted to spend time with his relatively new wife and their new-born twins. They were invited to do a six-week tour of Italy in the mid seventies but they decided to call it a day in 1975 after RCA cancelled a record deal for an LP. At this time Robbie Fair, who had now changed his name to Robbie Leggat, was the only remaining original member.
In 2001 Drummer John Parker died 2001 and the rest of the band decided to release all their previous material as a tribute to him. They were released by Castle Music as a 27-track CD called Looking Back and included 11 unreleased tracks. For the real fans there is another CD on Wooden Hill records called Mr. Umbrella Man with even more unreleased stuff.