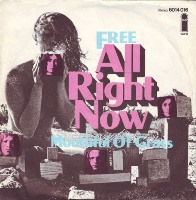 Recently I did a round in my quiz of songs that the writers claimed were written in less than half an hour. The following day I got an email to write the story of one of them and this is the one. Can you believe that such a classic and worldwide radio favourite was written in such a short time? How come? Let's find out all about All Right Now by Free.
In the late sixties, three music genres were starting to flourish which was good news because there hadn't really been a new fad since Rock 'n' Roll burst onto the scene in the mid-fifties. Rock, prog rock and blues were suddenly upon us with Led Zeppelin, Deep Purple and Creedence Clearwater Revival leading the rock category, Pink Floyd, Yes, Rush and Genesis heading up the prog scene and Fleetwood Mac, Cream, John Mayall's Bluebreakers and Free sang the blues.
Free were formed in London in 1968 and originally comprised lead singer Paul Rodgers, bass and keyboard player Andy Fraser, guitarist Paul Kossoff and drummer Simon Kirke. They released their first two albums, Tons of Sobs and Free in in 1968 and 1969 respectively but neither sold that well. I'll Be Creeping was the first of five singles released in 1969 and not one of them troubled the charts. The band concentrated on touring.
All Right Now was featured on their third album Fire and Water in 1970 and only happened by chance. The song was written in the North East of England in the dressing room after a terrible gig. Andy Fraser, who wrote the song, told the story to Songwriting, "We'd driven up to Durham on a rainy Tuesday, it was cold and miserable and we got there in a pretty foul mood to be honest. And then we saw the audience… it was a venue that could hold 2,000 people, but there were only about 30 people there. And those 30 were all off their heads on Mandrax, it was pretty grim. But of course, we went on anyway. Now usually, we could get up there on stage and it didn't matter who was watching or whether they were getting into it, we'd just play for ourselves, basically, and have a good time. But this night, it just wasn't happening. We absolutely sucked. And the audience were too out of it to even notice, which just made it all the more depressing. Afterwards, in the dressing room, there was just this horrible silence – a really bad atmosphere, so, to try and alleviate the tension, I just started singing, 'Y'know, all right now, baby it's all right now,' over and over, kind of like a parent trying to gee their kids along! But it worked, the rest of the band started tapping along and so I thought, we're onto something here.
The music was made there and then too, "The chords of the song were basically me trying to do my Pete Townshend impression," Fraser continued, "I actually wrote the riff on piano and then Kossoff transposed the chords to guitar, and he did a helluva job because that's not always easy. Basically, the chorus wrote itself, the chords took me about 10-15 minutes and then Paul came up with the verses while he was waiting for a lift to a gig the next day."
According to the liner notes of Molten Gold – An Anthology, Simon Kirke explained, "Our repertoire at that time was mostly slow and medium paced blues songs which was alright if you were a student sitting quietly and nodding your head to the beat. However, we finished our show in Durham and walked off the stage to the sound of our own footsteps. The applause had died before I had even left the drum riser. When we got into the dressing room, it was obvious that we needed an up-tempo number, a rocker to close our shows. So, All Right Now was created by Andy Fraser who sat down and wrote it right there in the dressing room. It couldn't have taken more than 10 minutes."
The song took off and went to number two in the UK chart where it sat for five weeks behind Mungo Jerry's In the Summertime which took residency for six weeks. Its success, however, earned them an invite to the Isle of Wight Festival. As for a follow-up hit, that proved difficult.
Their next single was The Stealer, a great song that still gets an airing on Planet Rock but didn't interest the record buyers. Thankfully they did have other hits, My Brother Jake made number four in 1971, Little Bit of Love got to number 13 in 1972 and their final hit, Wishing Well peaked at number seven in 1973 thus giving them four UK hits in four consecutive years.
By 1973, it was all over, the band split. Rodgers and Kirke continued together and found success as members of Bad Company with guitarist Mick Ralphs and Boz Burrell on bass. Paul Kossoff succumbed to his drug addiction and passed away in 1976 and Andy Fraser went to live in the USA but continued writing songs for other artists including Avenging Annie for Roger Daltrey, Every Kinda People for Robert Palmer and Be Good to Yourself for Frankie Miller. In the early eighties the song was used in cinemas to advertise Juicy Fruit chewing gum and was covered, not very well I have to add, by Pepsi & Shirley in 1987 who stalled at number 50 and the Scottish all-girl group Lemonescent who, in 2004 just scraped into the top 40 and left just as quickly.
It's arguably the song Free will be best remembered for but not the one Andy Fraser wished for. He concurred to Songwriting, "I don't know if it's actually the song I'd like to be remembered by. Every Kind of People, which was one of the first songs I wrote when I moved to the States and which my dear, much-missed friend Robert Palmer, who I'd known from even before the Vinegar Joe days, ended up performing, that's one I'm particularly proud of. But, by the same token, All Right Now has been such a durable song. I play it in my solo shows, I played it with Ringo Starr and I think one of the highlights of my career."