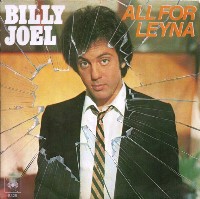 In 1980, Billy Joel released the album Glass Houses and both me and my sister were big Billy Joel fans, so when I met him, I asked to sign my sisters copy of Glass Houses, he said, "Sure, what's her name?" I told her it was Rayna, he looked at me said, that's a great name, and promptly signed the album cover saying, 'All for Rayna', with love, Billy Joel. She was delight. He was such a nice man and both of us are still fans. But, back to the song, who was Leyna? Was she real or just a sad story with a great name? Let's find out.
Billy Joel is one of the world's greatest singer/songwriters with some great story songs and this is no exception, a story about teen angst following a lost love. Many songs on a similar subject will focus on the 'love' in question whether it be male, female or other. They often speak about what that person does but, in this case, it focuses on the effect on the recipient. It tells of a woman who seemingly swans into a place of many people like a work place, causes a stir, especially with one person and swans out again. But the effect on that one person is tremendous and when he can't have her it eats away at him and drives him mad.
The song was not all in Billy's imagination and not autobiographical, it's apparently inspired by a young lady who had something to do with one of Billy's band members who turned up at a studio one day and everyone seems to lust after her. "I wanted to recapture the angst of a 16-year-old guy who just had his heart broken by a girl," Joel explained in an interview with the radio station SiriusXM. "It's that kind of obsession thing that happens when you can't stop thinking about this girl, you've gotta have this girl, but she doesn't want anything to do with you. You're driving your parents crazy and you're failing in school and you're losing your friends, and everybody thinks you're out of your mind. That teenage obsession which was all for Leyna. Everything for this girl."
In the first verse Billy includes the line, 'She gave me a night, that's all it was' giving the impression that the protagonist had been involved in a one night stand with her and that has made things worse because he goes on to say, 'losing my friends, making my family lose their minds, I don't want to eat, I don't want to sleep'. He lays in his bed kidding himself she might just pop in but instead all he can here is his father saying, 'Stop, kidding yourself, wasting your time'.
The song features on Billy's eighth album Glass Houses and five singles were released in the UK with only two of them charted. All For Leyna was scheduled for a US release and an accompanying video was made, but it was decided not to release it in the end. In the UK, it was the first track lifted from the album but it stalled at number 40. Next came You May Be Right which missed completely and then came It's Still Rock 'N' Roll To Me which made number 14 here but topped the chart in the States. The next two, Don't Ask Me Why and Sometimes A Fantasy both sank without trace. His next album, The Nylon Curtain in 1982 had three single releases none of which saw the light of day in the UK. The following year, Billy was back on form and came back with his most successful album ever, An Innocent Man.
Glass Houses was produced, like many of Billy's albums, by Phil Ramone who, in 1958, co-founded the A & R Recording, Inc, a recording studio with his business partner Jack Arnold in New York. Ramone was an innovator, he'd also produced Billy's 1978 album 52nd Street which became the first album to be commercially released on the CD format.
Inspired by the saying, 'people who live in glass houses shouldn't throw stones', the album cover shows a denim-clad Joel, complete with his reflection in the window, standing outside a massive predominately glass house holding a large stone poised to lob it through a window. That house actually belonged to Billy which is located on the waterfront in Cove Neck, a village on the north shore of Long Island in New York.