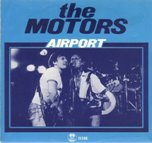 Over the years many music genres have come and gone, some, like prog rock, glam, punk and new romantic made a lasting mark on the international music scene, others, like, acid, happy house and bashment went almost unnoticed. Pub rock was one that went unnoticed by many but did garner a cult following for those who were there in the 70s and included bands like Dr Feelgood, Brinsley Schwartz, Kilburn & The High Roads and Ducks Deluxe.
Brinsley Schwartz spawned Nick Lowe, Kilburn launched Ian Dury and Ducks Deluxe morphed into the Motors, all who had more success post pub rock. Ducks Deluxe was led by Nick Garvey and Andy McMaster. McMaster left when the band split in 1975 and went into music publishing. Garvey left Ducks Deluxe around the same time and formed a band called The Snakes with his friend and drummer Ricky Slaughter and vocalist Robert Gotobed. After one single they split with Gotobed going onto form the punk group Wire.
Just a few weeks later Garvey's manager Richard Ogden suggested that he form his own band. He brought Slaughter with him and also contacted McMaster who rejoined him. They also brought in Bram Tchaikovsky (born Peter Brammell) as an extra guitarist. They recorded some demos in early 1977 and made their debut just two months later at the Marquee Club in London. The same week they recorded three songs for John Peel for his evening show on Radio 1.
In July 1977 they landed a contract with Virgin records and released their first single, Dancing the Night Away which reached number 42 and spent four weeks on the chart. Christmas that year saw the follow-up, Be What you Gotta Be, fail spectacularly as it got lost in the Christmas rush. April 1978 saw there next single, Sensation miss out in the Easter rush.
Their lyrics were meaningful and often compared to another fledgling band at the time, Squeeze, but with a more grittier sound. This was proved with the release of their next single which proved to be their biggest. Airport was written about a man whose woman has decided to leave him and live in another country and blames the building from where the plane took off for taking her away. McMaster had never revealed if it was based on a personal experience nor did he implicate the airport in question.
Airport spent three months on the chart and was followed-up with the equally catchy Forget About You, another song about lost love. The Motors were scheduled to give an interview to Q magazine in 1995 but primary song-writer, Andy McMaster, declined leading Garvey to explain that McMaster is a 'very complex character and you need to understand him'.
They hit with two albums, their eponymous debut reached number 46 and the follow-up, Approved by the Motors flunked at number 60. They released a 'Greatest Hits' in 1995 which troubled nobody.
In the glamorous world of pop music, the Motors got bad press about their looks. In the 90s, Garvey said, "We made no concessions to glitter, we just looked how we looked. If you don't make an effort it can be another nail in your coffin, then again, Mark Knopfler is no oil painting s he?"
Their final hit Love and Loneliness in 1980 reached a lowly number 58. They released further singles Metropolis, Whiskey and Wine and the excellent That's What John Said which featured 12 different 'John's' on the sleeve including Travolta, Cleese, Peel, Conteh, Lennon, F. Kennedy and of course, Olivia Newton. Sadly I wasn't on there, but then again there is no H in my name!
By 1982 the usual 'artistic differences' excuse reared and they split up. Garvey tried his hand at music publishing working with Fingerprintz and Bad Manners, McMaster still writes the occasional song but no-one has heard them yet. Tchaikovsky originally built a recording studio but sold it in 1986 and, in his own words, "has done bugger all since. I make enough money for beer and fags which id the most important thing." Slaughter was very put out when the band split and sent Garvey his smashed up silver disc in the post. He went on to work with the Buggles' Bruce Woodley and XTC's Barry Andrews.