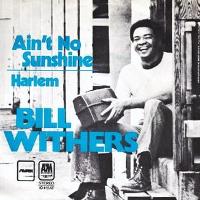 There are certain obscure bits of trivia that you tend to always remember and if you're a music fan, then the one thing you never forget is Bill Withers' job prior to becoming a singer, he made toilet seats for aircrafts. He probably got by on his income, but no doubt singing was preferably and a lot more rewarding.
Bill Withers was born in West Virginia in July 1938, but by the time he decided to make music in 1967 he really was a late starter by music business standards. He signed a record deal with Lotus records and released one single called Three Nights and A Morning.
Nearly four years later he wrote the song that made his name. He wrote Ain't No Sunshine after watching the Blake Edwards movie Days of Wine and Roses from 1962 which starred Jack Lemmon and Lee Remick, a couple who fall into alcoholism. The drama had already inspired one classic melody, Henry Mancini and Johnny Mercer's Oscar-winning theme. Withers has never quite explained what triggered him to write it, but did add, "It's just something that crossed my mind from watching that movie, and probably something else that happened in my life that I'm not aware of."
It wasn't a quite nor complete write as he was still finishing bits off during the recording. He recorded a demo with incomplete lyrics and submitted it to Sussex records who saw its potential and signed him. They also teamed him up with producer Booker T Jones, the organist of his own group Booker T & the MG's. It was all a bit daunting for him when he went into the studio because he was surrounded by session players that included Jim Keltner, Stephen Stills and the rest of Booker T's MG's. However, he began recording but because the lyrics were still not finished, to play for time, he improvised by singing 'I Know, I Know, I Know..' no less than 26 times. It was only meant to be a temporary filler but ended up being one of the most memorable parts of the song. It was Booker T's idea to leave it in as he realised those repeated two-word moan made the song distinctive, and contrary to Withers' wishes, the record was completed when the lyrics were not. "I was this factory worker, so when they said to leave it like that, I left it," Withers explained in an interview with Rolling Stone.
The idea Booker T had to leave it in probably originated from a similar idea four years earlier when the M.G's were the backing musicians on Otis Redding's last hit (Sittin' On The) Dock of a Bay where Redding's whistling was just a filler because he intended to write some more words a few days later. Sadly, that day never came because just three days later, Redding died in a plane crash, so the whistling stayed.
It's a simple love song where the protagonist is explaining that when the woman in his life is there it's bright, wonderful and beautiful, but when she has to leave it's dark and lonely.
The song was released in the States and went to number three, but unbelievably, the song failed to make the UK chart, at least until a 13-year-old Michael Jackson covered it and took it to number eight the following year. It was a hit again in 1984 care of Sivuca who stalled at number 56, then Ladysmith Black Mambazo featuring Des'ree just missed the top 40 in 1999. Finally, 10 years later, in 2009, some 38 years after it had been recorded Bill's version finally charted at number 40. Why? Because Shaun Smith performed it on Britain's Got Talent. Other artists who have recorded it include Sydney Youngblood, Nancy Wilson, Lyn Collins, Freddie King, The Shirelles, Isaac Hayes, Nancy Sinatra, Al Jarreau, Sting and Neil Diamond.
It went on to win the Grammy for Best R&B Song in 1972 and in 2015 he was inducted, by Stevie Wonder, into the Rock and Roll Hall of Fame. Later that same year Shawn Mendes and Camila Cabello recorded the duet I Know What You Did Last Summer which peaked at number 42, Bill Withers got a writing credit on this song because of the similarity of the 'I Know, I Know,' bit which at one minute and six seconds they each sing the seven times.
Along with other songs like Lean on Me, Lovely Day and Just the Two of Us, probably meant that Bill Withers never had to touch another toilet seat again, unless he was using it. Bill died from heart complications in Los Angeles in March this year.