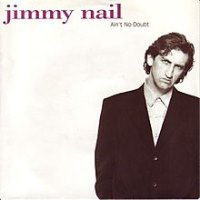 This week's artist, depending on your age, will divide the reader as there will be some who didn't know about his acting career prior to his singing career. Jimmy Nail always wanted to be a singer, but somehow acting came first. The Newcastle-born singer, who had a troubled childhood what with being expelled from school after setting some school curtains on fire and then served a brief spell in Strangeways prison for GBH. In 1967, when he was 13, he was hit by the tragic death of his older sister Shelagh who died on her 20th birthday after mixing alcohol with anti-depressant drugs. Before he left school, a careers officer had told him he had three choices; the shipyard, the pit or building sites. Jimmy was not happy but despite all the setbacks, he came good in the end and gained a lot of respect from fellow musicians and actors.
Jimmy Nail's real name is James Michael Aloysius Bradford, the name of the teddy bear in Brideshead Revisited but it was hardly appropriate for a Newcastle hard man. one of his first jobs was working in a glass factory and one day he stood on a plank of wood with a long nail sticking out and the nail went straight through his foot and he soon adopted the name nail after that incident.
He first came to the public's attention as Leonard 'Oz' Osbourne, a short-tempered bricklayer, in the 1983 ITV series Auf Wiedersehn Pet, the story of seven redundant construction workers who go to Germany to find a job. The programme's theme was That's Livin' Alright, a 1984 hit for Joe Fagin.
Jimmy described his voice as 'husky and riddled with melancholia'" he explained to Nick Dent-Robinson. "I like singing. I was an accidental actor. Music was always my first love, my real passion. I just needed to prove myself and acting parts were a step along the way to this. It was a fluke I hit the jackpot as an actor."
In 1985, Nail released his cover of Rose Royce's Love Don't Live Here Anymore, which was co-produced by Roger Taylor from Queen who also played drums on the track and featured Status Quo's Rick Parfitt on guitar. The song made number three and Nail was mystified when the follow-up, Laura, failed to connect, albeit was some seven years later.
In 1992, he recorded the album, Growing Up In Public, with guest appearances from Gary Moore, George Harrison and Pink Floyd's David Gilmour. It was produced by session players, Danny Schogger (keyboards) and Guy Pratt (bass). The three of them wrote Ain't No Doubt alongside Charlie Dore, a British country-rock artist, whose only (minor) hit, but a radio favourite, was Pilot Of The Airwaves in 1979.
Ain't No Doubt tells the story of a classic relationship break up where she says she needs space and time and he knows it a load of hogwash. She states that they will always be friends and he's asking himself, 'why does she pretend?' She then claims, 'There won't be somebody else, and that's true' to which the female singer (Sylvia Mason-James) replies what he is thinking, 'She's lying'. The song was partly spoken and partly sung and included a reference to another Newcastle singer with Sting's If You Love Somebody, Set Them Free. It was a theatrical record with Katie Kissoon as the female lead, and the trombone solo came from Neil Sidwell. "The song was conceived during a writing session between me, Jimmy and Danny Schogger," Guy Pratt explained. "The song was based around the bassline, which I wrote to copy the military cadences I had recently seen in the film Full Metal Jacket."
Jimmy got fed up being what he called a 'hired hand' actor so decided to form his own production company – Big Boy Productions and promptly wrote his next TV series, Spender, a series about an unconventional Geordie policeman. As always, he played to his strength, knowing he can't disguise his Newky brown voice, though he pronounces his g's, a BBC Geordie, if you like. He said, "I think it's the job of f***ers like me to fly the flag. I like to remind people that Newcastle's there." He followed it in 1994 with the series, Crocodile Shoes of which he sang the theme tune and it gave him his last top 10 hit.
The Nail file continued when he had a cameo role in Evita. The videos for the hits Crocodile Shoes and Cowboy Dreams became very popular on the European transmission of CMT (Country Music Television). Nail made the Top 20 in 1995 with Big River, featuring Mark Knopfler on guitar, saying, "It's about me, it's the most personal song I've ever written."
Jimmy gave up acting in 1997, which he admits was, "a bit of a risk after all those cheques", but he wanted to focus on his musical career and decided to concentrate on gaining success in the pop charts. Since then, he's had one minor hit called The Flame Still Burns which was credited as Jimmy Nail with Strange Fruit.
He did return to some acting and appeared as Clayface the Goblin in the 2000 mini TV series The 10th Kingdom and as Phil in the 2008/09 TV series Parents of the Band.
Jimmy lives in London and had two boys called Freddie and Tommy and once said, "My children's triumphs and joys are mine. They have no idea what my past was like, which is good. I don't want my family to know about what went previously, and I really don't enjoy talking about the person I once was."